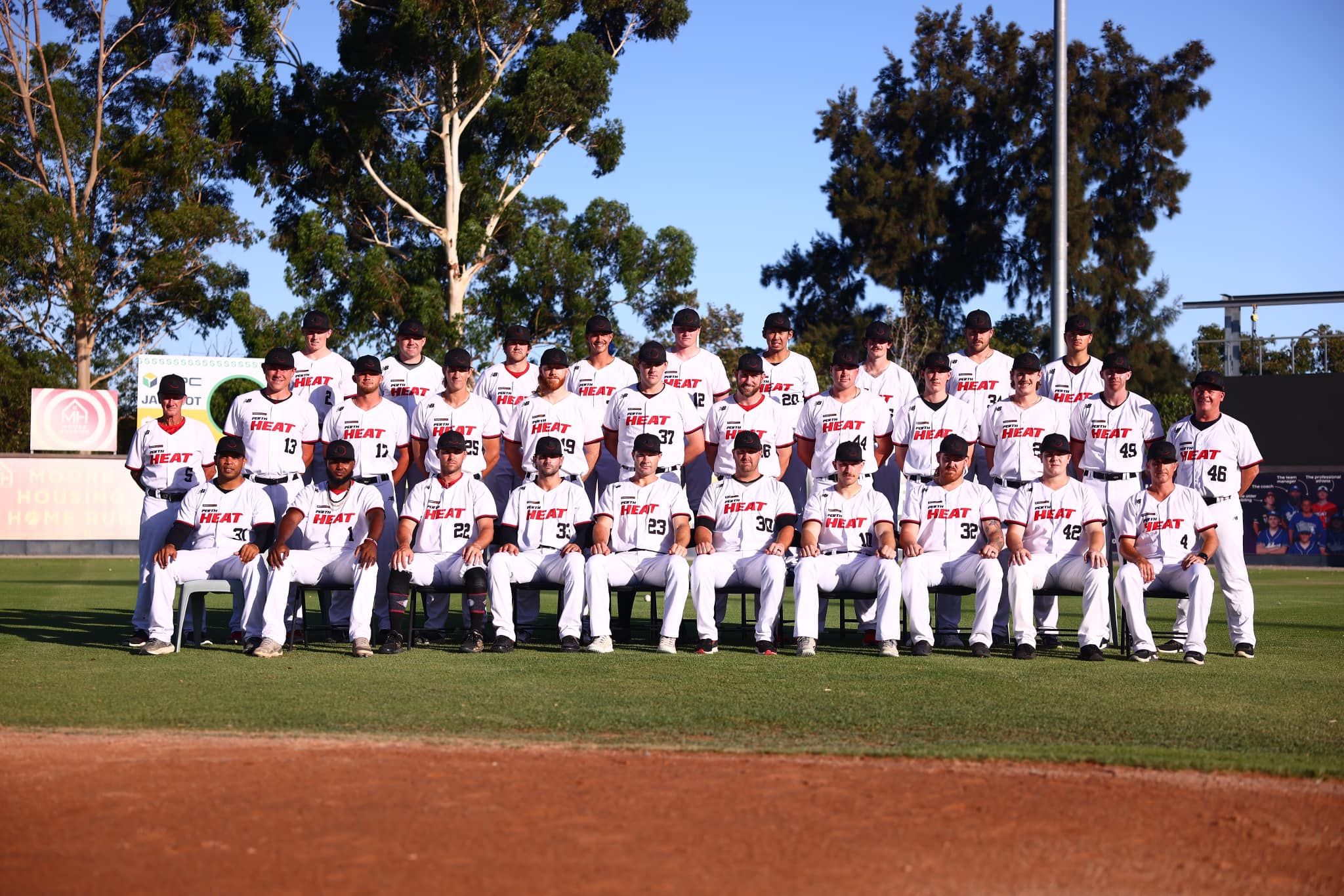 Perth Heat's quest for a 16th Claxton Shield this weekend begins at home on Friday night for Game 1 of the ABL Championship Series against the Adelaide Giants before the action shifts to the City of Churches.
The Heat and the Giants will clash in the ABL Championship Series with the Claxton Shield on the line this weekend with Game 1 to be played at Perth's Empire Ballpark on Friday night with the first pitch to be thrown at 7pm.
The series will then switch to Adelaide for the weekend with Game 2 played on Saturday at Dicolor Australia Stadium with the game starting at 2pm WA time. If required, Game 3 will also be in Adelaide with first pitch to be thrown at 1pm.
The Heat will be attempting to win a fifth ABL championship in the revamped competition, a 16th Claxton Shield overall and a first title since 2015.
Meanwhile for the Giants, they are attempting to win a first ABL championship and a first Claxton Shield for a South Australian team since 1980.
The Heat booked in their place in the Championship Series after beating the Brisbane Bandits in the semi finals on the road last weekend. Brisbane won the opening game 3-2 but the Heat hit back to claim Game 2 14-4 and then produced a stirring comeback to win 10-8 in Game 3.
The Giants also had to do it the hard way to book in their place. They beat the Auckland Tuatara in Game 1 last Friday night 5-3 before Saturday's Game 2 was rained out. That set up a double-header on the Sunday with Auckland with the second game 2-0.
It was all on the line in Game 3 and the Giants ended up prevailing 4-2 to earn the rights for home field advantage in the Championship Series after finishing the regular season with a 21-15 record to be just ahead of the Heat's 20-16.
Heat manager Andy Kyle knows all about winning championships having done so as a player and he's now attempting to do the same as the man in charge, but is focusing on the task at hand.
"We're feeling really good. The guys are excited and all business at the moment, we've just tried to keep things as normal as possible and get ready for this weekend," Kyle said.
"The last three or four weeks we've had a consistent roster, which has really helped guys settle into their positions and know their roles. There has been a general building of form and confidence over this month.
"We know we've got good depth one through nine with guys who can do damage and it's been exciting to see some different guys step up from game to game, which is what you need with a championship calibre team. We've started to see different guys step up in different moments over the last couple of weeks."
Kyle is now excited for a jam packed home crowd on Friday night at Empire Ballpark with the Heat looking to take his advantage to take a lead in the Championship Series.
"The guys are super excited. We've had the best crowds in the league and that won't be any different on Friday night," Kyle said.
"To play a home final will be a great atmosphere and it means everything to us trying to win this championship.
"It's why we do what we do and for me, now it's about trying to get a championship for the players and the staff, and everyone who has helped out. We'll put everything into practice and hopefully see these guys earn this championship that they deserve."
Ulrich Bojarski has had another outstanding season with the Heat with the bat. The outfielder has hit eight home runs, produced 51 hits and batted in a further 35 runs while doing it at a standout average of .352.
Bojarski now can't wait to get out there Friday night in front of the home crowd for the last time this season.
"We're pretty excited going into this weekend and everyone's really hyped, and getting ready to play on Friday," Bojarski said.
"It hasn't been anything special, the boys have just been putting in the work and it's been paying off. They've been hitting the balls hard and it's been paying off.
"We have a great team morale, we're all really good mates and that helps you play well if you enjoy playing as a team. It helps us a lot having that home team support especially with Game 1. If we win Game 1 going into the next two that will help us a lot with confidence to go and get the job done."

Connor Higgins has been brilliant on the mound this season for the Heat with the Texas Rangers draftee proving himself one of the very best closing pitchers in the ABL.

He already has five saves to his credit this season and he can't wait to try and win a championship this weekend.

"I'm feeling absolutely on top of the world right now. I've only played in one other championship game in my life and that was over seven years ago," Higgins said.

"So it's been a while since I played in a championship environment and this is probably the closest knit team I've ever had with guys aged from 18 all the way up to 36 on this roster.

"There's nothing like it right now. To have this game at home on Friday with the chance to go up one-nil with the crowd behind us from start to finish for every pitch is going to be absolutely massive."