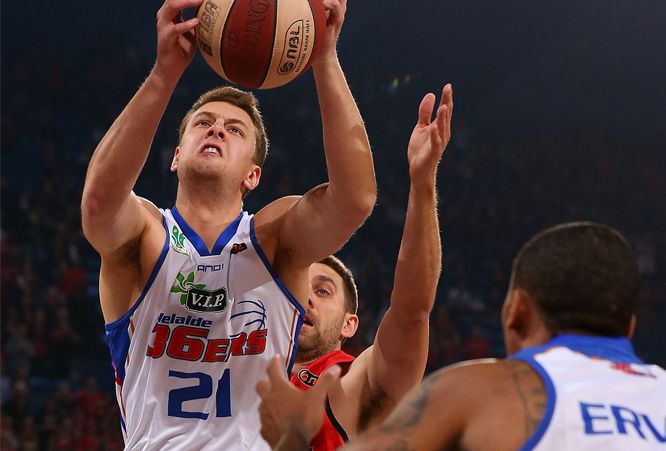 THE Adelaide 36ers might have lost its opening game of the new NBL season but almost pinched the win over the Perth Wildcats even without its captain and import.
The once proud and might 36ers have not played in the NBL playoffs in four years and have finished with the wooden spoon the last two years despite having strong playing rosters – on paper at least.
Coming into the 2013/14 campaign, a new coach arrived in the form of Brisbane Bullets championship-winner Joey Wright but the majority of the playing group has remained – aside from the signing of new imports Jarrid Frye and Gary Ervin.
The front court of Daniel Johnson, Anthony Petrie and Luke Schenscher remains as do guards Adam Gibson and Jason Cadee with the talented Mitch Creek back from injury.
With captain Gibson and import Frye to still return from the team that lost by just three points in Perth on Friday after leading for a good portion of the night, there's plenty to suggest that this 36ers team is capable of making a good crack of again having Adelaide in the NBL championship hunt.
Wright felt that his team didn't win because they did anything necessarily wrong against Wildcats, but the game plan was to let any Perth player shoot for three aside from James Ennis and that hurt in the last quarter when Jesse Wagstaff and Jermaine Beal hit two long bombs apiece.
However, that was Wright's game plan and he will likely back the same one in again next time against the Wildcats.
"I have coached against those guys for a lot of years and sometimes you get Wagstaff hitting them like he did, and sometimes he doesn't," Wright said.
"We had to roll the dice on that and I thought he did a great job trailing in, and knocking them down. Those shots he hit weren't necessarily breakdowns by us, they were shots we were happy to give up and that was our game plan.
"I thought we played a good ball game. It's probably not necessarily anything that went wrong, but they hit five threes in the fourth quarter and our game plan was to try and take away Ennis' threes, but give it to everyone else and Wagstaff hit a few to make the difference."
While Adelaide is well-served in the guards department with Ervin, Gibson and Cadee, and with Creek and Frye as swingmen there's little doubt the great strength is with their bigs.
On Friday night, Johnson was on fire with 28 points and six rebounds from 9-of-13 shooting while Boomer Petrie had just four points but 10 rebounds and then an underdone Schenscher was impressive with 13 points on 6-of-9 shooting including nine final quarter points.
New Zealand recruit BJ Anthony was also encouraging with four points, five rebounds and three assists and Wright liked the way his big men worked particularly against an undersized Perth Wildcats without Matt Knight and once Tom Jervis fouled out.
"I think we worked it the best we could. DJ had 28 and Schensch had 13 on limited minutes so I thought they were great, and I thought the guards did an excellent job finding them and getting us through our sets to get the ball to them," Wright said.
"I thought he (Schenscher) did great. We weren't expecting to play him that many minutes and it's my first time really coaching him, so it's all about getting used to where and how we use him, but he did a great job. He really did well and I think as far as us as a coaching staff, once we figure out how to use him a little better than we did we can get some great results."
Wright does expect both Gibson and Frye to be right to play this Saturday night in Adelaide against the Wollongong Hawks.
"He (Gibson) was close and if it was a playoff game we would have definitely played him. He just hadn't done a lot of explosive work," Wright said.
"He can jog and run, but he hadn't been exposed to anything high-intensity and the first thing you do in a game is you explode and we didn't want to risk that. It wasn't worth risking for a first game, but they definitely both will be right for next week."
Ervin is a former NBL MVP from when he was with the Wollongong Hawks and he was again a star last season for the Townsville Crocs before coming to Adelaide, and the experienced and dynamic point guard is confident the 36ers will have a strong season.
Especially once captain Gibson gets back on the court.
"We know our identity and we are coming along with that. We know what type of team we can be and we felt we should have won this ball game," Gibson said.
"We weren't coming here just to compete and make it a close game, we came here to win. It's a tough loss, but we can learn a lot from it and when you've got eight or nine guys coming in and giving their all, you have to deal with the outcome.
"One of the reasons I came to Adelaide was to play with Gibbo, but at the same time we can see what time of team we can be without key pieces because don't forget Jarrid Frye was an absent player as well. This game was for the bigs and we saw how good they can be if we dump the ball into it. It's a great feeling for me to play with a great group of guys like this."