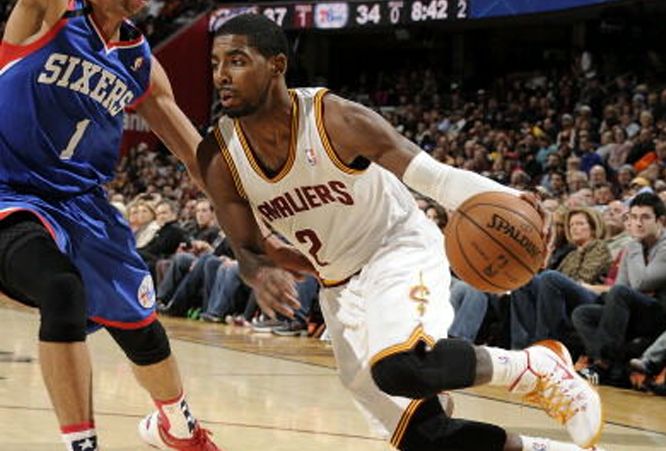 INDIANA kept winning, Utah kept losing and it took two overtime periods to separate Cleveland and Philadelphia in NBA action on Saturday night.
There were nine NBA games on Saturday night with Toronto beating Utah 115-91, Atlanta downing Orlando 104-94, Indiana downing Brooklyn 96-91, Cleveland winning in double-overtime over Philadelphia 127-125 and Boston beating Miami 111-110.
The Clippers also beat Houston 107-94, Memphis beat Golden State 108-90, Dallas downed Milwaukee 91-83 and Portland beat Sacramento 96-85.
Toronto had no trouble beating the winless Utah in Toronto on Saturday stretching the Jazz's losing streak to seven to start the new season.
Tyler Hansbsorough led the way for the Raptors off the bench with 23 points with DeMar DeRozan adding 18 points, Jonas Valanciunas 14 and Rudy Gay 11.
Gordon Hayward had a game-high 24 points for the Jazz with Derrick Favors adding 17 points and Alec Burks 17 also.
Atlanta returned home and beat Orlando by 10 points to improve to a 3-3 record with Jeff Teague leading the way with 19 points and 13 assists.
Paul Millsap also had 18 points, 11 rebounds and four steals with Al Horford adding 15 points, Kyle Korver 14 and DeMarre Carroll 12. Mike Scott also added 17 points from the bench.
Arron Afflalo had 21 points and seven assists for the Magic with Jameer Nelson and Andrew Nicholson adding 13 points each, and Jason Maxiell adding 12.
The Pacers stretched their winning start to a franchise-equalising best of seven wins with a five-point win in Brooklyn over the Nets who promised so much coming into the season, but now sit on just a 2-4 record.
Paul George again led the way for Indiana with 24 points with David West adding 18 points and eight rebounds, Roy Hibbert 15 and 11 rebounds, and Lance Stephenson 15 points and seven assists.
Deron Williams had 17 points and 10 assists for Brooklyn with Joe Johnson adding 17 points, Brook Lopez 16 and Paul Pierce 15.
It took two overtime periods to separate the 76ers and Cavs in Cleveland, but in the end Kyrie Irving and his Cavaliers just prevailed over Brett Brown's Philadelphia by two points.
Irving finished with 39 points and 12 assists for the Cavs with Jarrett Jack hitting 20 points off the bench and Tristan Thompson adding 19 points and Dion Waiters 24.
Boston scored a thrilling win over the two-time defending champion Miami Heat with a clutch shot from Jeff Green, who finished the game with 24 points on the back of shooting 5-of-8 from three-point range.
LeBron James top-scored for the Heat with 25 points to go with 10 assists and eight rebounds with Chris Bosh adding 20 points and Dwyane Wade 18.
The Clippers improved to a 4-3 record and sent the Rockets to the same mark with LA recording a 13-point win in Houston on Saturday.
Blake Griffin finished with 22 points and seven rebounds with JJ Redick adding 22 points and Chris Paul had 14 points, and 13 assists.
Chandler Parsons top-scored for the Rockets with 23 points and eight rebounds with Dwight Howard adding 21 points to go with his eight boards. Patrick Beverley had 19 points with Jeremy Lin having six points and seven assists off the bench.
Memphis improved to a 3-3 record to give Golden State its second straight loss with an 18-point victory at home with Zach Randolph leading the way with 23 points and 11 rebounds. Mike Conley also had 20 points and six assists.
Marc Gasol also had 18 rebounds, seven assists and three blocked shots.
Stephen Curry returned for the Warriors after missing Friday night's clash with the Spurs and had 22 points, and five assists.
Andre Iguodala also had 19 points, five rebounds and four assists with David Lee adding 13 points and nine rebounds. Australian centre Andrew Bogut had just one point and seven rebounds.
Monta Ellis led the Mavericks to an eight-point road victory in Milwaukee over the Bucks.
Ellis top-scored with 18 points and five assists with Dirk Nowitzki adding 16 points and six boards. Shawn Marion added 14 points and 10 rebounds, and Vince Carter 13 points off the bench.
OJ Mayo top-scored for the Bucks with 28 points while Caron Butler had 19 points and 13 rebounds against one of his former NBA teams.
Just 24 hours after beating the Kings at home, the Trail Blazers again took care of Sacramento this time by 11 points on the road.
LaMarcus Aldridge led the way with 22 points and 14 rebounds while Wesley Matthews hit 21 points for the Blazers.
DeMarcus Cousins did all he could for the Kings with 33 points and 12 rebounds with Ben McLemore adding 13 points and Isaiah Thomas 12, both off the bench.
NBA Results Saturday November 9
Utah Jazz 91 defeated Toronto Raptors 115
Orlando Magic 94 lost to Atlanta Hawks 104
Indiana Pacers 96 defeated Brooklyn Nets 91
Philadelphia 76ers 125 lost to Cleveland Cavaliers 127
Boston Celtics 111 defeated Miami Heat 110
LA Clippers 107 defeated Houston Rockets 94
Golden State Warriors 90 lost to Memphis Grizzlies 108
Dallas Mavericks 91 defeated Milwaukee Bucks 83
Portland Trail Blazers 96 defeated Sacramento Kings 85