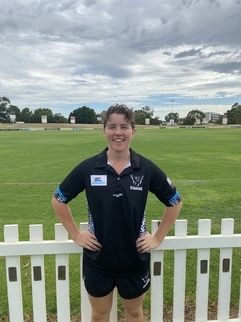 Jess Cox is proud of the honour to be captaining Swan Districts for a second straight WAFLW season and is looking forward to continuing to set the standards for her teammates, and help them reach their lofty goals in 2023.
Cox might be only 21 years of age, but is already one of the leading players in the WAFLW competition not only with what she offers on the field in performance, but with her leadership qualities and the standards she sets.
That's why there was no hesitation from Swan Districts in appointing her as captain for a second straight season after she had a terrific 2022 campaign as skipper with her own form and as a leader taking the black-and-whites all the way to the preliminary final.
For Cox, she's honoured to have the backing of the club and her teammates to be entrusted with being captain for a second straight season so young still into her career.
"Being elected captain for a second year straight is super special and it is a huge honour to work with such great characters at the club," Cox said.
"The opportunity to build off of last year and go into a new season with a strong and true leadership group gives us the best opportunity to continue our growth as one."
Looking back on last season where Cox threw herself into the captaincy role and continued to learn and develop along the way, and continue to play at a high level on the field through the midfield too, it only made her hungrier to continue to lead the way for Swan Districts.
"I enjoyed every moment of challenge, vulnerability and joy that my first year of captaining came with and has to be one of my highlights in my football career," she said.
"This opportunity has been a massive learning curve and a journey of figuring out how we as a team can create a culture of trust so that we could feel safe and improve with the team values as our guidance. One club……one team.
"It was super important to be honest in understanding that I didn't have to have all the answers and knowing your team on and off the field was key."
While Cox's birth certificate says she's still only 21, she's well and truly mature beyond her years and ultimately, age is just a number. That's why she was able to do such a good job in her first season as captain and there was no hesitation in reappointing her.
Cox takes seriously her role as captain at Swan Districts to lead by example and to set the standards for the rest of the playing group, and ultimately to be a role model to show what's possible to give young players dreaming of playing WAFLW something to look up to.
That's why she has embraced being captain so fully and will continue to do so.
"I pride myself on attitude determines outcome and leading by example. I don't believe being a young leader is at disadvantage and probably at most does quite the opposite," Cox said.
"Experience and values that you live and breathe is the real reflection of leadership. I'm still learning and will continue to, I want to pass on as much knowledge and support to the group around me and hope that I can learn just as much from them as well.
"Being a leader and raising the bar at Swans but also the profile of football is important to me, I come from Kellerberrin and didn't have the options of a pathway to play against females so played against males up until I was 17 so every day that I get to share my passion with others fills my cup.
"Setting the standards and expectations to shape our club and culture really encourages players to trust each other, lean into change and girls to believe they can achieve success. We have the chance to grow the game, it's our responsibility to pave the way."
There has been plenty of changes not only to the playing group but in the approach of Swan Districts coming into the 2023 WAFLW. It's something that has Cox excited for what lies ahead with the season to begin Saturday March 11 away to Peel Thunder.
"We always look to the positives in life and how to be even better, so that flows into our 2023 for us," Cox said.
"I'm really positive on the work we have put in together and the special aura we are creating at the club. I believe our team we will always be a candid as we continue to improve and seek challenges, which is something we thrive on.
"Pre-season has been really authentic this year. The tone by the girl's has been set from the start, everyone came into preseason with the mindset to work hard and commit to the process.
"The leadership group came together and arranged an overnight camp filled with team bonding games, footy fun and education which was a great success and loads of fun. The camp was a perfect opportunity to establish what our club values look like, feel like and sound like to us a group."
There has also been significant changes to the player personnel for the 2023 season including the arrivals at Swan Districts of Daisy Rigby, Indiana West, Brooke Edwards, Jasmine Ware, Lauren Quaiffe and Meg Clayton.
Some quality and experienced players have also moved on including Lauren Osborne, Ashley Sharp, Emily McGuire, Amy Ralph and Melisha Hardy, but overall Cox is delighted with the team she'll be part of coming into 2023.
"We can't wait now for the season to start," Cox said.
"Pre-season has been really rewarding and now it's time to get stuck into what we all love doing. Playing some footy and enjoying the opportunities it brings with it.
"This year without the look of having a reserves list and the new look for the WAFLW competition has given us a few changes to the side but some really exciting talent that has come through. I'm excited to play with all the girls this year and to see what we can bring to the table as one.
"We have some new faces in Indi West and Jasmine Ware that bring great strengths but I'm also really looking forward to Bella Edgely taking her game and leadership to the next level with another season under her belt."