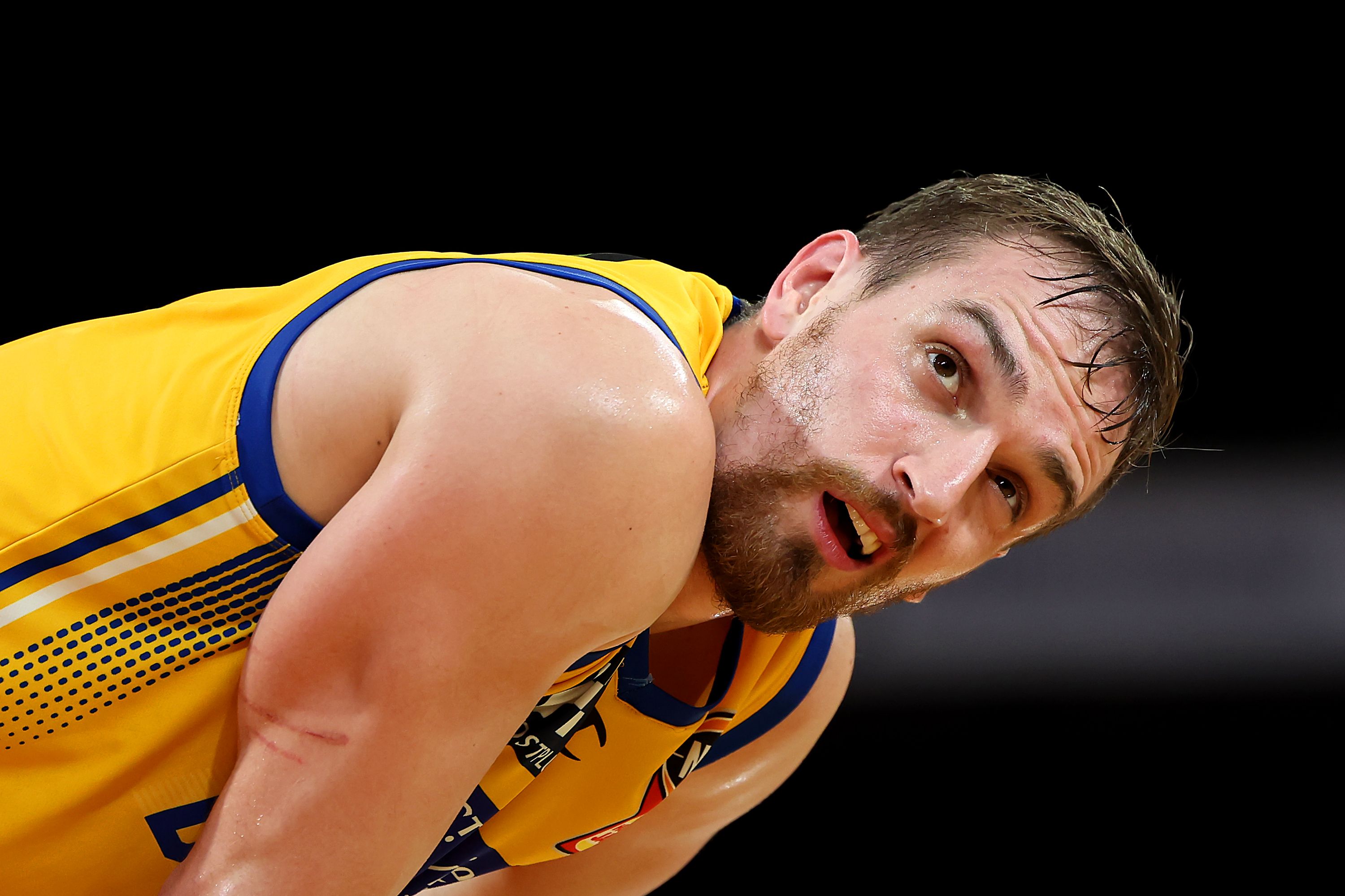 Written for nbl.com.au by Chris Pike
A rollercoaster ride. There really is no other way to describe how this season has gone for Anthony Drmic and the Brisbane Bullets, and even with the outstanding form of recent times he's shown, he still couldn't help but have an old housemate send quite a scare into him.
First of all, the biggest and best development over the past month is Anthony and wife Jenna welcoming their first child into the world.

That can't be topped in terms of the highs of the rollercoaster ride not even the most remarkable of game winning threes that he hit at the end of overtime to snatch a simply incredible win for the Bullets against the New Zealand Breakers.

Drmic is actually in some of the best form of his career right now as well. He has put up 16.3 points, 4.7 rebounds and 3.0 assists over the past three games which including that game winner against the Breakers last Thursday.

He backed that up on Saturday in a narrow loss to the Tasmania JackJumpers with a season best 20 points as well but it's not just the scoring he's doing.

He is putting his body on the line in inspirational fashion, fighting for every loose ball and possession, and not being afraid to go in the paint and compete with the bigger bodies.

That's proving him an invaluable member of the Bullets team as they try to finish the last month of the season strongly, but it's also leading to his body being through quite a bit.

Drmic came into the season fresh off an ankle reconstruction and since the season started he's also battled rolling an ankle and a back complaint while juggling everything else that an NBL season throws up during a global pandemic.

And even on Saturday when Drmic delivered another terrific performance for Brisbane, he showed terrific toughness to play out the game despite a nasty blow that he took to the throat from ex-Adelaide teammate Jack McVeigh.

That continued his rollercoaster ride this season. It almost went off the rails too when there were fears he suffered a fracture and had to go to hospital, but he's feeling good enough now a few days on ahead of Thursday's game against the Illawarra Hawks in Wollongong.

"I mean I was a bit nervous initially especially when the doc was a bit worried and then when they told me I had to go to hospital I was stressing a bit. But I'm obviously happy that it's all good and I'm just going to have to get Jack back when I see him next," Drmic said.

"It's still a bit husky but it was an interesting one though. Apparently when you get a knock to the throat like that it can go south pretty quickly. I ended up having to go to hospital where they were monitoring me for a bit, and I got a scan the next day and there was no fracture.

"I was given the all clear to keep training but it's still a bit sore and the throat is still a bit sore, and the voice is still a bit husky but other than that I'm alright."

Clearly there's no bad blood between Drmic and McVeigh who shared a laugh about the whole thing later on the weekend, but he wouldn't have minded had his coach James Duncan's challenge on the original foul call been successful.

"We actually hung out afterwards and we had some laughs about it, but of course it was him. As he'll tell you, I've beaten up on him a lot in those first couple of years of his career so he was happy to get one back on me," Drmic said.

"I rewatched it and it's a tough one to get those calls overturned. With the way my throat felt at the time I was pretty frustrated, but the refs are going to make those calls and you go to the review, and it is what it is."

Drmic has played some terrific basketball throughout his 168-game NBL career in Adelaide and Brisbane so how to judge if this patch of form is his best isn't easy to do, but he's just trying to stay positive and then you receive rewards like that remarkable game winner.

"I don't know how to judge that, but I would say I'm definitely playing a lot more free and mentally I'm just in a really good headspace," he said.

"I'm just playing aggressively and I'm frustrated a little bit that it's taken me this long to get into this good headspace where I'm at least playing the way I want to be playing, and the way I'm capable of playing.

"Anyone will tell you, hitting a game winner like that there's nothing like it. It's an amazing feeling to be able to hit a game winner but I think it's just from even the couple of weeks before that where I was trying to get my mind right and getting into a good headspace.

"Putting in the work has led to some of those outcomes of playing a little bit better, and then being in a position to be able to make a shot like that."

The delayed started to the season actually helped Drmic be ready from his ankle reconstruction, but it's still been up and down journey through NBL22 but he's just tried to maintain a positive outlook right along the way.

"I don't think it's been talked about much but I had another ankle reconstruction pretty late in the off-season so it did take me a pretty decent time to recover from that," Drmic said.

"Then even when I got back I rolled my ankle in the second game of the season which set me back again a little bit. Mentally it's tough and anyone who's had injuries throughout their career will tell you how difficult it is to bounce back from those just to get the body feeling 100 per cent.

"Then I had the back stuff as well, but the body's feeling good now and the ankle is good, and I'm getting back into a good, positive mind space about basketball. I'm just going out there and competing, and controlling what I can control essentially and just not worrying about outcomes."

Forgetting anything basketball related, though, and this is a season Drmic will always remember for he and wife Jenna welcoming their first son into the world. He might be less than a month old, but it's already a game changer for him.

"It's an interesting one right, it's an amazing feeling having the newborn now. It's crazy because you don't really have much time to think about anything else and he's the No. 1 priority now in my life," Drmic said.

"It doesn't give you much time to think about other stuff especially when you're away from the court, it's all about him. I'm looking forward to the off-season where I can spend some more time with him.

"I feel like every day is a new surprise. It's a learning process for sure and you can't really prepare yourself for what it's going to be like, but obviously my wife has done an incredible job especially with me travelling so much and being away for those periods of time. So far I'm enjoying it and taking it one day at a time."

Now that the Drmic family is settled in Brisbane, they are more than open to making it a long-term home but any time you are about to enter free agency, there's always a lot of unknown quantities to deal with.

"We've started a family while being here in Brisbane and I love the city. The weather here is amazing, the city, the fans and everything about Brisbane we enjoy," Drmic said.

"Getting up and down the coast is great in the off-season. Obviously I'm going to be a free agent this off-season so it will be interesting to see if we end up staying, but I'm open to staying and we'll see what happens."

The Bullets might be out of the playoff race which is frustrating for Drmic and his team because they know their best is capable of being a finals contender.

It's not unrealistic to think that if you turnaround narrow losses to the Breakers, Kings, United, Phoenix, Taipans and even Saturday to the JackJumpers, and things could be decidedly different.

Despite the disappointment of how things have gone, Drmic and the Bullets remain focused on a strong finish starting this week against the Hawks on Thursday and then back home to the 36ers on Sunday.

"With where we're at with the season it's obviously going to be tough to make playoffs, maybe even impossible so we're just taking it one game at a time. We're just going to take it to these teams and hopefully we play the right way, and play the way we know how to play and come away with some wins," Drmic said.

"As a team obviously we can't make playoffs now so it's a tough one and I don't think I've personally been out of playoffs this early on, but it's just about taking it one day at a time and trying to get better. I feel like it's been a tough one because we've let so many games slip by that small margin.

"You turn a couple of those over and we're still in the running and in a totally different head space. But we're just taking it one day at a time, one game at a time and will try to get some wins on the board to finish this season off strong."