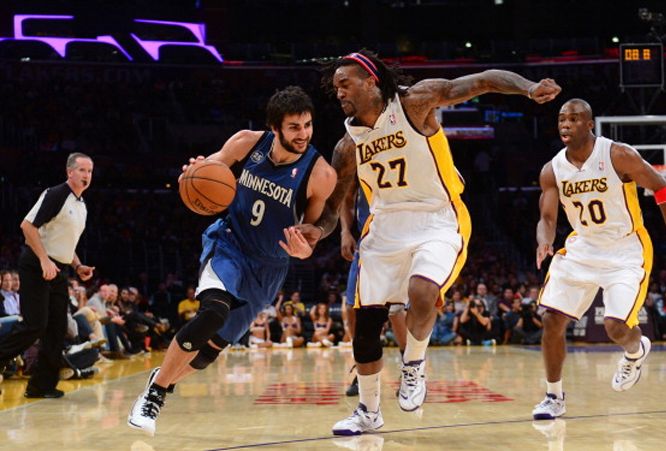 PHOENIX continued its surprisingly strong start to the NBA season on Sunday as did San Antonio and Oklahoma City while Minnesota broke its losing streak against the Lakers in style.
There were just the four games in the NBA on Sunday with San Antonio thumping New York 120-89, Oklahoma City downing Washington in overtime 106-105, Phoenix downing New Orleans 101-94 and then Minnesota prevailing over the LA Lakers 113-90.
The Spurs blew away the disappointing Knicks in New York to open proceedings in the NBA on Sunday with San Antonio racing out of the blocks with 35 first quarter points before cruising to the eventual 31-point victory at Madison Square Garden.
San Antonio improved to a 6-1 record to start the new season with Danny Green leading the way with 24 points and 10 rebounds while shooting 6-of-9 from three-point territory.
Kawhi Leonard added 18 points off the bench for the Spurs with Tony Parker adding 17 and Australian point guard Patty Mills 15 off the bench in over 22 minutes of court time. Fellow Australian Aron Baynes had two rebounds and two assists in seven minutes also.
The Knicks slipped to a 2-4 record with the loss with Carmelo Anthony settling for just 10 shots on his way to 16 points and eight rebounds. Andrea Bargnani also had 16 points with Metta World Peace adding 13 off the bench.
Oklahoma City continued its strong start to the season improving to a 5-1 record with a thrilling one-point overtime victory at home to the 2-4 Washington Wizards.
Kevin Durant led the way for the Thunder with 33 points, 13 rebounds and six assists.
Serge Ibaka added 25 points, 12 rebounds and three blocked shots while Russell Westbrook had 13 points and four assists.
Bradley Beal starred for the Wizards finishing with 34 points on the back of 6-of-8 from three-point range. He had help from Trevor Ariza with 15 points, Nene with 14, Marcin Gortat with 11 and Al Harrington with 11 off the bench.
The Phoenix Suns continue to be the great surprise packet early in the new season. Many predicted Phoenix to be the worst team in the western conference, but they have so far made a mockery of that now improving to a 5-2 record after beating the Pelicans at home on Sunday by seven points.
Eric Bledsoe starred for the Suns with 24 points and six assists with Markieff Morris adding 23 points off the bench and Gerald Green also scored 15 points.
Jason Smith top-scored for New Orleans with 22 points with Jrue Holliday adding 16, Anthony Morrow 16 and Anthony Davis 14 to go with his 12 rebounds and four steals.
The Timberwolves then put on an amazing performance in Los Angeles to beat the Lakers by 23 points to improve to a 5-2 record and sending the up-and-down Lakers to 3-5.
Minnesota scored 47 points in an unbelievable opening period that saw them become the first team to score 47 points in a first quarter since 2008, and the T'Wolves didn't let up all night long at the Staples Centre to cruise to the massive win.
Remarkably, the win was Minnesota's first against the Lakers in 23 attempts dating back to their last previous victory which came in March, 2007 in a double-overtime thriller in Minnesota.
The Timberwolves broke that losing run in style on Sunday with Kevin Love leading the way again with 25 points and 13 rebounds.
Kevin Martin top-scored, though, with 27 points while point guard Ricky Rubio put together his second career triple-double with 12 points, 14 assists, 10 rebounds and five steals to go along with it.
Corey Brewer also scored 17 points for the Timberwolves and Nikola Pekovic adding 14.
Steve Blake top-scored for the Lakers with 19 points with Pau Gasol finishing with 11 points and 11 rebounds, and Jodie Meeks 16 points.
NBA Results Sunday November 10
San Antonio Spurs 120 defeated New York Knicks 89
Washington Wizards 105 lost to Oklahoma City Thunder 106
New Orleans Pelicans 94 lost to Phoenix Suns 101
Minnesota Timberwolves 113 defeated LA Lakers 90