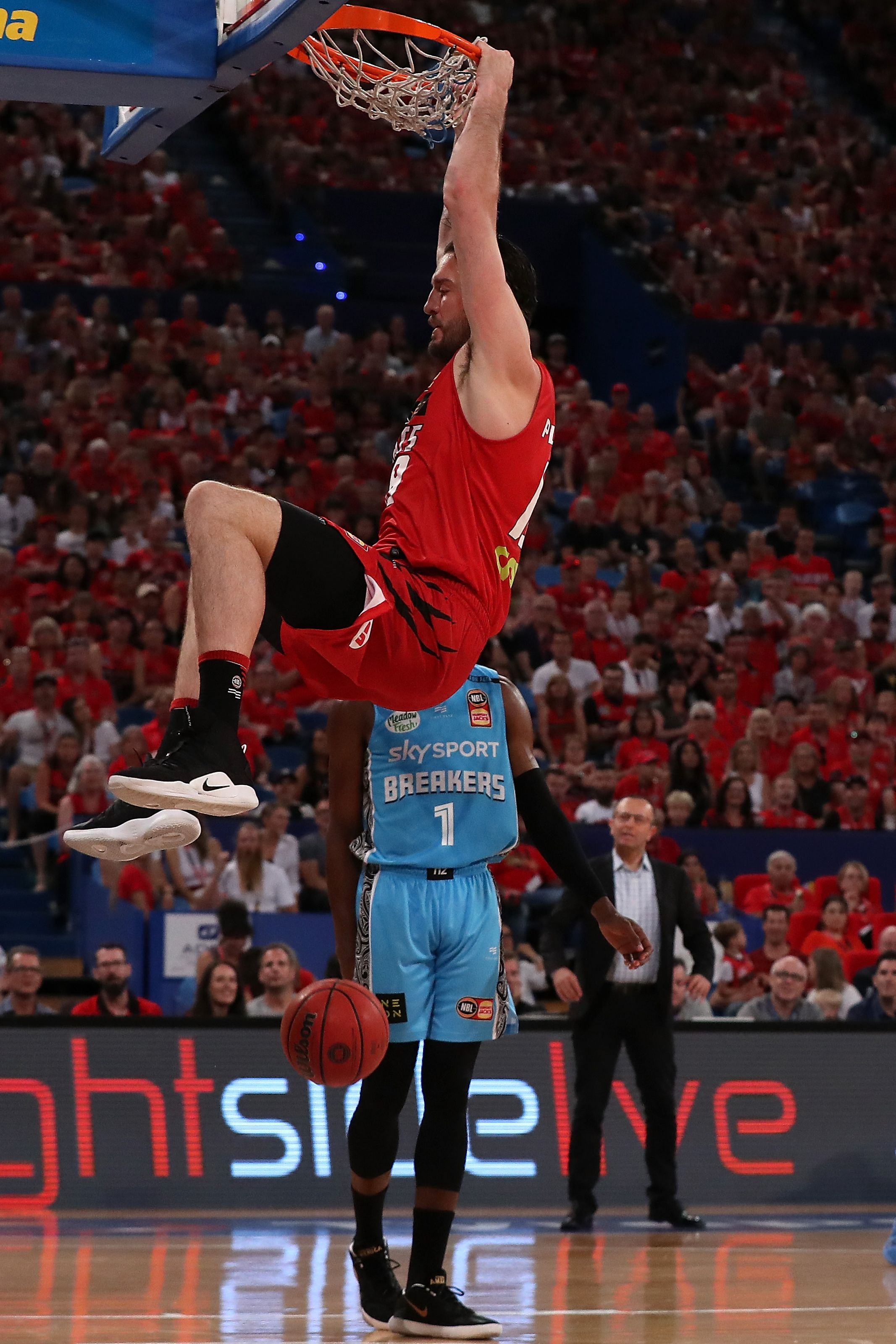 Remarkably at 31 years of age, Miles Plumlee was done playing basketball after a forgettable China experience and his NBA still money rolling in. He was coming down under anyway to visit, but now helping the Perth Wildcats to a 10th NBL championship is high on his agenda.
With nothing left to prove in the game and not really needing to earn anything on top of his NBA contract he was still being paid for, Plumlee was happy to think his professional playing days were done after an experience in China he'd like to forget.
Then came the Perth Wildcats of the NBL. Less than a week later, Plumlee was playing for the Wildcats in Wollongong, helping them to a big road win and now already he became a Red Army favourite despite foul trouble limiting role on debut at RAC Arena last Friday night.
"This all happened so fast that I didn't totally grasp the opportunity or what was going on with the team. But as I learned more, I'm now just excited to be part of something special with this group and the way they play," Plumlee said.
"I knew they were near the top of the standings and I heard about the championships, and culture here. That makes it really enticing too to come to a great team and winning makes everything more fun so I want to come here and win.
"I have to hit the ground running to get up to speed and every game matters a lot right now."
Everything happened so quickly from Plumlee leaving the Zhejiang Lions on January 2 and signing with Perth six days later, and then arriving in Western Australia on the Tuesday, training on Wednesday, flying on Thursday and playing on Friday.
It's been tough to find time to take stock, but if anyone can handle such a transition it is Plumlee who was traded five times in his nine-year NBA career.
But he feels he has fitted in quickly and his cohesion with the group will only grow from here.
"I'm feeling good and am happy to be here. They've thrown a lot at me already but the teammates have been really helping me out and we have more work to do, but I'm excited about this opportunity," Plumlee said.
"Coach (Trevor Gleeson) likes to call it a baptism of fire and I would agree. I'm just trying to soak in as much as I can and will keep it simple, and just play hard. The guys have been great, though, and it seems like it's going to be easy to play with them.
"In my experience when it's a whole bunch of new guys it takes a lot longer, but this is a group of guys who have played together for a long time, they are all unselfish and the way they play is really clear.
"That makes it easier for me to understand how to play with them so I really think we can make some big strides every single game."
Having been traded from the Atlanta Hawks to the Memphis Grizzlies this past off-season, despite still having a year to run on his four-year US$52-million contract, Plumlee was waived on the eve of the NBA season.
He was quickly snatched up by the Zhejiang Lions of the Chinese Basketball Association, but less than a month later having played in seven games, he wanted out and he was content to think that his professional basketball career was over.
After all he was still making big money getting paid the last year of that NBA contract and at 31, he'd packed plenty into his basketball life. After attending Arden, North Carolina's Christ School, he had a four-year college career at Duke which included an NCAA championship in 2010.
The versatile 6'11 big man then moved into the NBA having gone at No. 26 in the 2012 Draft to the Indiana Pacers. He would only play 14 games in that rookie season but the next two years at the Phoenix Suns would prove more fruitful.
In fact, the most productive NBA season of his career came in 2013/14 where he started 79 of the 80 games he played and would go on to average an impressive 8.1 points, 7.8 rebounds and 1.1 blocks while shooting at 51.7 per cent from the field.
He had another solid season after that with the Suns before going on to spend three years at the Milwaukee Bucks before closing that 2016/17 season having moved to the Charlotte Hornets for the last 13 games despite having signed his lucrative four-year deal that off-season.
It was then onto the Atlanta Hawks and he had a good 2017/18 season playing in 55 matches, starting 35 and averaging 4.3 points and 4.1 rebounds. Knee injuries hampered his 2018/19 campaign before Atlanta traded him to Memphis and the rest is history.
But having had such a strong career at such a prodigious school at Duke, played 347 games in the NBA and still being paid despite being out of the league, and then having an experience in China he has nothing good to say about, it's understandable why Plumlee was content to step away.
Even though brother Mason (551 games) remains at Denver and Marshall has become an Army Ranger after chasing his NBA dream, Miles was content to think his professional basketball career was done. After all, he didn't need the money and he also had nothing left to prove.
Australia was always an enticing destination for him to visit, though, with his budding romance with Ruby Rose's ex Catherine McNeill – a 30-year-old Brisbane-born fashion model.
So Plumlee was coming down to Australia anyway, but then came the call from the Perth Wildcats.
The NBL's reigning champions was desperate to make a move to help in their push for a record-extending 10th championship and felt that the increased size and presence inside that Plumlee could provide would help in that cause.
Plumlee's interest was instantly piqued, he took little time to sign on board and delay that retirement thought in pursuit of trying to earn the first championship ring of his professional career.
It was a whirlwind series of events upon Plumlee's arrival. He had one training session with the team before flying to Sydney, getting on the bus to Wollongong and then playing in that Friday night's 99-77 win against the Illawarra Hawks.
He produced six points, three rebounds, two blocks, a steal and an assist in 16 minutes of court time, and showed enough to suggest he could indeed be the difference-maker the Wildcats were hoping he would be with five weeks of the regular season remaining.
While he was limited to 16 minutes and two points and six rebounds in last Friday's big home win against the South East Melbourne Phoenix, Plumlee quickly endeared himself to the Red Army with his energy and size, and willingness to be aggressive above the rim defensively.
That included what should have been counted as the block of the season when he rejected Dane Pineau emphatically, but that call against him only helped the home fans embrace him more as he headed to the bench.
After such a forgettable China experience and the disappointment of not finding an NBA home in 2019/20 despite still being contracted, Plumlee was due a positive basketball experience too.
All the signs are pointing towards that occurring at the Wildcats. While Dario Hunt wasn't performing badly, what this Perth team need was someone a bit bigger who could have more of an impact inside the paint at both ends of the floor.
That was someone who could be a defensive presence and either block or influence shots, while also making their mark physically at the defensive end and able to help contain penetration and also the impact of the league's bigs like Andrew Bogut, Shawn Long and Cam Oliver.
If they can add something in terms of an interior threat offensively that would be a bonus. Plumlee appears to match all of that and now as he gets more and more acclimatised to the team, the country and the league, he's looking forward to the impact he can have.
"It feels great to be here. My teammates and coaches are making it really easy for me to get acclimated quickly and the more I understand the plays, and how we play here the more fun it will be on the court," Plumlee said.
"The things they need from me are pretty simple really and if I bring that effort, and continue to get in better shape I think I can have a big impact in the long run.
"Defence is always big and that's an area where I don't have to know names to be vocal. I know the calls and I know how we want to play defence so that's the easiest way to make an impact.
"I know they've been needing some help on the boards and that's all about effort big-guy stuff. The more I get comfortable with the plays and I'm always there with the names, the other stuff will come."
One major difference from the NBA to the NBL is the time in between games, and the amount of practice days clubs in Australia can have as a result.
Having played that first game on a Friday, the Wildcats had a full seven days before hosting the Phoenix and another eight days until also playing the New Zealand Breakers at RAC Arena this Saturday.
That will certainly help Plumlee and the team build on their chemistry, and he's looking forward to being able to deliver more and more on the back of that.
"I'm still getting used to these practice sessions and you would never see these in the NBA unless you had a couple of days before your next game. It's just a different format but it keeps us sharp as a team," he said.
"The more I get my feet under me, I'll be able to play with high energy and I want to play hard. I've got some athleticism and I want to do whatever I can to win, and I think I'm a good fit to what the team needs.
"I can add a defensive presence especially inside, I can add rebounding, block shots and I can finish.
"I haven't watched a lot of the NBL, but the brand of basketball with the passing and playing off the post is refreshing because a lot of people aren't doing that anymore, and I don't know what they are playing in China.
"I'm excited to be part of it and if people love dunks they should like me."
Coming to Australia was always something high on the agenda for Plumlee too, even if he had never really considered playing basketball outside the NBA until a couple of months ago.
But life was bringing him down under anyway so he couldn't be happier to be linking up with the Wildcats for the next couple of months as a bonus as they chase a championship together.
"I mean I was coming to Australia anyway when the offer popped up and I didn't have any other offers in Australia, but I'm really happy to be here now," Plumlee said.
"She (Catherine) is always telling me about her home country obvsiously, but I've never been until now and have always wanted to come. It's not always the best time in the off-season of the NBA, but this has worked out perfectly and I'm excited to be here."