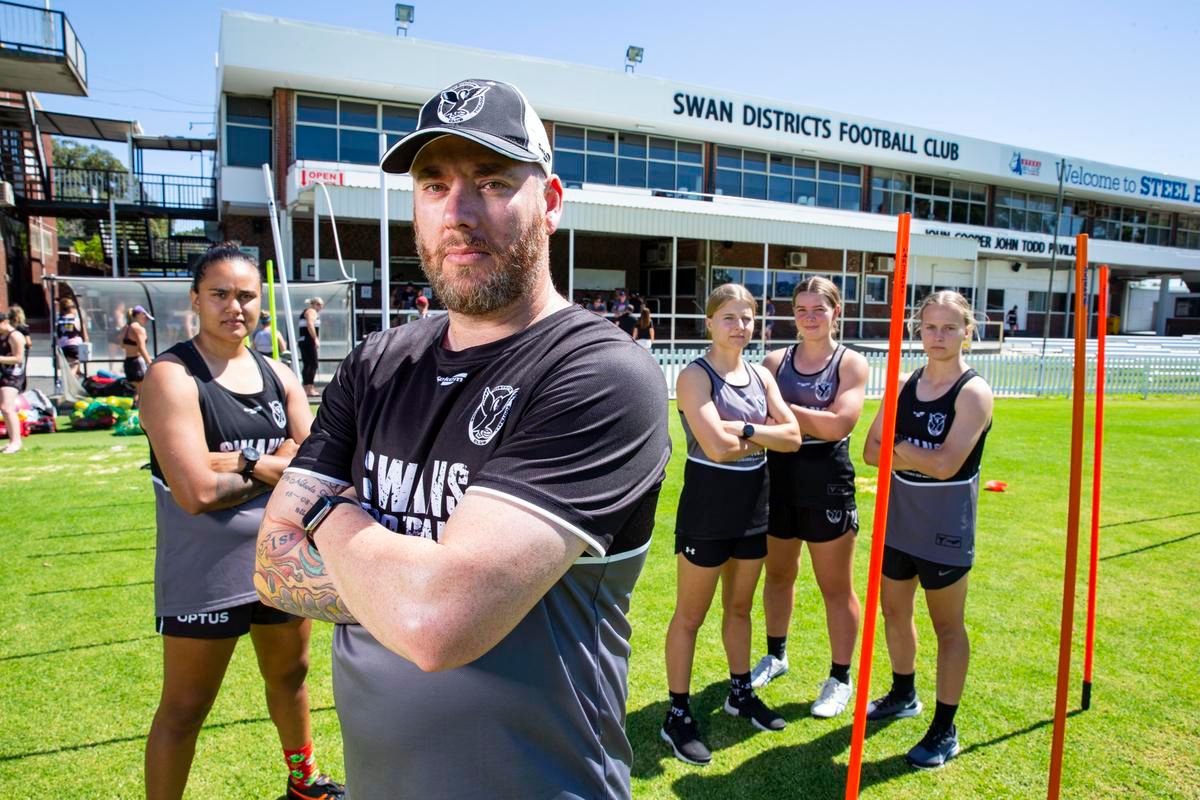 After a grand final and preliminary final appearance in his first two seasons, Swan Districts WAFLW coach Adam Dancey is making no secret they are shooting for the 2023 premiership but he does urge those expectations to be realistic.
Dancey is preparing for his third season as coach of Swan Districts in the WAFLW competition. His first season in charge saw Swans produce a standout home and away season to win the minor premiership before losing to Peel Thunder in the grand final.
Then last year, they did a strong job to again qualify for the finals and reach the preliminary final before losing to Claremont and just falling short of a second straight grand final appearance.
Never one to stand still, Dancey has looked to oversee plenty of changes and growth once again for Swans coming into the 2023 WAFLW season with the ultimate goal of coming away with the premiership.
"We're different again and we've been different every year. This is my third year with the club so I suppose you look at the first year and think it was really cool," Dancey said.
"The second year, we didn't do too bad but we had a lot of different challenges and disruptions. Now this season, we've deliberately gone different and we are going to look different with our jumpers, the way the team is structured is different and our size and speed will be different.
"We've really tried to make sure that we're grabbing hold of talent who wants to be part of what we're building. That's going to represent change for us which is really good. Where that leads us nobody knows, but the reality is that we want to win the flag.
"We're chasing a premiership and were not going to hide from that, and we've spoken to the girls about it. It may or may not happen, a lot of things have to go right to win a premiership throughout the entirety of the year," Dancey added.
"But that's what we're chasing, it's state league footy and we want to be the best. We think we've got the group to do that, but every team at this stage is going to say that.
"With the player movement and the extra teams coming in, I think everyone will look a little bit different so it will be about assessing after the first half of the season where we sit and what we need to do to make sure we're still in the hunt for the premiership."
Whether it's the men's or women's program, the Swan Districts Football Club is making no secrets of its premiership push across the board coming into 2023.
While for Dancey he sees that as a positive and he certainly is looking to become a premiership coach this season with Swans in the WAFLW season too, he also wants to see continued improvement in the way the female program is supported, and treated.
He feels the most important first step in trying to build to a premiership is to having the right culture. While he is doing his best to help oversee that with team, he knows it's important for all the areas of the club to be right behind what they are attempting to do.
"It's great to have those goals and expectations, but the club also has to understand the limitations that it imposes," Dancey said.
"At the end of the day, the female program doesn't receive a lot of cash so we are restricted in what we can do. When you look at the expectation within a football club, that's a great thing but at the same time the club has to support that to give us a chance to achieving it.
"That goes all the way down to your marketing and social media campaigns in terms of putting yourself out there to get interest within your football club."
Claremont is the reigning premiers in the WAFLW competition and in a lot of areas Dancey looks at them as the benchmark in the way that they have grown, and treated their women's program.
"When I look at that now, Claremont has had success last year and for the last three or four years have been at the forefront of making sure they know who Claremont is," he added.
"They've recruited very well and they won a flag last year because they had the best players. They've found a way to recruit very heavily from returning or retiring AFLW footballers and that obviously helps significantly in terms of what you're doing, and also building your Rogers Cup team.
"You gain so much experience from that. It's great to be part of a club that is striving for greatness and you're always striving to be competitive, but at the same time we've still got a lot of room for growth to go."
While Dancey feels Swan Districts has taken a lot of steps in the right direction in growing the female program, he hopes strides forward continue to be taken to ensure all the women and girls involved feel as though they are valuable members of the football club.
"We've got a lot of stuff we need to be better at and I think part of that is having a player centric focus throughout the club," Dancey said.
"We still, in my opinion, hold onto some of the older phases where we make things a player issue where we can actually be doing more ourselves to facilitate what the player needs.
"It can be a simple thing like having a player come to make a payment, we have cut off dates and I absolutely the need for those, but at the same time if you can get someone to a player with an Eftpos machine for them to make a payment, surely you do that.
"They're the little things that make the player feel special and they are the little things that the players share amongst one another, and create the difference in culture.
"To me if we can create that player centric focus we're going to go a lot further in being able to recruit good talent to our football club which brings experience and will bring about that success of a premiership ultimately."