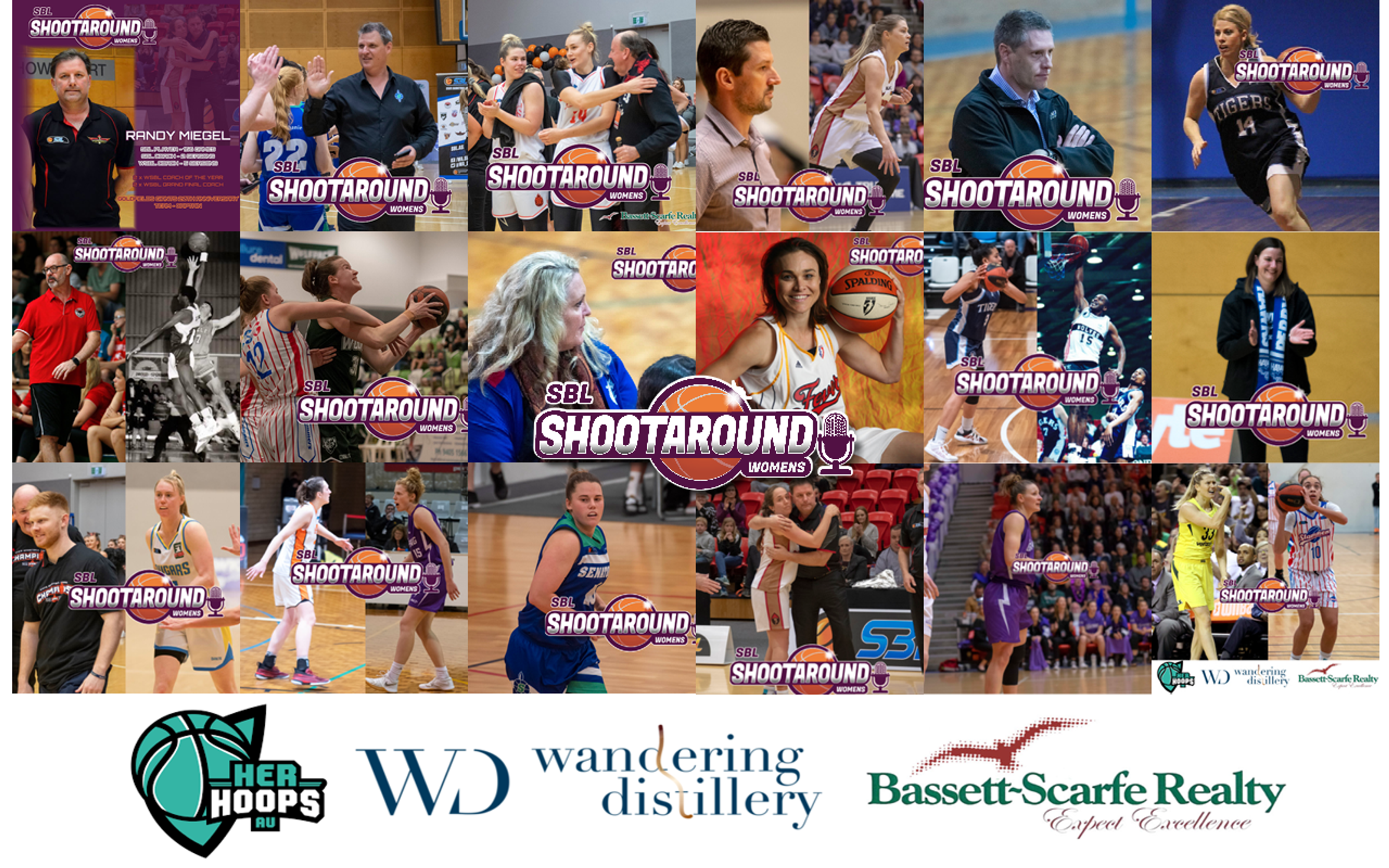 THERE was so much new and different in 2020 and we were excited to bring you the first season of Women's SBL Shootaround which we had a lot of fun creating, and couldn't be more blown away with the support we received.
When thinking ahead of a way to offer something new to the SBL season in 2020, Chris Pike and Randy Miegel got together and decided to co-host a podcast and it was all set to go back in March for the start of the season proper.
The decision was then made to start the show in 2020 no matter if there would be any sort of basketball played locally to help fill the void left thanks to COVID-19. Then when the West Coat Classic was announced, everything fell into place nicely.
With Chris Pike bringing his passion from covering the SBL permanently since 2013 having been involved in basketball for 15 years, and then Randy Miegel joining him as a two-time Women's SBL Coach of the Year, the show got up and going and never looked back.
Along the way, SBL Shootaround provided all the coverage anyone needed of the West Coast Classic competition by providing full previews, tips and reviews of each round.
This morphed into the announcement of a Wandering Distillery Player of the Week award winner announced on each episode with votes given for the Bassett-Scarfe Realty Player of the Year award.
Winners of the weekly award won a voucher thanks to Wandering Distillery and those who won included Stacey Barr, Kayla Steindl, Bree Fisher, Tayah Burrows, Jessie Edwards, Jess Jakens, Ash Isenbarger, Christina Boag and Maddie Allen.
It was a thrilling race for the Bassett-Scarfe Realty Player of the Year award with Stacey Barr of the Warwick Senators and Ash Isenbarger of the Lakeside Lightning unable to be separated.
The winner was then determined by votes cast by the SBL Shootaround listeners with Barr narrowly winning with hundreds offering their choice on social media, and it was reigning SBL MVP Barr who just came out on top.
While the two co-hosts offered plenty of insight and discussion during the season over the action in the West Coast Classic and a lot more, there's no doubt the star of SBL Shootaround during 2020 was the remarkable array of guests that came onto the show.
They included current players like Stacey Barr, Ash Isenbarger, Amber Land, Jessie Edwards, Jodee Sontay, Darcee Garbin and Rachel Halleen who all allowed our listeners to get to know plenty more about themselves and their basketball journey.
Coaches Ryan Petrik, Keegan Crawford, Dion Dagostino, Craig Allen and Deanna Black were also more than generous with their time and provided some great insight into themselves, their teams and their coaching beliefs and philosophies.
There were some all-time greats of West Australian and Australian basketball that we were honoured to be joined by headlined by Tully Bevilaqua, Sami Whitcomb, Ali Schwagmeyer-Belger, Casey Mihovilovich, Melissa Marsh and Tanya Fisher.
We had several co-hosts for entire episodes throughout the season as well first up with championship winning coach Craig Mansfield and later on with father-daughter superstar duo Vince and Desiree Kelley, and then star player and Her Hoops AU founder Makailah Dyer.
There was even plenty of fun had when Randy Miegel reconnected with his former Goldfields Giants teammate Doc Earl for a fascinating discussion.
When it was all said and done, what we started Women's SBL Shootaround for was to promote women's basketball and the people involved in it. We wanted to provide some exposure but also give those involved a chance to speak in a relaxed environment to get their stories out there.
We hope we achieved those goals and we had a terrific time doing it. The show turned out to be a much more popular hit than we could have hoped and we couldn't have done it without our partners Wandering Distillery, Bassett-Scarfe Realty and Her Hoops Au.
Not only was the podcast available on all the usual platforms, but it was a significant boost to us to be played live on 91.3 SportFM every Thursday night and we can't thank the station enough for that support.
This was a new venture for both co-hosts Chris Pike and Randy Miegel. Both of them are passionate about promoting basketball in this state and have long histories involved in the sport, but podcasting was something new.
We did our best to provide the best quality product we could given we were learning on the job and we look to be back bigger and better in 2021 with another season of Women's SBL Shootaround whether we are talking about the SBL, NBL1 West or who knows, another West Coast Classic!
WOMEN'S SBL SHOOTAROUND EPISODES
EPISODE 1 – Introduction to show and detailed chat about Randy Miegel's life in basketball
EPISODE 2 – Warwick Senators coach Dion Dagostino as special guest
EPISODE 3 – We chat with Rockingham Flames, Perth Lynx, Australian Opals superstar Darcee Garbin
EPISODE 4 – Newly appointed Perth Lynx coach joins us along with Mandurah Magic captain Rachel Halleen
EPISODE 5 – Championship winning coach Craig Mansfield is our co-host for a fascinating show
EPISODE 6 – Willetton Tigers legend and Perth Lynx/West Coast Waves games record holder Melissa Marsh is our very special guest
EPISODE 7 – Randy Miegel reconnects with Goldfields Giants teammate Doc Earl as Chris Pike catches up with Perth Redbacks coach Craig Allen
EPISODE 8 – One of the great SBL imports this decade Amber Land joins us to discuss her career and the Land Performance Centre
EPISODE 9 – WNBL championship winner and SBL MVP Tanya Fisher drops by to talk about her career, coaching and daughters Bree and Eryn
EPISODE 10 – One of Australia's all-time great basketballers Tully Bevilaqua provides us with the honour of chatting with her from Indiana
EPISODE 11 – We are joined in studio by Willetton Tigers captain Desiree Kelley and her father, the legendary Vince Kelley
EPISODE 12 – Former superstar WNBL and SBL player, and now championship winning coach at the Perry Lakes Hawks Deanna Black is our special guest
EPISODE 13 – The youngest coach in SBL history Keegan Crawford catches up with us in a packed episode that includes fascinating chat with 350-plus game veteran Jodee Sontay
EPISODE 14 – Two of the best players in the West Coast Classic and now Perth Lynx teammates Jessie Edwards and Ash Isenbarger join us for a huge show
EPISODE 15 – Reigning SBL MVP and Warwick Senators superstar Stacey Barr chats on the back of a 75-point weekend
EPISODE 16 – Randy Miegel catches up with his former Mandurah Magic captain, the legend herself Casey Mihovilovich
EPISODE 17 – At the business end of the season, all the West Coast Classic latest plus a fascinating chat with Lakeside Lightning legend and Sydney Uni Flames WNBL signing Ali Schwagmeyer-Belger
EPISODE 18 – We finish off joined in studio by Her Hoops AU co-founder Makailah Dyer while we end with a bang chatting with triple SBL MVP and now dual WNBA champion Sami Whitcomb