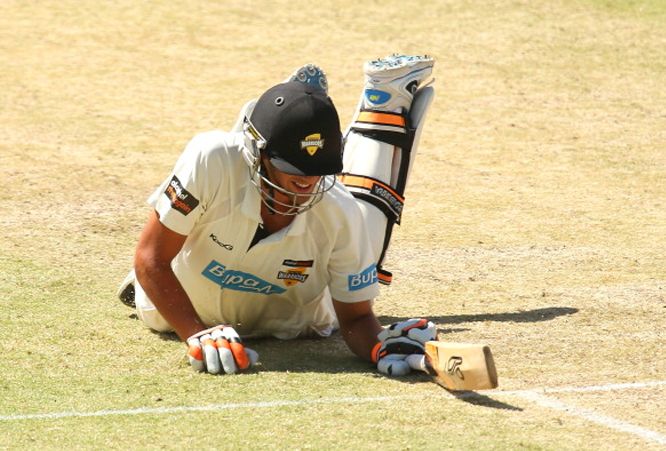 ASHTON Agar's confidence is so shot only eight months after his remarkable Ashes debut that even coming into bowl his left-arm orthodox spinners is now becoming an ordeal.
After an impressive debut Sheffield Shield season last year with Western Australia where Agar starred both with his left-arm spinners but also with his temperament to score crucial late-order runs, he was called up to make a shock Ashes Test debut in England.
While he didn't set the world on fire with the ball in those two Tests with combined figures of 2-248, with the bat he scored a remarkable 98 to save Australia from disaster against England in the first innings at Nottingham.
Even though Agar was dropped after the Lord's Test, it certainly appeared that the future was bright for the 20-year-old and that there was little doubt that plenty more international cricket for Australia in both his near and long-term future.
However, his 2013/14 season with the Warriors continues to go from bad to worse and needs to turn around quickly to avoid the supremely talented and likeable former Victorian come West Australian from having a tough time dealing with his fall from grace over the off-season.
Agar struggled for WA in the Ryobi Cup last year playing just two matches for 12 runs in two innings while having combined figures of 1-73 from 17 overs.
He also played just one game in the Big Bash League for the Perth Scorchers as both he and Michael Beer fell victim to the outstanding performances of veteran Chinaman Brad Hogg.
In that appearance, he made two runs and didn't bowl a delivery.
However, it was Shield cricket where Agar starred last summer for WA to put him in line to play for Australia and that is where his greatest struggles have come.
Before the break for the Big Bash, Agar had taken 14 Shield wickets at an average of almost 48 while only making 154 runs with the bat at an average of 17 with most of his runs coming in a best of 93.
Agar was then forced to miss WA's win last week at the WACA Ground against Tasmania after being harshly suspended for showing dissent during a Second XI match.
It seemed a harsh penalty when it's believed Agar simply gave a look towards the umpire showing his unhappiness with a decision.
However, it came at a horrible time and the suspension was the last thing he needed even though WA recalled him immediately to face New South Wales this week.
He returned to the WA side to face NSW in the game now heading into the fourth day at the WACA Ground, but struggled in the first innings with the ball finishing with the figures of 0-70 in 14 overs.
While his bowling showed promise, his lower-order batting late last season in Shield cricket was simply brilliant and then his knock in England won the hearts of the country as well.
However, his batting struggles and low confidence, and bad luck were best highlighted in his innings for WA on Saturday.

After completing a run and grounding his bat, Agar picked up his bat and just as he did that, a throw in at the stumps from NSW quick Doug Bollinger was on target and suddenly Agar was run out in bizarre circumstances for just seven.
It didn't affect WA's position in the game on the way to a 118-run first innings lead, but Agar was simply bemused and shattered at his dismissal that just continued his horror run of luck and form with both bat and ball.
Agar did again take the ball in the second innings and his figures of 0-12 in 10 overs were solid enough, but he dropped a caught and bowled chance off first innings centurion Ryan Carters (32) in his second last over.
And then in the final over of the day, the left-arm spinner lost his run up to the crease on several occasions, delivered his third no ball of the match and no doubt was the happiest person at the WACA Ground when stumps was called.
At just 20 years of age and with the cricket he has previously shown he's capable of, there is little question Agar can get his career back on track but right now he needs a massive shot in the arm of confidence before he looks capable of delivering with the bat and ball again.