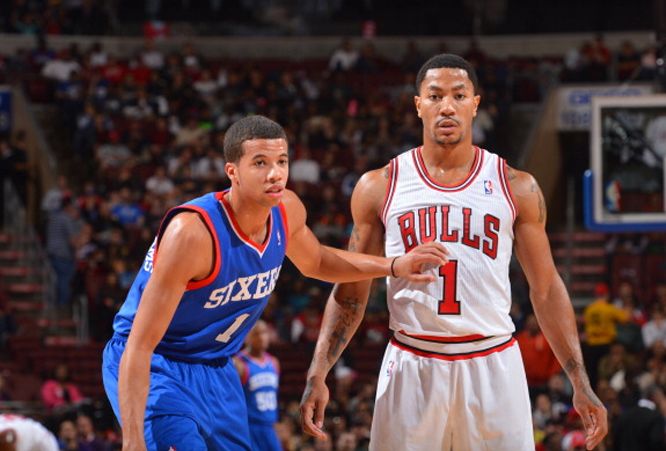 PHILADELPHIA, Indiana and Houston all continued their unbeaten starts to the 2013/14 NBA season with impressive wins on Saturday night.
The action on Saturday saw the Indiana Pacers beat the Cleveland Cavs 89-74, the Chicago Bulls went down to the Philadelphia 76ers 107-104, the New Orleans Pelicans beat the Charlotte Bobcats 105-84 and the Dallas Mavericks beat the Memphis Grizzlies 111-99.
The Toronto Raptors also beat the Milwaukee Bucks 97-90, the Houston Rockets downed the Utah Jazz 104-93, the Portland Trail Blazers beat the San Antonio Spurs 115-105 and the Golden State Warriors beat the Sacramento Kings 98-87.
The Pacers stretched their winning run to three to open the new NBA season with a 15-point win at home over the Cavs with Lance Stephenson top-scoring with 22 points while hitting 5-of-7 from three-point range and Paul George adding 21 to go with 13 rebounds.
Dion Waiters had 17 points for the Cavs with Kyrie Irving adding 15 points and five assists. Australian guard Matthew Dellavedova got on the court for a minute but didn't trouble the statisticians.
The 76ers also continued their surprise opening to the season under new coach Brett Brown winning a third straight game by downing the Bulls in Philadelphia by three points on Saturday night.
Not only have the Sixers surprised by winning all three games, but two of them have against two of the teams expected to challenge for the eastern conference title – the two-time defending champion Miami Heat and now the Chicago Bulls.
Against Chicago, rookie Michael Carter-Williams was again outstanding with 26 points and 10 assists with Evan Turner adding 20 points and Spencer Hawes 18 to go with 11 rebounds.
Carlos Boozer had 22 points and 10 boards for the Bulls with Luol Deng adding 20 points and Derrick Rose again struggled on his return with 13 points and six assists, but shooting 4-of-14 from the field and having eight turnovers.
The New Orleans Pelicans got their first win of the season thumping the Charlotte Bobcats by 21 points in New Orleans.
Anthony Davis, the No. 1 draft pick of 2012, led the way with 25 points, eight rebounds, six steals and four assists for the Pelicans. Tyreke Evans added 15 points, Jrue Holliday 14 and Brian Roberts 13.
Ramon Session scored 22 points and had six assists for the Bobcats with Kemba Walker adding 14 points.
Dallas returned home and recorded a solid 12-point win over Memphis with Dirk Nowitzki leading the way with 24 points. Shawn Marion added 21 points and 14 rebounds, and Monta Ellis 18 points.
Mike Conley had 24 points and eight assists for the Grizzlies with Marc Gasol adding 23 points and Zach Randolph 21 to go with 14 rebounds.
Toronto recorded its second win from three games to open the new season with a seven-point win in Milwaukee over the Bucks with Rudy Gay starring with 18 points and 15 rebounds. DeMar DeRozan added 17 points and Kyle Lowry 14 to go with six rebounds and four assists.
OJ Mayo had 16 points and eight assists for the Bucks with Ersan Ilyasova adding 14 points, John Henson 13 and Caron Butler 12.
Houston also remained unbeaten after three games this season since the arrival of All-Star centre Dwight Howard. On Saturday night, the Rockets beat the Jazz in Utah by 11 points.
Chandler Parsons led the way for Houston with 24 points, 12 rebounds and six assists with James Harden adding 23 points, Jeremy Lin 20 and Howard 15.
Richard Jefferson top-scored for Utah with 18 points with Enes Kanter scoring 16 points, Alec Burks 15, Gordon Hayward 15 and Derrick Favors 12.
Portland inflicted San Antonio's first loss of the season with a 10-point victory as well with LaMarcus Aldridge leading the way for the Blazers with 24 points, seven rebounds and four assists.
Damian Lillard also starred with 25 points, seven rebounds and seven assists with Wesley Matthews adding 20 points.
Tim Duncan returned after taking the night off against the Lakers and was terrific for the Spurs with 24 points and seven rebounds. Marco Belinelli scored 19 points for San Antonio, Tony Parker 17 and Boris Diaw 14.
Australian pair Patty Mills and Aron Baynes both hit the floor for the Spurs with Mills scoring five points and pulling in two boards in almost 15 minutes while Baynes had two points, two rebounds and an assist in just over seven minutes.
Andrew Bogut's Golden State Warriors also improved to a 2-1 record with an 11-point win over California rivals Sacramento.
Klay Thompson top-scored for the Warriors with 27 points with Stephen Curry adding 22 points and 12 assists. Bogut finished with six points and six rebounds.
Ben McLemore had 19 points for the Kings with Travis Outlaw finishing with 15 points and 12 rebounds.
NBA Results Saturday November 2
Cleveland Cavaliers 74 lost to Indiana Pacers 89
Chicago Bulls 104 lost to Philadelphia 76ers 107
Charlotte Bobcats 84 lost to New Orleans Pelicans 105
Memphis Grizzlies 99 lost to Dallas Mavericks 111
Toronto Raptors 97 beat Milwaukee Bucks 90
Houston Rockets 104 beat Utah Jazz 93
San Antonio Spurs 105 lost to Portland Trail Blazers 115
Sacramento Kings 87 lost to Golden State Warriors 98