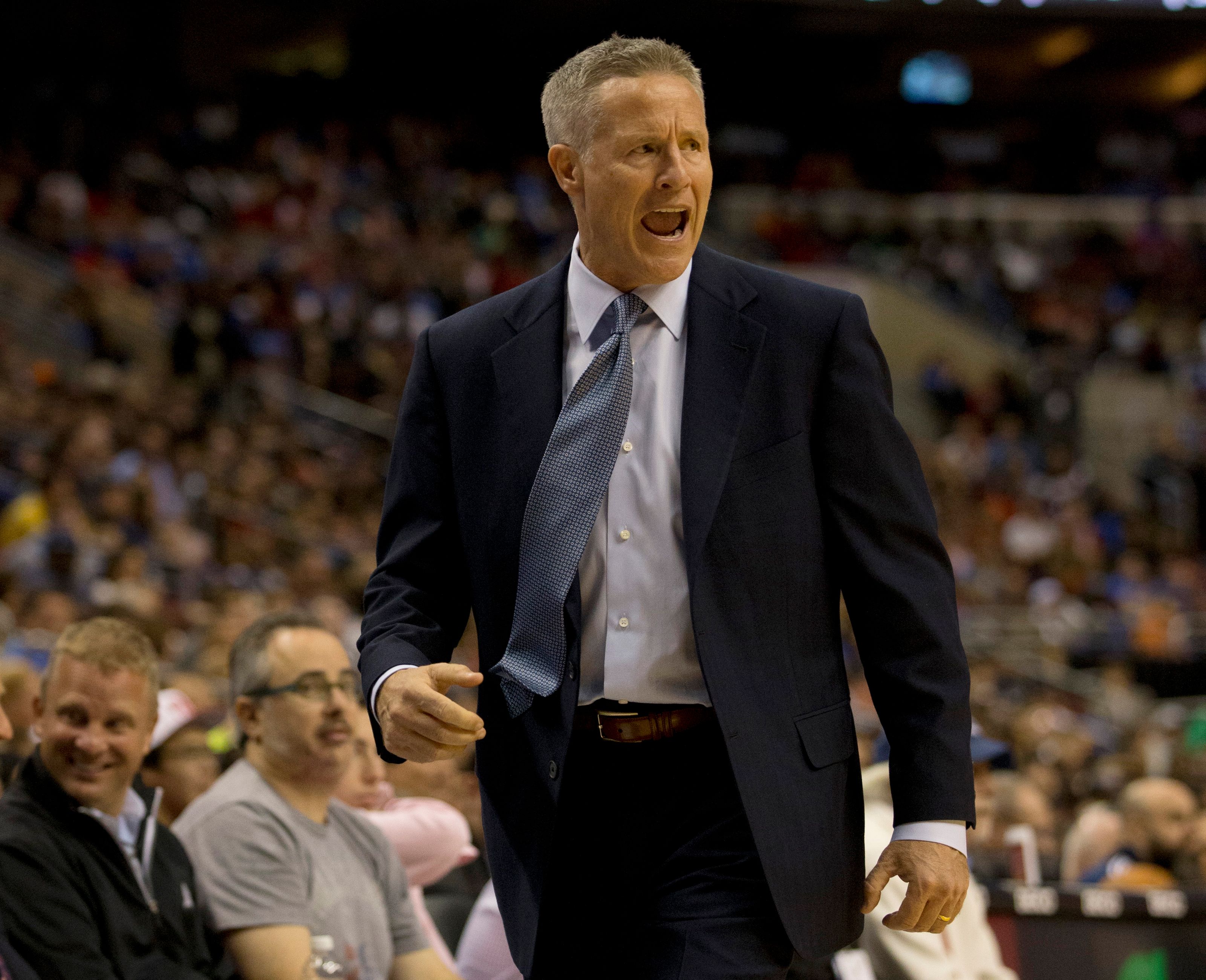 BRETT Brown's NBA coaching debut got off to a dream start when his Philadelphia 76ers upset the defending champion Miami Heat in one of 14 matches on Wednesday.
Brown's 76ers were terrific coming from behind to beat the Heat 114-110 in Philadelphia while Dwight Howard began his career in Houston off in style helping the Rockets beat the Charlotte Bobcats 96-83.
Brooklyn's new-look dream team didn't make a great start losing to Cleveland 98-94 with Toronto downing Boston 93-87, Detroit beating Washington 113-102, New York winning against Milwaukee 90-83, Minnesota beating Orlando 120-115 in overtime and Indiana beating the New Orleans Pelicans 95-90.
The Dallas Mavericks also beat the Atlanta Hawks 118-109, the San Antonio Spurs downed the Memphis Grizzlies 101-94, the Oklahoma City Thunder beat the Utah Jazz 101-98, Sacramento downed Denver 90-88, the Phoenix Suns were too good for the Portland Trail Blazers 104-91 and Andrew Bogut's Golden State Warriors hammered the LA Lakers 125-94.
Brown is the head coach of an NBA club for the first time after a distinguished career that began by winning an NBL title with the North Melbourne Giants before he finished his stint in Australia coaching the Sydney Kings.
He then linked up with San Antonio where he has been an assistant under Gregg Popovich ever since. He coached the Boomers while with the Spurs as well, but now has been given the chance to lead the 76ers and got off to a surprise winning start against the Heat to open the season.
Philadelphia rookie Michael Carter-Williams was outstanding finishing with 22 points, 12 assists, nine steals and seven rebounds in an incredible performance in his NBA debut.
Evan Turner also scored 26 points, Spencer Hawes 24 and Tony Wroten 14.
The Heat were without Dwyane Wade after winning their opening night clash against the Bulls, but LeBron James had 25 points to go with 13 assists. Chris Bosh added 22 points and 10 boards with Ray Allen hitting 19 points including four more three-pointers and a half-court shot.
The Jason Kidd-coached Nets are expected to big a title contender this season following the arrival of Paul Pierce, Kevin Garnett, Jason Terry and Andrei Kirilenko to join Deron Williams and Joe Johnson, but they fall four points short of the Cavs in Cleveland to start their season.
Tristan Thompson led the way for the Cavaliers with 18 points and nine boards with Kyrie Irving impressive with 15 points, nine assists and seven rebounds.
Brook Lopez top-scored for Brooklyn with 21 points with Pierce adding 17, Terry 14, Johnson 13 and Garnett just eight to go with 10 rebounds.
Toronto won a tight affair over Boston by six points with Rudy Gay top-scoring with 19 points and eight rebounds. Amir Johnson also had 13 points, DeMar DeRozan 13 and Kyle Lowry 11.
Jeff Green top-scored for the Celtics with 25 points while Brandon Bass added 17 and Vitor Faverani 13.
The Pistons got their season off on the right note with a rejigged and much-improved roster beating the Wizards at home by 11 points.
Detroit big man Greg Monroe dominated the Wizards inside with 24 points and 16 rebounds while Josh Smith scored 19 points in his Pistons debut.
Will Bynum added 19 points and returning veteran Chauncey Billups showed he has plenty left to offer with 16 points and five assists while shooting 4-of-5 from three-point territory.
Trevor Ariza was on-fire for the Wizards with 28 points including going 6-of-11 from three-point range. John Wall added 20 points and 11 assists, and Bradley Beal scored 17 points.
New York got its season off to a winning start with a seven-point win at home over Milwaukee.
Carmelo Anthony scored 19 points to go with 10 boards for the Knicks with Raymond Felton adding 18 points, Iman Shumpert 16 and Tyson Chandler 10.
Former Spur Gary Neal top-scored for the Bucks with 16 points to go with five assists with OJ Mayo adding 13 points and Ersan Ilyasova 10.
Howard made his mark in his first appearance for the Rockets with the All-Star centre grabbing 26 rebounds to go with his 17 points in a 13-point win at home over the Bobcats.
James Harden top-scored for Houston with 21 points with Jeremy Lin adding 16 and Francisco Garcia 19.
Josh McRoberts scored 15 points for Charlotte with Ramon Sessions adding 14, Al Jefferson 13, Kemba Walker 12 and Gerald Henderson 11.
The Timberwolves and Magic took part in a thrilling overtime clash with Minnesota ending up prevailing by five points.
Kevin Love had a huge night for the T'Wolves with 31 points and 17 rebounds helped by 23 points from Kevin Martin and 16 from Corey Brewer.
Arron Afflalo top-scored for Orlando with 28 points with Nikola Vucevic adding 22, Jameer Nelson 18 and Victor Oladipo 14.
The Pacers made it two from two over the first two nights of the season with a five-point win over the Pelicans in New Orleans with Paul George again starring with 32 points, George Hill had 19, Lance Stephenson 16 and David West 12.
Eric Gordon top-scored for the Pelicans with 25 points with Jrue Holiday adding 24 and Anthony Davis 20 to go with 12 rebounds.
The new-look Mavs got off to a winning start holding out the Hawks by nine points in Dallas with Monta Ellis starring with his new club with 32 points while shooting 11-of-17 from the field.
Dirk Nowitzki also had 24 points, Vince Carter 21 and Shawn Marion 12.
Jeff Teague top-scored for the Hawks with 24 points to go with nine assists. Paul Millsap added 20 points, DeMarre Carroll 14 and Al Horford 11.
The Spurs got their season off to a winning start in a western conference finals rematch from last season, beating the Grizzlies at home by seven points.
Boris Diaw and Kawhi Leonard scored 14 points each for the Spurs with Tony Parker adding 13 and nine rebounds, and Manu Ginobili 12 points, five assists and four boards.
Australian point guard Patty Mills scored 12 points while going a perfect 4-of-4 from the field and 3-of-3 from three-point range in almost 17 minutes of court. Aron Baynes only hit the court for two minutes and had only one foul and one turnover.
Tony Allen scored 15 points for the Grizzlies with Mike Conley adding 14, Marc Gasol 14 and Quincy Pondexter 13.
Oklahoma City prevailed in a tight one over the Jazz in Utah by three points led by Kevin Durant with 42 points. Thabo Sefolosha also had 14 points as did Reggie Jackson.
Alec Burks led the way for the Jazz with 24 points with Derrick Favors adding 15 points, Enes Kanter 14 and Miles Harris 13.
The Suns are expected to struggle this season, but they were good enough to beat the Blazers by 13 points at home on Wednesday with Goran Dragic hitting 26 points, Eric Bledsoe 22 and Miles Plumlee 18 to go with 15 rebounds and three blocked shots.
Damian Lillard top-scored for Portland with 32 points with LaMarcus Aldridge adding 28 as the only two players to reach double-figures.
Sacramento held on in a thriller at home to Denver to win by two points with DeMarcus Cousins starring with 30 points. Greivis Vasquez also had 17 and Isaiah Thomas 16 to go with five assists.
Ty Lawson managed 20 points for the Nuggets with Andre Miller, Randy Foye and JJ Hickson all adding 12 apiece.
The Kobe Bryant-less Lakers might have surprised the Clippers with a win on opening night, but couldn't back that up in Oakland with the Warriors romping to a 125-94 victory.
Bogut had just two points but had a good all-round game with eight rebounds, four assists, two steals and two blocks for the Warriors with Klay Thompson having a night out with 38 points. David Lee also had 24 points for Golden State.
Jodie Meeks and Xavier Henry top-scored for the Lakers with 14 points.
NBA Results Wednesday October 30
Brooklyn Nets 94 lost to Cleveland Cavaliers 98
Miami Heat 110 lost to Philadelphia 76ers 114
Boston Celtics 87 lost to Toronto Raptors 93
Washington Wizards 102 lost to Detroit Pistons 113
Milwaukee Bucks 83 lost to New York Knicks 90
Charlotte Bobcats 83 lost to Houston Rockets 96
Orlando Magic 115 lost to Minnesota Timberwolves 120
Indiana Pacers 95 beat New Orleans Pelicans 90
Atlanta Hawks 109 lost to Dallas Mavericks 118
Memphis Grizzlies 94 lost to San Antonio Spurs 101
Oklahoma City Thunder 101 beat Utah Jazz 98
Portland Trail Blazers 91 lost to Phoenix Suns 104
Denver Nuggets 88 lost to Sacramento Kings 90
LA Lakers 94 lost to Golden State Warriors 125