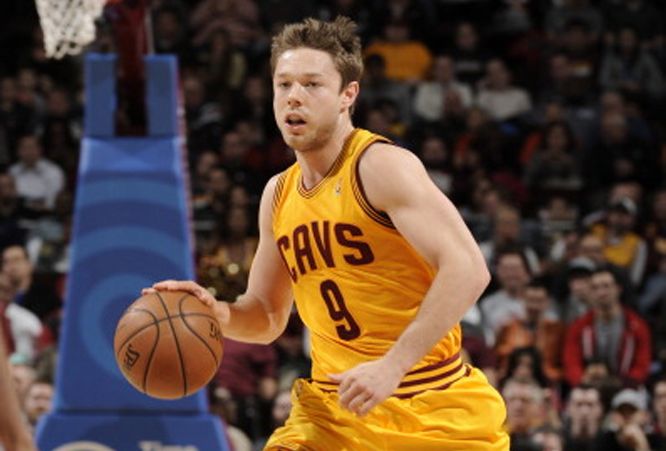 INDIANA, Miami, Oklahoma City and Portland all continued their strong starts to the NBA season on Sunday while New York slumped to yet another dismal home loss.
There were eight games in the NBA on Sunday with Denver beating Toronto 112-98, Indiana downing the Clippers 105-100, Detroit beating Philadelphia 115-100, Golden State holding off Sacramento 115-113, Miami beating Charlotte in a thriller 99-98, Oklahoma City downing Minnesota 113-103, New Orleans beating New York 103-99 and Portland downing the Lakers 114-108.
The Nuggets continued their hot recent form following a slow start to the season under new coach Brian Shaw with a 14-point win against the Raptors in Toronto.
Nate Robinson led the way off the bench for Denver with 23 points and five assists, including five three-pointers.
Timofey Mozgov had 16 points and 15 rebounds off the bench with Darrell Arthur adding 14 points and Jordan Hamilton 10.
Meanwhile, Ty Lawson was the best of the Nuggets' starters with 16 points and six assists while Kenneth Faried had 12 points and 12 boards.
Rudy Gay top-scored for Toronto with 23 points and nine rebounds with Jonas Valanciunas adding 18 points and 11 boards. DeMar DeRozan and Kyle Lowry scored 17 points apiece.
Indiana continued its remarkable opening to the season improving to a 16-1 record with one of its most impressive wins to date downing the Clippers at Staples Centre by five points.
Paul George again top-scored for the Pacers with 27 points with David West adding 24 and 12 rebounds.
Centre Roy Hibbert had 24 points and 12 boards with George Hill adding 11 points to go with six assists and five rebounds.
Jamal Crawford top-scored for the Clippers off the bench with 20 points with Chris Paul adding 17 and 10 assists, and Blake Griffin 16 points and 12 boards.
The Pistons got out of the blocks quickly with 40 first quarter points at home to the 76ers on Sunday and despite a 36-point third period from Philadelphia, cruised to the 15-point win to improve to a 7-10 record.
Centre Andre Drummond dominated inside for Detroit with 31 points, 19 rebounds and six steals with Josh Smith adding 20 points, five assists and three blocked shots.
Point guard Brandon Jennings finished with 20 points, 12 rebounds and six rebounds with Rodney Stuckey adding 17 points off the bench for the Pistons.
Thaddeus Young led the way for the Sixers with 24 points with Evan Turner adding 20 and Michael Carter-Williams 15 to go with six rebounds, six assists and six steals.
In the battle of California teams, Golden State held on in a thriller in Sacramento beating the Kings by just two points with Stephen Curry the star for the Warriors with 36 points and 10 assists, including shooting 14-of-24 from the field and 5-of-8 from three-point range.
Klay Thompson also scored 28 points for the Warriors while hitting a massive 8-of-11 from beyond the arc.
Harrison Barnes and David Lee both had 11 points with Australian centre Andrew Bogut finishing with six points, 12 rebounds and three blocks.
DeMarcus Cousins top-scored for the Kings with 24 points with Marcus Thornton adding 21, Isaiah Thomas 19 and Patrick Patterson 18.
Some heroics from Chris Bosh saw the Miami Heat improve to a 14-3 record on the season with the power forwards three-point barrage late in the game enough for Miami to hold off Charlotte by a point on Sunday.
Bosh had 22 points and nine rebounds including hitting 3-of-4 from three-point range for the Heat.

LeBron James finished with 26 points with Dwyane Wade adding 17 and Mario Chalmers 12.
Kemba Walker top-scored for the Bobcats with 27 points and six assists with Gerald Henderson adding 17 points, Al Jefferson 16 (and 13 rebounds), Josh McRoberts 10 and Ramon Sessions 10.
Oklahoma City improved to a 12-3 record on the season on Sunday with a 10-point win at home over the now 9-10 Minnesota Timberwolves.
Kevin Durant led the way for the Thunder with 32 points, 12 assists and 10 rebounds while also picking up four steals, laying four blocked shots and shooting 14-of-21 from the field, and 3-of-4 from three-point range.
Russell Westbrook added 19 points and five assists, Reggie Jackson 18 points and Serge Ibaka 15 to go with eight rebounds and three blocks.
Kevin Martin top-scored for the Timberwolves against his team from last season with 24 points and six rebounds. Nikolva Pekovic had 22 points, Kevin Love 16 and Corey Brewer 10.
Meanwhile, New Orleans continued New York's miserable season handing them yet another loss inside Madison Square Garden this time with the Pelicans prevailing over the Knicks by four points.
The Pelicans had 55 points off the bench from two players alone with Ryan Anderson hitting 31 points and Tyreke Evans 24. Jrue Holiday added 11 points and nine assists, and Eric Gordon 10 points.
Carmelo Anthony had another 23 points and 10 rebounds for the Knicks with Tim Hardaway Jr adding 21, Andrea Bargnani 17, Raymond Felton 12 and JR Smith 12.
And finally, in the second of the Sunday double-header at the Staples Centre, the Lakers ensured that no LA fans would be going home happy with Portland beating them by six points.
The win improves the Blazers to a 14-3 record with LaMarcus Aldridge again leading the way with 27 points and nine rebounds.
Damian Lillard added 26 points and nine assists for the Trail Blazers with Wesley Matthews scoring 17 points and Robin Lopez 12 to go with 12 rebounds.
Xavier Henry top-scored for the Lakers off the bench with 27 points with Jodie Meeks adding 20 points, Steve Blake 13 and Robert Sacre 12.
NBA Results Sunday December 1
Denver Nuggets 112 defeated Toronto Raptors 98
Indiana Pacers 105 defeated LA Clippers 100
Philadelphia 76ers 100 lost to Detroit Pistons 115
Golden State Warriors 115 defeated Sacramento Kings 113
Charlotte Bobcats 98 lost to Miami Heat 99
Minnesota Timberwolves 103 lost to Oklahoma City Thunder 113
New Orleans Pelicans 103 defeated New York Knicks 99
Portland Trail Blazers 114 defeated LA Lakers 108