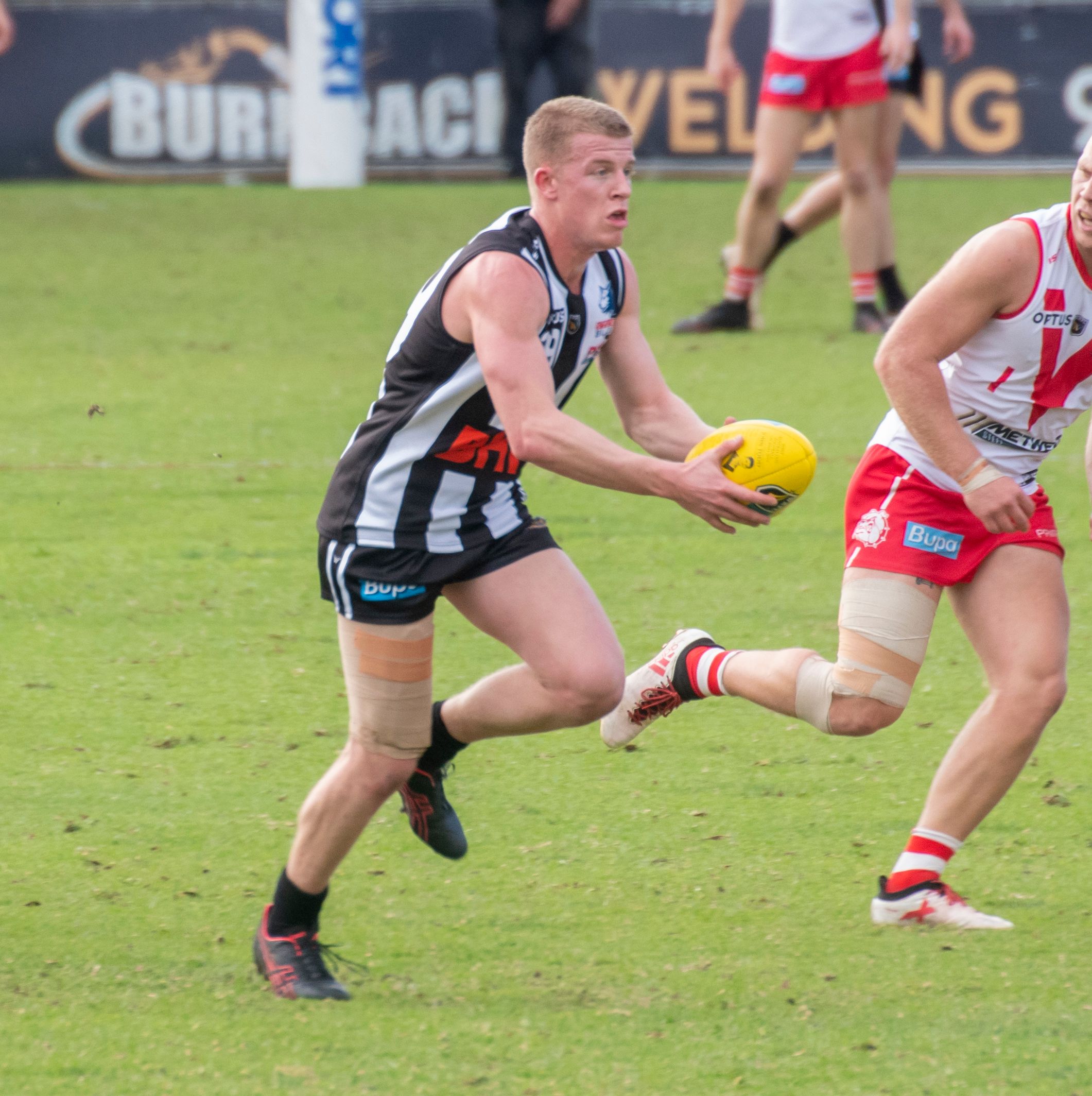 WEARING the famous No. 29 at Swan Districts carries a fair degree of weight but it's something that Jesse Turner embraces and this Saturday he will become the first player since Billy Walker in the jumper to reach 100 games.
The legendary Billy Walker achieved some remarkable things at Swan Districts in the No. 29 jumper that he made famous. He amassed a career that has him among the greatest Western Australian footballers of all-time, going on to play 305 games for Swan Districts and 21 for WA.
Along the way he won four Sandover Medals, five Swan Medals, a State Game Simpson Medal and became a triple premiership player. His accolades have racked up post his career too with Walker a member of the Australian Football Hall of Fame and is a Legend in the WA Football Hall of Fame.
He did it all wearing the No. 29 jumper and it's left quite the burden for anyone to try and live up to who has worn the number since. In fact, Walker remains the only player on the locker at Steel Blue Oval to have reached 100 games with 29 on their back.
That will all change this Saturday, though, when Swan Districts takes on Claremont at Revo Fitness Stadium and prolific wingman Jesse Turner reaches his 100th game for the black-and-whites.
He wouldn't want to be doing it in any other jumper than the 29 and one of the highlights of his career was the 60-year anniversary celebrations of the 1961 premiership team a couple of weeks ago when Walker was on hand to present him with the No. 29 jumper for the day.
"It's a tremendous honour firstly just to wear the number and I think I got it off Nathan Broad who only wore it for a couple of years before he got drafted to Richmond," Turner said.
"On our lockers, under 29 the only one to play over 100 games is Billy Walker and he's a four-time Sandover Medallist. He's probably the best player in Swan Districts' history and one of the best WAFL players of all-time so to be able to wear his number week in, week out is a huge honour.
"I always get people coming up to me asking if I know who wore that number before me and I learned a lot of stuff about Billy Walker quite quickly.
"Then when we had that celebration of the 1961 and to be presented the jumper from him, and to have him talk to me was a massive highlight and honour for me to have him tell me he's glad I'm wearing his number."
As Turner is approaching his 100th game this Saturday, he's doing so in tremendous form having settled as a wingman with Swan Districts. The left-footer is having a tremendous season but the reality is he has been a model of consistency for several seasons now.
What he has been craving, though, is being part of some team success. He was part of the colts squad that won a premiership in 2014 but wasn't selected in the Grand Final team and across his league career so far, he has only played in two finals games back in 2017.
The first was a memorable occasion with an elimination final win against West Perth at Steel Blue Oval, which Turner will hope is an omen of things to come next weekend with the Swans and Falcons almost certain to clash in another elimination final.
The second final of his career to date was a day to forget with an 80-point first semi-final loss to South Fremantle and overall, Turner has only got to celebrate 34 wins in his 99 games at Swans since making his league debut in 2015.
Playing Claremont hasn't provided Turner too much joy either with him only tasting one win from 12 attempts against the Tigers, but he's hoping to celebrate a second win on Saturday in his 100th game before he and his teammates turn their attention to a return to finals action.
"I have played in a lot more losses than wins so far in my career and I've only played in the finals once which was in 2017, and I was quite lucky to get the chance to be part of that," Turner said.
"But besides that we've had a lot of years where we've been near the bottom so to be able to get this group together this year with the addition of a couple of players, and our younger players have come along way.
"We are really starting to play some more consistent footy and as exciting as it is that we know we are going to play finals, we don't want to just make up the numbers. We're not satisfied with just making it and we want to push as far as we can."
It was a learning curve early in his career for Turner as then coach Greg Harding was happy to give him some big run-with jobs on the midfield stars of the competition so he could learn the trade.
It paid off because whether he's playing as an inside midfielder or in his regular role outside on the wing, he's turned himself into a tremendously consistent and reliable performer for Swans.
"Early in my career I got thrown around a lot and probably in my first 25 or 30 games I actually tagged quite a bit to get used to playing against some of the elite midfielders in the comp like Kyal Horsley, Aaron Black and Leigh Kitchin," he said.
"Then I also played a bit off half-back, but I'm pretty consistently now on the wing and have been for the past two seasons. I have settled into this wing role and I guess that's because of the fitness base that I've got so it suits my game the best and I will probably stay here for the most part in the future."
When Turner was a younger teenager and then starting out in the colts, and even early in his league career, he would look at two of the modern greats of the WAFL, and two of the great endurance athletes, in West Perth's Aaron Black and Subiaco's Kyal Horsley as inspiration.
You can see plenty of similarities now in his game to that pair. He has a similar running capacity to Black while the way he runs and carries the ball, and moves onto his raking left boot has plenty in line to the way the Subiaco legend Horsley went about his business.
Building his endurance to allow him to somewhat play like those players was his focus early in his career and he now sees it as his greatest weapon.
"Aaron Black and Kyal Horsley were actually the two players I looked up to at the start of my career and wanted to build my career around, but back in my colts years I was actually coming last in most of the 2km time trials," Turner said.
"I guess as a midfielder one of the main things is that you need to be able to run, and it was when I was 16 or 17 I told myself that I needed to get fitter.
"I worked extremely hard not only during the season but in the pre-season and off-season to build my endurance up.
"I would say it's now my No. 1 strength and it wasn't something that came naturally to me. I put in a lot of work to now make it my No. 1 weapon and it's certainly been worth it."