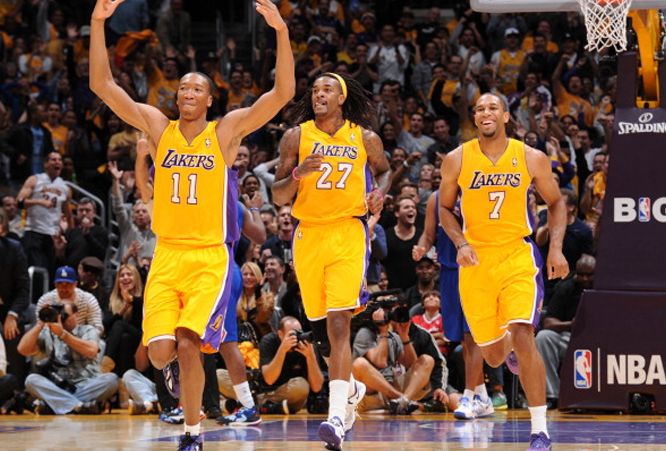 THE Lakers have pulled off a surprise opening night win in the NBA upsetting LA rivals the Clippers while last year's two best teams in the east, Miami and Indiana, started with comfortable wins.
The 2013/14 NBA season opened with just the three games on Tuesday night with the Indiana Pacers easily beating the Orlando Magic 97-87 in Indiana, the defending champion Miami Heat easing past the Chicago Bulls 107-95 in Miami and then the Lakers downing the highly-fancied Clippers 116-103 in LA at the Staples Centre.
Indiana is coming off making the eastern conference finals last year before losing a competitive series against Miami and wasn't expected to have any troubles on opening night against an Orlando team expected to have another disastrous campaign, and that's how it transpired.
The Pacers controlled the contest from the outset to end up winning by 10 points at home even without the injured Danny Granger.
Point guard Paul George led the way for the Pacers with 24 points, six rebounds and five assists. Lance Stephenson added 19 points, seven boards and five assists with David West adding 13 points and centre Roy Hibbert eight points, 16 boards and a massive seven blocked shots.
Andrew Nicholson had 18 points for the Magic with Maurice Harkless scoring 14 points, Jameer Nelson 12 and Victor Oladipo 12.
Miami unveiled its championship banner prior to its opening night clash at home to Chicago with the Heat players receiving their rings, and they then backed it up making an early statement against a Bulls team expected to be one of their main challengers for the eastern conference title.
The Heat went on a 31-5 run either side of half-time and then were never headed the rest of the night to end up beating the Bulls comfortably by 12 points.
An impressive seven players scored in double-figures in a supremely even performance from the Heat led by LeBron James with 17 points, eight assists and six assists.
Chris Bosh finished with 16 points, Shane Battier 14, Mario Chalmers 13, Dwyane Wade 13, Ray Allen 11 and Norris Cole 11.
Carlos Boozer had a huge night for the Bulls with 31 points while Jimmy Butler scored 20 points, Mike Dunleavy 10 and Taj Gibson 10, but all eyes were on the return of point guard Derrick Rose after he missed all of last season with a knee injury.
He was far from a standout performer, but solid enough for Chicago with 12 points and four assists despite shooting just 4-of-15 from the field and 1-of-7 from three-point range.
The opening night's final game then took place in Los Angeles and despite the Lakers not expecting to do much this season, and still being without injured superstar Kobe Bryant, ruined the Clippers opening to a season that promises so much.
The Clippers have welcomed coach Doc Rivers from Boston to lead Chris Paul and Blake Griffin on a star-studded roster, but it didn't fire against the Lakers who showed more heart in one night than they did just about in all of last season combined.
Despite 15 points and 13 rebounds from Pau Gasol, it was the lesser lights stepping up for the Lakers with Xavier Henry leading the way with 22 points, including hitting 3-of-4 from three-point range.
Jordan Farmar returned and had 16 points for the Lakers with Nick Young scoring 13, Jodie Meeks 13, Jordan Hill 12 and Chris Kaman 10.
Griffin top-scored for the Clippers with 19 points but shot a dismal 3-of-10 from the foul line.
Centre DeAndre Jordan was solid with 17 points, 11 rebounds and three blocks with Jamal Crawford scoring 15 points, Paul 15 to go with 11 assists, six boards and five assists with JJ Redick also adding 13 points in his Clippers debut.