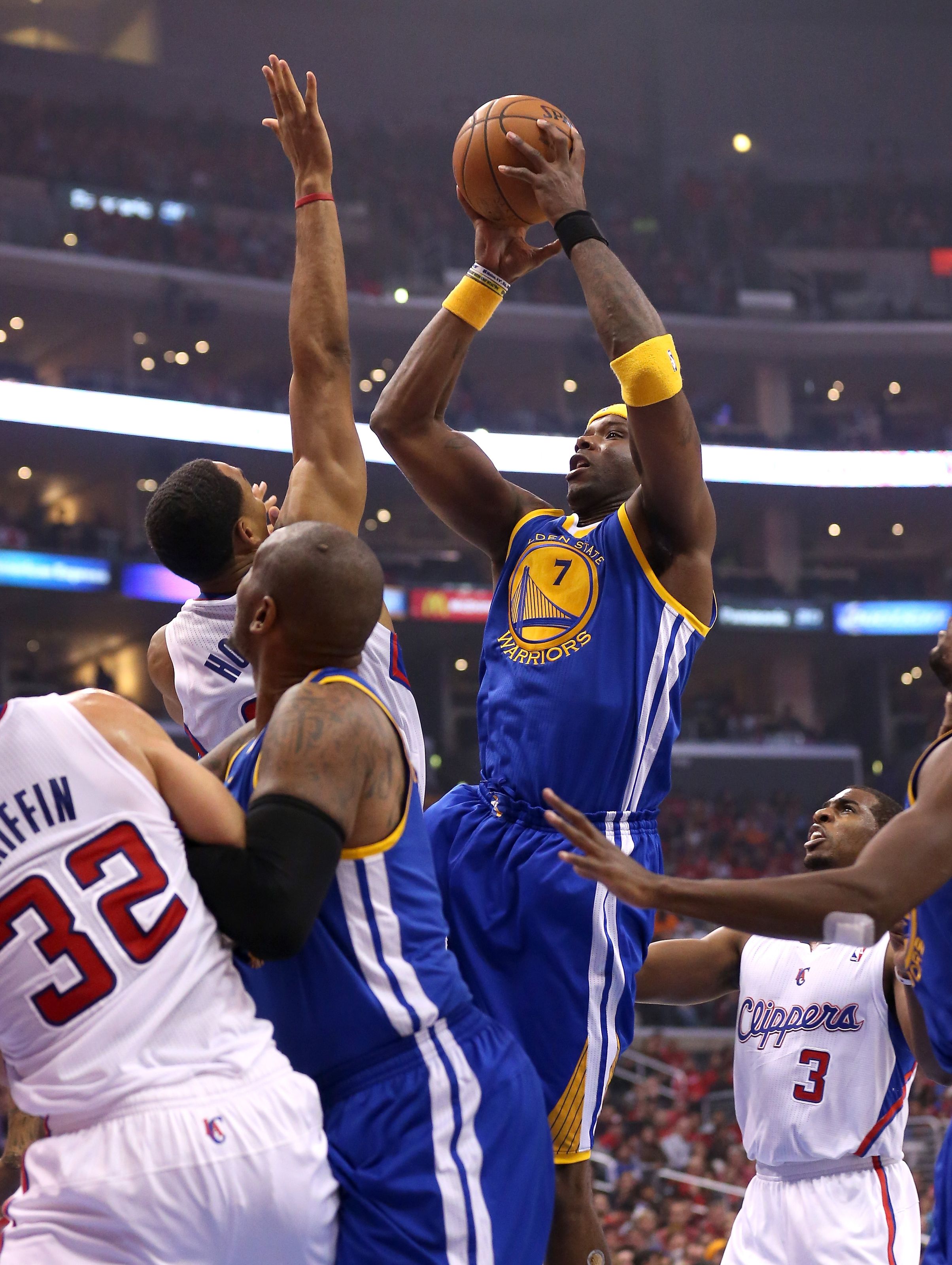 GOLDEN State, Brooklyn and Orlando all broke losing runs on Tuesday night in the NBA with the Warriors doing so without suspended Australian centre Andrew Bogut.
There were just the four games in the NBA on Tuesday night with Brooklyn beating Toronto 102-100, Washington beating the Lakers 116-111, Orlando downing Atlanta 85-73 and the Golden State Warriors beating the New Orleans Pelicans 102-101.
The Warriors headed to New Orleans on a three-game losing skid and without the suspended Bogut and injured Andre Iguodala (hamstring), but Golden State toughed out a one-point victory over the Pelicans to improve to a 9-6 record on the season.
Klay Thompson top-scored for the Warriors with 22 points, eight assists and five rebounds with David Lee adding 19 points and seven boards.
Jermaine O'Neal started in the place of Bogut, who was suspended for one-match, and the veteran was terrific with 18 points and eight rebounds on the back of a supremely efficient 9-of-12 from the field.
Stephen Curry flirted with a triple-double with 16 points, nine assists and eight rebounds while Harrison Barnes also had 14 points.
Ryan Anderson led the way for the Pelicans off the bench with 21 points and 12 rebounds with Jrue Holiday adding 17 points, Eric Gordon 16, Jason Smith 14 and Anthony Davis 14 to go with 11 boards.
Orlando also broke a 17-game losing run on the road by beating in Atlanta on Tuesday night by 12 points with Arron Afflalo leading the way for the Magic with 26 points on the back of shooting 4-of-6 from three-point territory.
Andrew Nicholson added 13 points off the bench, E'Twaun Moore 12 and Nikola Vucevic 11 to go with his 13 rebounds and three assists.
It was a disappointing night at home for Atlanta with Al Horford's 15 points and Jeff Teague's 13 making them the only two Hawks to score in double-figures.
The Lakers' three-game winning run ahead of the imminent return of Kobe Bryant from a ruptured achilles came to an end also on Tuesday with the Wizards winning at home by five points in a high-scoring affair.
John Wall led the way for Washington with 31 points, nine assists and six rebounds with Nene dominating inside against the Lakers with 30 points and five assists.
Martell Webster also had 20 points and nine boards for the Wizards while Marcin Gortat added 15 points and eight boards, and Trevor Ariza 13 points and seven rebounds with young gun Bradley Beal on the sidelines.
Jordan Farmar top-scored for the Lakers off the bench with 22 points and eight assists.
Pau Gasol also had 17 points, eight assists, six rebounds and two blocked shots while Nick Young had 16 points, Steve Blake 15, Wesley Johnson 11, Jordan Hill 10 and Jodie Meeks 10.
Brooklyn then ended a five-game losing streak beating Toronto on the road by two points but the Nets still sit on a paltry 4-10 record and were without Deron Williams, Jason Terry, Brook Lopez and Andrei Kirilenko again against the Raptors.
Andray Blatche top-scored for Brooklyn in the absence of Lopez as the starting centre with 24 points and five rebounds.
Joe Johnson added 21 points, six boards and four assists also for the Nets while shooting 3-of-5 from three-point territory.
Paul Pierce also added 16 points and Kevin Garnett 12.
DeMar DeRozan did all he could for the now 6-8 Raptors scoring 27 points to go with six rebounds and three assists while shooting 9-of-15 from the floor and 4-of-6 from three-point range.
Point guard Kyle Lowry also added 24 points and six assists with Steve Novak scoring 12 points off the bench.
NBA Results Tuesday November 26
Brooklyn Nets 102 defeated Toronto Raptors 100
LA Lakers 111 lost to Washington Wizards 116
Orlando Magic 85 defeated Atlanta Hawks 73
Golden State Warriors 102 defeated New Orleans Pelicans 101