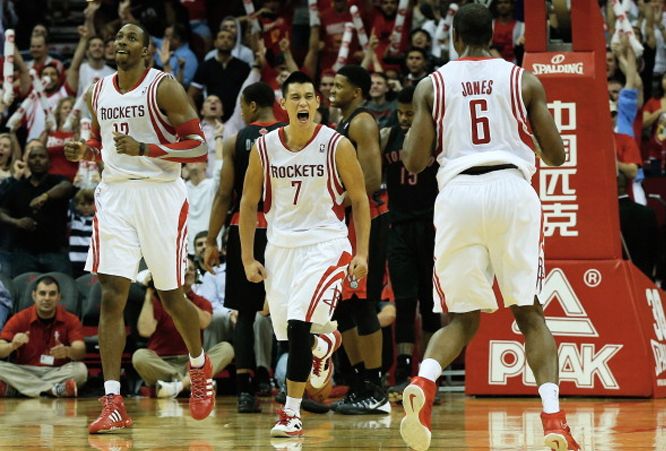 INDIANA is now 8-0 to start the NBA season with Utah 0-8 while San Antonio, Boston and Portland continued their impressive form in Monday night's action.
There were nine games in the NBA on Monday night with Atlanta beating Charlotte 103-94, Indiana beating Memphis 95-79, San Antonio downing Philadelphia 109-85, Boston beating Orlando 120-105, Chicago downing Cleveland 96-81, Houston proving too good for Toronto 110-104, Denver beating Utah 100-81, Portland beating Detroit 109-103 and the Clippers beating Minnesota 109-107.
The Hawks dominated the second half against the Bobcats in Charlotte with 57 points to 40 to record a nine-point victory and improve to a 4-3 record.
Al Horford led the way for Atlanta with 24 points while Cartier Martin had 16 points off the bench while Jeff Teague finished with 14 points and 12 assists.
Josh McRoberts had 19 points, seven assists and six rebounds for Charlotte with Michael Kidd-Gilchrist adding 16 points and Kemba Walker 12.
Indiana stretched its winning run to start the new season to eight games with the Pacers comfortably winning at home over Memphis by 16 points on Monday.
Paul George once again starred for the Pacers finishing with 23 points and seven rebounds with Lance Stephenson adding 13 points, 12 assists and 11 rebounds. George Hill also had 13 points and Luis Scola 12 off the bench.
Marc Gasol top-scored for the Grizzlies with 15 points while Zach Randolph added 12 and Mike Conley 11.
San Antonio also continued winning improving to a 7-1 record with a comfortable 24-point win over a Philadelphia team that started the season so well, but has now slipped back to a 4-4 record.
Danny Green again top-scored for the Tim Duncan-less Spurs with 18 points while Tony Parker added 14, Kawhi Leonard 13 and Marco Belinelli 12.
Evan Turner had 20 points for the 76ers with Spencer Hawes adding 17 points and 13 rebounds, and Tony Wroten 13 points.
The new-look Boston Celtics without Doc Rivers, Paul Pierce, Kevin Garnett, Jason Terry and the injured Rajon Rondo made an expectedly slow start to the new season, but continued their impressive more recent form with a 15-point win at home to Orlando on Monday.
Avery Bradley top-scored with 24 points with Jeff Green adding 16 points, Kelly Olynyk 16 and Jordan Crawford 16 to go with 10 assists. Jared Sullinger also had 14 points and five rebounds off the bench.
Arron Afflalo led the way for the Magic with 18 points and seven assists with Victor Oladipo adding 17 points and Nikola Vucevic 15 to go with 10 rebounds.
Chicago hasn't set the world on fire so far this season to go along with the return of Derrick Rose, but improved to a 3-3 record with a comfortable 15-point victory at home to Cleveland.
Carlos Boozer top-scored with 17 points and seven rebounds with Rose adding 16 points and seven assists, but again he shot just 8-of-21 from the field. Mike Dunleavy also had 15 points off the bench for the Bulls.
Kyrie Irving had 16 points for the Cavs but shot only 5-of-19 from the field with Tristan Thompson finishing with 14 points and 13 rebounds.
Houston improved its season record to 5-3 with a solid six-point win at home over Toronto.
James Harden finished with 26 points and 10 assists while Jeremy Lin found his best form of the season off the bench for the Rockets with 31 points on 10-of-17 shooting from the field, and 3-of-6 from down town.
Dwight Howard also had 18 points and a massive 24 rebounds to go with five blocked shots for the Rockets. Chandler Parsons also had 18 points, five rebounds and five assists.
Rudy Gay top-scored for the Raptors with 29 points and 10 rebounds with DeMar DeRozan adding 22 points and Kyle Lowry 16.
Denver got its second win of the 2013/14 season while ensuring that Utah's winless run continued as the Jazz went down to a 0-8 record with the Nuggets winning in Utah by 19 points on Monday.
Ty Lawson scored 17 points and had 10 assists for the Nuggets while Kenneth Faried added 15 points to go with his 13 rebounds. Andre Miller hit 15 points off the bench while JJ Hickson had 14 points and nine rebounds.
Gordon Hayward top-scored for the Jazz with 22 points with Derrick Favors adding 21 points and 13 rebounds.
The Pistons and Blazers fought out a thriller in Portland but it was the Trail Blazers who prevailed in the end by six points to improve to a 5-2 record while Detroit slipped to 2-4.
Damian Lillard top-scored for the Blazers with 25 points, five rebounds and four assists with LaMarcus Aldridge hitting 18 points to go with 12 rebounds and four assists. Robin Lopez added 17 points and 10 boards with Mo Williams also adding 17 points off the bench.
Brandon Jennings top-scored for the Pistons with 28 points with Greg Monroe adding 19 points and eight rebounds, and Andre Drummond 16 points and 16 boards.
The Timberwolves just fell short of two wins at the Staples Centre on back-to-back nights falling two points short of the Clippers on Monday just 24 hours after thrashing the Lakers at the same venue.
Star forward Kevin Love missed a tip-in late to ensure the Clippers' prevailed on the back of 25 points, 10 points and five assists from Blake Griffin.
Chris Paul added 21 points, 11 assists, four rebounds and four steals with Jamal Crawford also scoring 18 points and dishing out six assists off the bench.
Kevin Martin again top-scored for the Timberwolves to continue his impressive first eight games with his new club with another 30 points while nailing 4-of-8 from downtown.
Nikola Pekovic also had 25 points and 10 rebounds for Minnesota with Love finishing with 23 points, 19 rebounds and seven assists while also hitting 4-of-8 from three-point territory.
NBA Results Monday November 11
Atlanta Hawks 103 defeated Charlotte Bobcats 94
Memphis Grizzlies 79 lost to Indiana Pacers 95
San Antonio Spurs 109 defeated Philadelphia 85
Orlando Magic 105 lost to Boston Celtics 120
Cleveland Cavaliers 81 lost to Chicago Bulls 96
Toronto Raptors 104 lost to Houston Rockets 110
Denver Nuggets 100 defeated Utah Jazz 81
Detroit Pistons 103 lost to Portland Trail Blazers 109
Minnesota Timberwolves 107 lost to LA Clippers 109