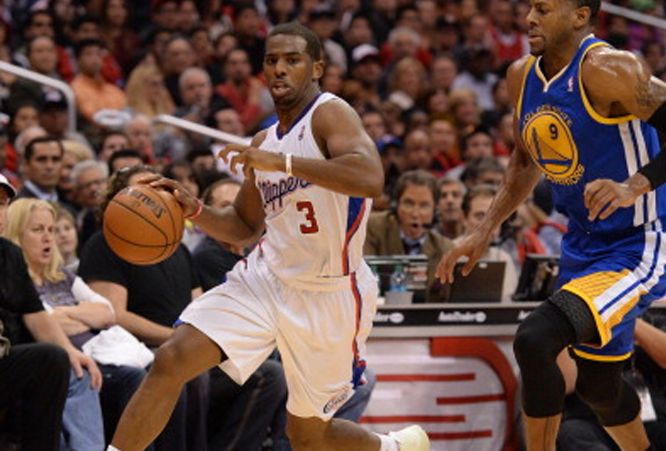 THERE were just the two games in the NBA on Thursday night Chicago and the Clippers bouncing back from opening night losses thanks to point guards Derrick Rose and Chris Paul.
The Bulls bounced back from the disappointing opening night loss to the Miami Heat by overcoming the Knicks 82-81 at the United Centre thanks to a dying seconds floater from returning star point guard Rose.
The Clippers then also rebounded after a dismal opening night defeat to the LA Lakers by beating California rivals the Golden State Warriors 126-115 at the Staples Centre.
The Bulls struggled on the opening night in Miami going down to an on-fire Heat, and Rose struggled on his return after deciding to sit out all of last season with a knee complaint, but he had a much better performance in Chicago's home opener for the 2013/14 season.
Rose finished the game with 18 points and six rebounds, and shot just 7-of-23 from the field, but he hit the shot that mattered with 5.7 seconds remaining in the game to put the Bulls 82-81 in front, and that's where they stayed.
Luol Deng added 17 points for Chicago with Carlos Boozer scored 14 and Jimmy Butler 11 while Joakim Noah pulled in 15 rebounds and dished out five assists.
Carmelo Anthony scored 22 points for the Knicks but didn't have a good shooting night going 8-of-24 from the field and 2-of-7 from three-point land.
Raymond Felton added 13 points and six assists with Tim Hardaway Jr scoring 10 points off the bench while Tyson Chandler raked in 19 rebounds.
The Clippers have coming into the new season one of the favourites to take out the western conference following the arrival of coach Doc Rivers to take over the star-studded team, but they failed to deliver against the Kobe Bryant-less Lakers on the opening night.
However, they bounced back well against a strong Warriors line-up to win by 11 points on Thursday largely on the back of an incredible 42 points, 15 assists and six steals from Paul who shot 12-of-20 from the field, 2-of-6 from down town and 16-of-17 from the charity stripe.
Blake Griffin added 23 points and 10 rebounds for the Clippers with JJ Redick scoring 17 points and Jared Dudley 10.
Stephen Curry was outstanding for the Warriors with 3 points and nine assists on the back of an incredible 9-of-13 from three-point territory.
Australian centre Andrew Bogut had a good night with 17 points and six rebounds with David Lee adding 22 points, Andre Iguodala 14 (and 11 assists) and Klay Thompson 10.
NBA Results Thursday October 31
New York Knicks 81 lost to Chicago Bulls 82
Golden State Warriors 115 lost to LA Clippers 126