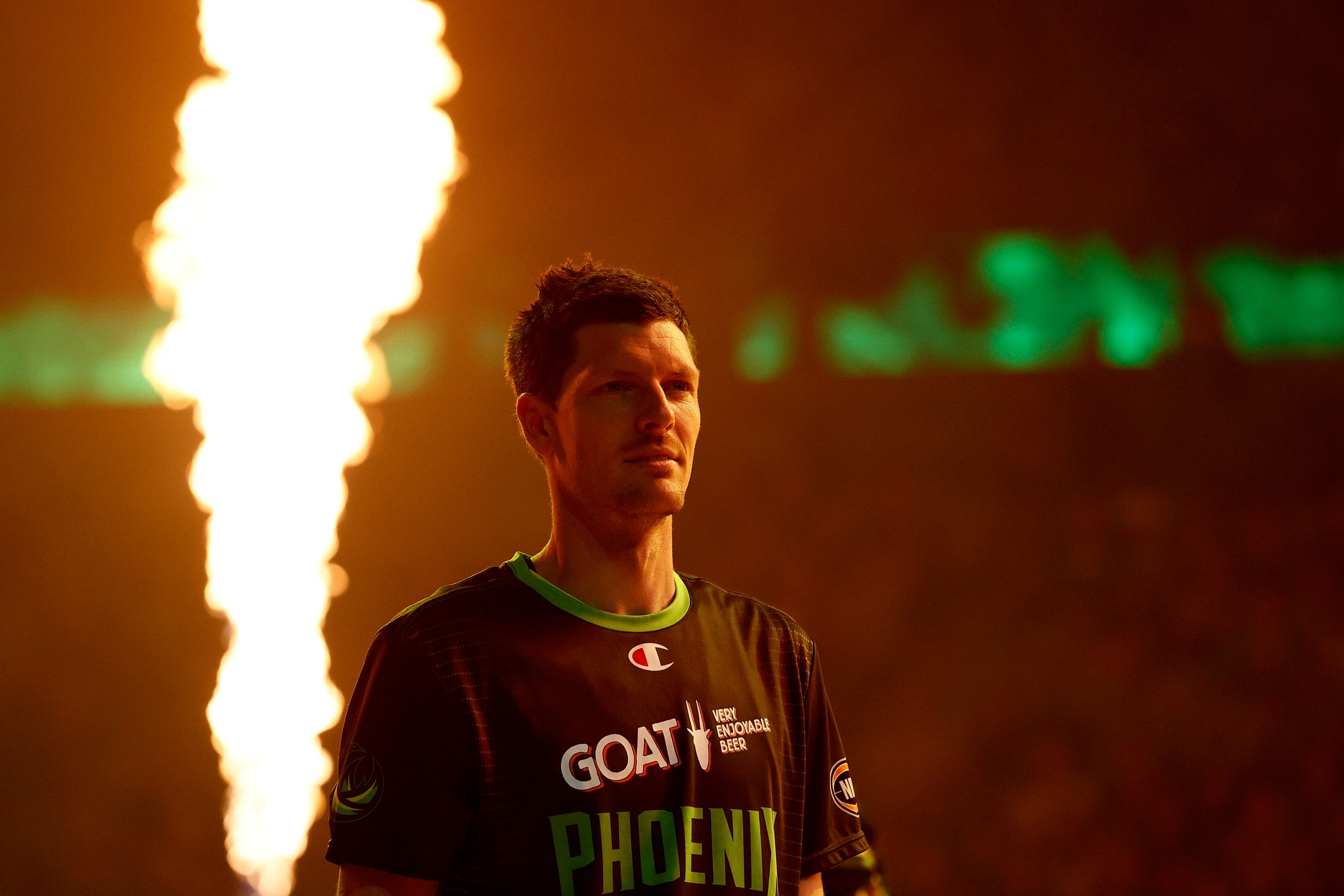 Cam Gliddon has plenty on his mind as he makes the move across the Tasman to join the New Zealand Breakers as he aims to remind everyone of his capabilities in #NBL23 as he wants to embrace his new club's homecoming and to help them become a force once more.
Gliddon is excited for the fresh start he will be undertaking as he moves to Auckland with his wife, their two children and their two dogs which proved quite the arduous process to organise while he was enjoying being back home in Bunbury in the south-west of Western Australia.

It has been a bit of a frustrating ride for Gliddon the last couple of years since he represented Australia at the FIBA World Cup in 2019.

He had a tough last season with the Brisbane Bullets and the last two seasons at the South East Melbourne Phoenix didn't quite reach the heights he hoped.

The 2021/22 season never really got going for him through a combination of health and injuries, COVID hiccups and then perhaps not being put in a position to fully show what he can still do even though he did knock down six triples late in the piece against the Adelaide 36ers for 24 points.

On the back of all that, Gliddon was after a fresh start and when the Breakers came calling, saw plenty of reasons to sign on board.

He's signed for the next two years and is determined to make the most of that, but would love to make it the last stop in his NBL career that has still plenty of legs left for the 32-year-old after 284 games so far.

"The last two years for the Breakers has been really rough being on the road the whole time pretty much so being back at home you'd expect the fans would be pumped to have their team back, and the organisation being real excited to just be able to do some stuff on their homeland," Gliddon said.

"To be a part of it is going to be awesome and I'm looking forward to helping them climb up the ladder. Everyone knows it's been the toughest for them over the last two years and I think they want to get back to being that contender that they have been in the past.

"I want to be part of that rise back to the top. Obviously with the Breakers being a great organisation and having the winning tradition that they have and not having it go their way the past few years, I know that they will be so dedicated to getting back to where they were.

"I want to be part of that and when you have a hungry team that wants to do well, it only makes your game and play evolve as well."

Given Gliddon and his wife Sarah now have two young children to factor into any career decisions, for so many reasons he thought that joining the Breakers and to play under Mody Maor was the best thing for him.

"I guess when it gets to free agency time you talk to all your mates that you've grown up playing with and that you respect around the league to get their opinion on things," Gliddon said.

"Everyone that has been under Mody says how great he is at developing his players and his passion, and love for the game. He's a real family man as well so to me with a young family knowing that my coach has a young family as well means we'll be on the same page with a lot of things.

"But also this is a fresh new start for me moving overseas. Him being an international as well, we've kind of got that in common as well. It's all of that in a combination that made it the right fit for me. I think it will be a great adventure for me as well.

"I've played overseas a few times in my life but to have a whole season overseas is going to be a new experience, and New Zealand is a beautiful place as well. We really enjoyed our time in Christchurch when I played in the NZNBL. All of it was just pointing to it being a good opportunity so now I'm just looking forward to getting back over there."

While the last three seasons might have not quite gone to plan for Gliddon, the fact remains he's only 32 years of age, has plenty of good basketball in front of him and there's no reason he can't get back to being one of the standout two-way local guards in the league.

After all, only three years ago he was a deserved member of the Boomers team at the World Cup. With his ability to knockdown the three-point shot, create for himself and his teammate and to play outstanding defence, he has plenty to offer at the Breakers.

Gliddon has never lost the belief in himself either and is keen to especially put #NBL22 quickly behind him.

"I've got immense belief in myself and I know that I've still got a lot left to give, and I tried to still show that last season when I got the opportunity to show it," Gliddon said.

"I'm happy to get a two-year deal just because the situation of moving again is not pleasant, but I knew a team would have faith in me and New Zealand put the two-year deal out straight away to show they were committed to me.

"I wanted to show I was committed to them too, I didn't want to go over there for one year either and then be looking elsewhere. It was a tough year where I had COVID once and then was in isolation after being a close contact, then I had gastro and was on minutes restriction at the start of the season.

"It was a very frustrating year for me personally and one that I want to put behind me, and go forward."

While Gliddon is excited to be part of the Breakers' return home and all the excitement that will be generated when the Kiwi fans get to come out and fill Spark Arena again to cheer on their team, he's also got some mixed memories from playing across the ditch so far.

Gliddon's closest call to winning an NBL championship was ruined by that Ekene Ibekwe game winner to clinch the Breakers the title against his Cairns Taipans.

That was a heartbreaking moment, but overall Gliddon has always enjoyed the experience of playing in Auckland whether Spark Arena or North Shore Events Centre, and now can't wait to be doing it in a Breakers uniform.

"Obviously losing the Grand Final to them when I was with Cairns was a heartbreaker, but I've actually played some really good games over there and felt like I always rose to the challenge against New Zealand during their years of winning those championships," Gliddon added.

"You knew if you didn't bring your A-game you were going to be embarrassed over there so I ended up having some really good games. I'm looking forward to having 14 games over there for the home season and watching the fans get behind the team.

"Kiwi fans are great supporters and every time I've been over there at Spark Arena or even back at North Shore they've always provided a great atmosphere."

Gliddon was able to enjoy some time back home in Bunbury with his family while organising the move to a new country in the COVID era which didn't prove to be the painless exercise he might have hoped.

"To be honest, you know what it's been really stressful. Obviously COVID is still implicating things a little bit so the move in terms of furniture, cars and getting my dogs over there, and now we're a four member family so it's not cheap or easy," he said.

"It's not without its complications so it has been very stressful and I'm in Bunbury right now for six weeks and I'm going to relax as much as I can before we jump on a seven-hour plane ride with the two kids. I know when we get there as a family it will be great but the whole move and all that logistical stuff has been a nightmare to be honest with you."

Everything that goes into trying to set up a new life for himself and his family in Auckland is throwing up challenge after challenge, and it's a bit different than the previous moves he's made to live in Cairns, Brisbane and Melbourne throughout his career.

The thought of a seven-hour plane ride with two young children is also nightmare inducing, but the plan is once he gets to Auckland that it's where he calls home for two years and beyond for however long his NBL career continues.

"I guess it's different from team to team and where you're moving to, and how far the trip is. Sometimes the clubs help you out with some moving money and help you out that way or sometimes they fly you over early to check out where you want to live and everything," Gliddon said.

"But obviously with New Zealand being so far away and another country, a lot more goes into it and it's not as easy as you might imagine. We have secured a house over there which was step No. 1, we have tickets booked for the start of August to get over there but it is challenging to figure out everything.

"I've just opened up a New Zealand bank account which took more time than it should and getting our dogs over has cost more than you'd care to know. It's all crazy but I'm happy to have a two-year deal so I can settle over there and invest in that two years and hopefully it becomes longer than that. I'm keen to soak it all up for sure."

While it's New Zealand where Gliddon's future lies, this off-season provided him with a rare opportunity to get back to his hometown to embrace everything that goes with being home in Bunbury.

It's the first chance for Gliddon and his family to spend such a significant period back in Bunbury and he did everything to make the most of it before heading to Auckland and getting himself ready for NBL23.

"It's so awesome and it's obviously a small town but it's changed so much since I last spent this much time here," Gliddon said.

"My parents' house is a lot different, they've done a lot of work to it and it's weird coming back to somewhere that's your home but isn't your home anymore. But it's so good having mum and dad around, and being with the kids and being able to spend some time here.

"I was initially only going to come back for a couple of weeks but am extending it to six weeks and I'm so happy we're able to do that. Bunbury's obviously so much easier to get around in and do things in than Melbourne, and it's very family friendly.

"I've got a couple of little staycations booked where we'll go see some nice parts of south-west WA. I'm very thankful to be back home for my time here and Bunbury's so small, but people show you a lot of love.

"I keep bumping into random mates who I haven't seen since high school and we chew the fat for 20 minutes like no time's passed. It's really cool to be back."

Part of Gliddon's homecoming saw him host a 'Hoops with Glizzo' School Holiday Basketball Camp in July at the South West Sports Centre in Bunbury.

While he's not quite sure what his long-term future holds in basketball beyond his playing days, helping out the youngsters like this while he is still playing is something he is ready to fully embrace.

"I really enjoy teaching kids stuff and watching them learn and have fun playing basketball, but we'll see what happens when I finish playing," Gliddon said.

"I'm a real big family man and I want a job that provides the most time with my family and that's not too much of a grind.

"Coaching can get that way especially in the professional ranks so we'll see, but I'm really enjoying doing this and while I'm still playing the game and people will listen to me I'm going to pass on as much knowledge as I can.

"There's no better way than to start doing that in my hometown with this camp coming up. I'm hoping a lot of people sign up so I can give them some knowledge and new skills and drills, and make them have a good few days."