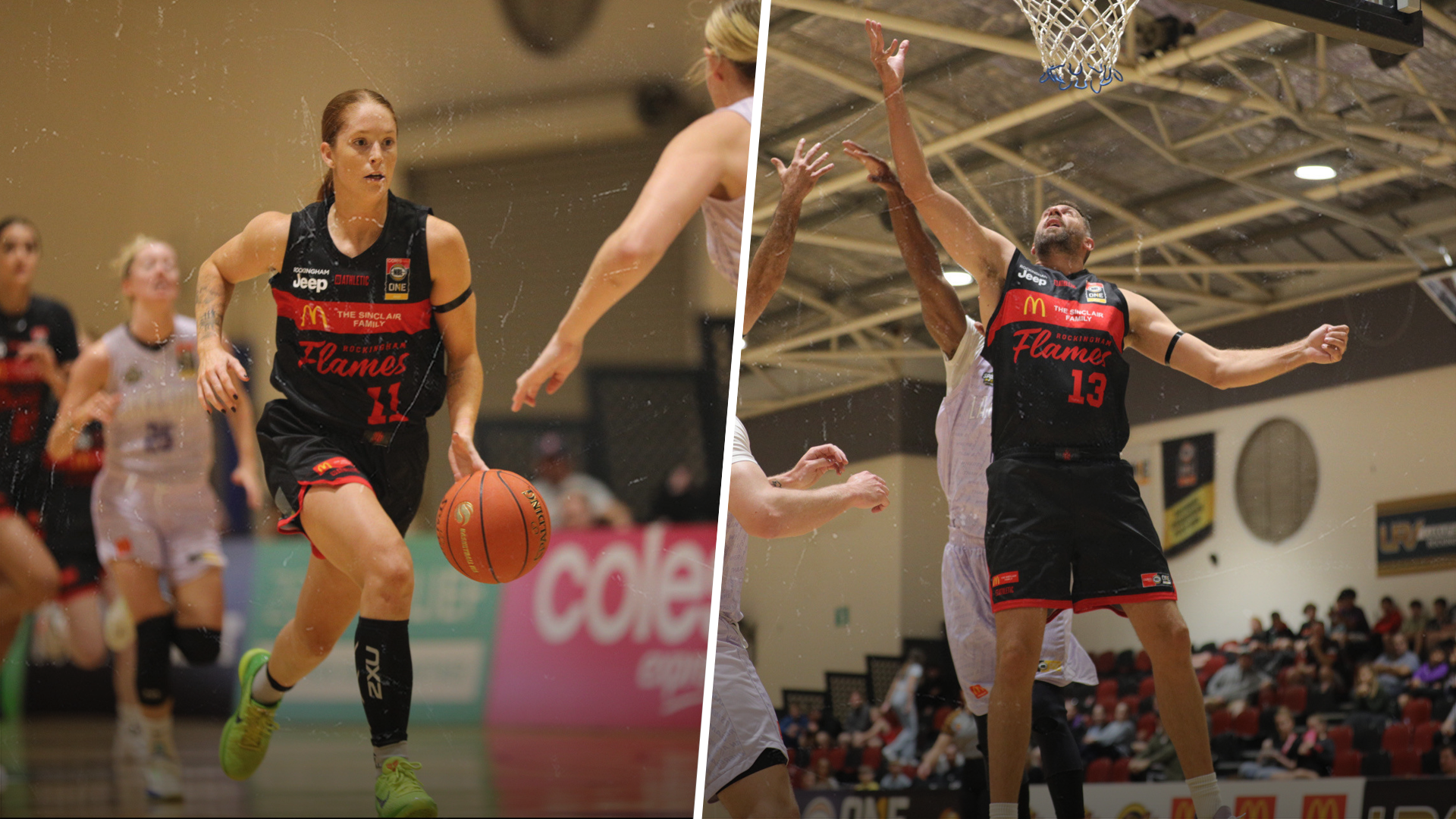 The Rockingham Flames enjoyed their Wednesday evening of NBL1 West basketball to close ANZAC Round with their women and men combining to beat the Lakeside Lightning by 65 points.
Round 4 in the NBL1 West wrapped up at Mike Barnett Sports Complex on Wednesday with the Rockingham women defeating Lakeside 94-58 before the Flames men then beat the Lightning 108-79.
WOMEN
Flames building with big win at home over Lightning
The Rockingham Flames women are now building some momentum as their troops arrive this NBL1 West season with a thumping 94-58 win at home to the Lakeside Lightning.
Rockingham might have lost its opening three matches of the season, but they were against powerful Willetton, Joondalup and Cockburn teams while they were still well short of full strength.
While Mehryn Kraker is still to return, Marissa Pangalos made her first appearance on Wednesday night, with Casey Samuels playing her second and Christina Boag made her return after missing the last two matches, and the Flames dominated as a result.
Rockingham started on fire with 28 points to 17 in the first quarter but to Lakeside's credit they showed some impressive fight led by Jade Gowland in the second period with 24 points to 18 to cut the Flames lead at half-time to 46-41.
However, it was a dominant showing from the Flames in the second half including 25 points to four in the third quarter, and another 22 to 13 in the fourth on the way to the eventual 36-point victory.
The victory improves the Flames to a 2-3 record on the season having now strung consecutive wins together while the Lightning are 2-5 having lost five of the past six following a first up win to the season.
In her first game of the season and after a strong showing last season with the Kalamunda Eastern Suns, Marissa Pangalos was impressive for Rockingham with 24 points, four steals and two assists.
Casey Samuels backed up her 33 points and eight rebounds against East Perth with another 24 points and seven boards for Rockingham with Tayah Burrows contributing 17 points, 12 rebounds, seven assists and two steals.
Pania Davis also had 10 points and seven rebounds, Lisa Koop five points, nine boards, three assists and two steals, and Opal Mader four points, four assists and three rebounds.
Gowland ended up top-scoring for Lakeside with 16 points and three steals while knocking down 4/7 from three-point territory.
Captain Caitie Jones added 11 points and three assists, Emma Burke nine points and two rebounds, and Laci Hawthorne eight points, five boards and three steals.
MEN
Unbeaten reigning champions too much for Armour-less Lightning
The defending NBL1 West and National Champion Rockingham Flames flexed their considerable muscle at home to the Lakeside Lightning, remaining undefeated with the 108-79 victory.
Rockingham finished the 2022 season winning 10 straight matches on the way to a first NBL1 West championship and then went through unbeaten in Melbourne to claim the National Championship a week later.
The Flames have now started the 2023 season in even more ominous fashion with the addition of standout import Jeremy Combs to a star-studded team still featuring Devondrick Walker, Marshall Nelson, Tom Jervis and captain Ryan Godfrey.
That meant it was an ominous task for Lakeside at Mike Barnett Sports Complex on Wednesday night but at least the Lightning did come into the game on a three-game winning streak of their own.
However, veteran point guard Kyle Armour has been instrumental in Lakeside's recent form including averaging 31.5 points, 5.0 assists and 2.5 rebounds over the previous two wins against the Giants and Slammers.
He wasn't there to take on the Flames and Rockingham was able to assert its dominance early just as it did back on Friday night with 36 points to 11 in the first quarter against Cockburn.
This time around the Flames were already leading 36-15 by quarter-time and while the Lightning fought hard the rest of the way, they could never really get close enough to ever threaten Rockingham's unbeaten run.
The Flames would end up cruising to the 29-point win to improve to 6-0 on the season to have now won their past 16 NBL1 West matches and to appear an unstoppable force having won their games this season by an average of 17.3 points while putting up 107.2 a game themselves.
Tom Jervis received the ANZAC Medal for his dominant showing for Rockingham with 19 points, 15 rebounds, four assists and two blocks on 7/11 shooting.
Reigning MVP Devondrick Walker added 17 points and three rebounds, new import Jeremy Combs 17 points, five boards, four assists and four steals, and Marshall Nelson 15 points, four assists, three rebounds and two steals.
Travis Durnin also contributed 12 points, seven rebounds and four assists, Ryan Godfrey nine points, three assists and three steals, and Cody Hill eight points and three steals.
It was a tough evening for Lakeside without the leadership of point guard Kyle Armour.
Hayden Brown finished the night with 14 points with Daniel Green contributing 13 points and 10 rebounds, Ben Lee 10 points and two assists, and Dom Jackson 10 points, four rebounds and four assists.