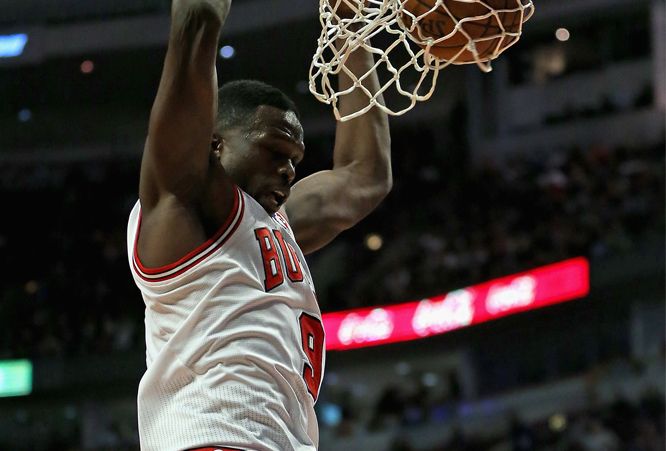 THE LA Lakers got the win in its first match up against Dwight Howard's Houston in Thursday's NBA action with Miami and Denver also recording victories.
There were just the three NBA matches played on Thursday night with the Miami Heat beating the LA Clippers 102-97, the Denver Nuggets breaking their duck beating the Atlanta Hawks 109-107 and then the LA Lakers winning a thriller over the Houston Rockets 99-98.
Many predicted the Clippers and Heat to end up playing one another in the NBA finals come the end of the 2013/14 season and the two met for the first of two times in the regular season in Miami on Thursday, with the two-time defending champions prevailing by five points.
Dwyane Wade led the way for the Heat with 29 points and seven assists with LeBron James adding 18 points, six assists and five rebounds.
Blake Griffin had a big night for the Clippers with 27 points and 14 rebounds while shooting 11-of-15 from the field. JJ Redick scored 15 points also for the Clippers, Jamal Crawford 14 and Chris Paul 11 to go with 12 assists.
Denver got its first win of the season, leaving the Utah Jazz as the last winless team in the league, with a nail-biting two-point victory at home over the Atlanta Hawks.
Ty Lawson led the way for the Nuggets with 23 points, eight assists and seven rebounds while Nate Robinson added 15 points, JaVale McGee 14 and Randy Foye 13.
Paul Millsap did all he could for the Hawks with 29 points, 10 rebounds and five assists with Al Horford adding 21 points, nine boards, five assists and four blocked shots.
The Lakers headed to Houston to face last year's teammate Howard for the first time since the All-Star centre joined the Rockets, and it was LA who got the last laugh this time around thanks to a Steve Blake jumper, ironically over Howard, sealed the one-point victory.
Jodie Meeks top-scored for the Lakers off the bench with 18 points with Wesley Johnson adding 16, Blake 14 and Steve Nash 12 to go with six assists.
Howard had 15 points and 14 rebounds but shot a dismal 5-of-16 from the free-throw line. James Harden had another big night for the Rockets with 35 points with Chandler Parsons scoring 16 points and Jeremy Lin 16 off the bench with Patrick Beverly getting the start as point guard.
NBA Results Thursday November 7
LA Clippers 97 lost to Miami Heat 102
Atlanta Hawks 107 lost to Denver Nuggets 109
LA Lakers 99 defeated Houston Rockets 98