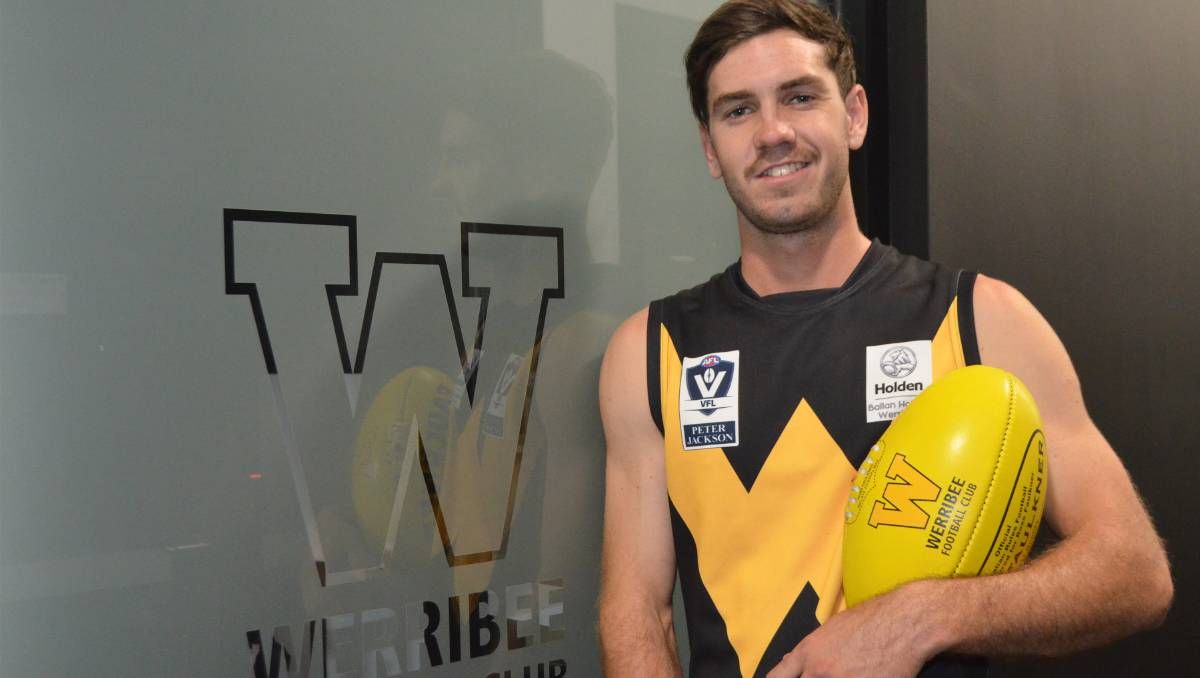 A desire to get out of Victoria and to play a full season of football again was a major factor why Ryan Kemp has signed with Swan Districts for the next two years and why he is moving to Western Australia – a place he never has even visited.
Kemp signs with Swan Districts with impressive football credentials dating back to playing with his hometown Horsham where he won a Toohey Medal as fairest and best of the Wimmera Football League before joining the VFL in 2019 to play with the Werribee Tigers.
He did enjoy a solid first VFL season but the last two years have been ravaged thanks to COVID-19 so Kemp was looking for a fresh start in terms of lifestyle moving forward. He also wanted to move somewhere that would give him the best chance of getting a full season on the field too.
Kemp originally spoke to Swan Districts' general manager of football operations Phil Smart about coming west back in 2019 before he went to Werribee. He didn't forget that and reconnected with Smart about potentially joining the black-and-whites in 2022.
Seeing how successfully Frank Anderson, Sam Fisher and Chris Jones have successfully made the move to join Swan Districts in the last couple of years, it didn't take long for Kemp to agree to join Swans for at least the 2022 and 2013 WAFL seasons.
"Pretty much with everything that's been going on back here with COVID and lockdowns and everything, and not being able to play footy pretty much at all for two years, meant I was looking for a bit of a change and fresh start," Kemp said.
"I had come down from Horsham in 2019 to play at Werribee, and then I played 11 games in that first year and then 2020 it was a full year off because of COVID. Then this year I didn't get to play at all because I broke my hand about three weeks before Round 1.
"I missed a couple of games we played at the start of the season and then only played five games after that before the season was called off. I've been down here for three years and have only played 15 or 16 VFL games so I just needed to get away from it."
Deciding to move to WA is a big step for Kemp and he'll be making the move on his own while only being able to think of one player who he knows that well in the whole state.
That would be daunting for anyone, but it was already a big move for Kemp to move on from Horsham to play in the VFL, and these big life changes are something that he's excited about.
"I don't mind doing these big moves. I did it before to leave Horsham and I know what footy clubs are like," Kemp added.
"They're always welcoming and just by speaking to Phil and Adam and a couple of the other boys, I loved the sound of everything about the club and it made it easier knowing I'm heading over to a good environment.
"I've never actually never been over to WA so my first time will be when I move over to live. It's a bit surreal but I'm really looking forward to it and am excited about it. I'm coming over on my own so it's a bit daunting.
"Darcy Tucker who plays with Freo is the same age as me and is from my hometown as well so we sort of grew up together and I'll make sure I catch up with him when I get over there.
"He's got a house now with his girlfriend so I might spend some time catching up with them to start with but apart from that I don't really know anyone else. I'm just shooting over and will see how I go."
Even Kemp's new coach at Swan Districts made the move that he is about to make when Adam Pickering joined East Perth back in 2004, and has never looked back ahead of entering a fifth season in charge at Steel Blue Oval.
So there were a whole host of reasons why it made so much sense for Kemp to settle on joining Swans.
"I spoke with those guys and Adam was well and he just said I wouldn't regret the move. He did it himself obviously and he told me once I get over there I might find it a hard place to ever want to leave. I can't wait to get over there now as soon as I can," he said.
"I did have another option over there and then I had a club interested back down here as well, but I never really considered that because I wanted to get out of here to be honest.
"I wanted to get away and play footy somewhere with a fresh start, and live somewhere else and get out of here so that made it an easy decision to want to go to WA.
"But Phil had contacted me back in 2019 so that gave him first crack with me to be honest and I'm a pretty loyal person, so when he said Swans were interested I pretty quickly agreed to play with them."
Kemp couldn't help but have been frustrated by having two of his prime football years taken away from him thanks to COVID-19.
He didn't want to risk that happening again so WA quickly became his best option and Swan Districts was really the only club he considered once he'd made that call.
"Then looking over at WA, they've been able to pretty much play 20 games a season so I really have missed a lot of footy which is frustrating," Kemp said.
"The main reason I wanted to get over there after speaking to Phil and a couple of players who have made the move that I'm about to do was that it just sounded really good. I liked the sound of everything Phil was saying about the club and it actually all started back in 2019 when I first was contacted by about coming over.
"I ended up coming down to Werribee instead, but the three years didn't go how I hoped and Phil stayed in touch, and now it feels like the perfect time. It's time for me to go on to the new chapter, to meet a lot of new faces and to have a bit of a fresh start for myself."
Kemp is known for his ability to run and carry the football, which is both something Swan Districts was looking to add to its group in 2022 but that should also suit him perfectly suit him with the wide expanses of the WAFL grounds.
He can't wait to now get to Perth likely in January sometime and begin that quest to help Swan Districts climb further up the ladder in 2022.
"Another big thing that swayed my decision was that the style of footy should suit me. Phil said there was that spot for me in the team to provide what I do well so now the timing was right for me to gabble that chance up and come over," Kemp said.
"I like meeting new people and having new experiences, and this is going to be a big one but it just seemed silly to not grab the chance when it was there.
"Honestly, the biggest thing I'm looking forward to playing footy again after the three years I've been through. I can't wait to get back into a bit of normality and playing a full year of footy, and hopefully we can go deep into finals.
"The biggest thing I want to achieve in terms of footy is trying to help Swan Districts be successful and hopefully lifting up some silverware at the end of the season. I watched a fair bit of them last season and they obviously played well, and now there's some good recruits on board and I'm pretty excited to be part of what the club is building."