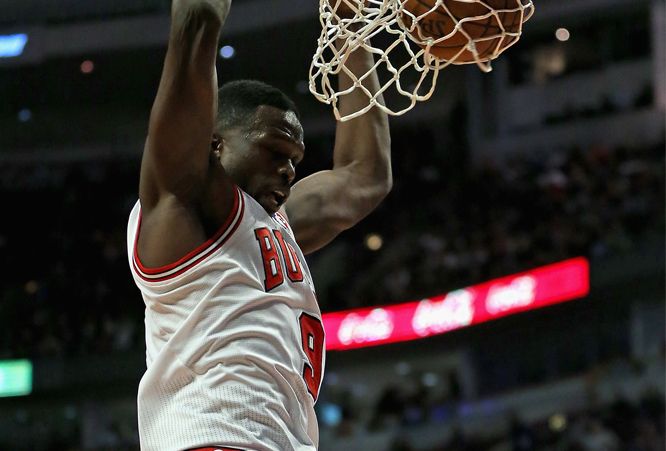 CHICAGO handed Indiana its first defeat of the NBA season while Kyrie Irving hit a career-high 41 points to lead Cleveland to an overtime win over Washington on Saturday night.
There were 11 games in the NBA on Saturday night with Miami beating Charlotte 97-81, Dallas downing Orlando 108-100, Cleveland beating Washington 103-96, Atlanta prevailing over New York 110-90, Chicago beating Indiana 110-94, Houston beating Denver 122-111, Minnesota downing Boston 106-88, New Orleans thrashing Philadelphia 135-98, Oklahoma City beating Milwaukee 92-79, Golden State downing Utah 102-88 and the Clippers beating Brooklyn 110-103.
The two-time defending champions Miami improved to a 7-3 record to comfortably take care of the Bobcats in Charlotte by 16 points on Saturday night.
LeBron James led the way with 30 points, seven assists and four rebounds while shooting an efficient 13-of-18 from the field.
Michael Beasley added 15 points off the bench and Chris Andersen was the only other Heat player to score in double-figures with 10 to go with his seven rebounds and two blocked shots.
Kemba Walker worked hard for the Bobcats for 22 points and hitting 3-of-5 from long range with Jeff Taylor adding 14 points, Gerald Henderson 13 and Ramon Sessions 11.
Dallas got an important win on the road beating Orlando by eight points with the Mavs improving to a 6-4 record on the season on the back of 19 points and eight assists from Monta Ellis.
DeJuan Blair added 18 points and five boards off the bench for the Mavericks with Dirk Nowitzki also scoring 18 points, Vince Carter 12, Jose Calderon 11 (and nine assists) and Shawn Marion 11 (and eight rebounds).
Arron Afflalo hit a game-high 25 points for the Magic with Jameer Nelson adding 15, Nikola Vucevic 16 and Maurice Harkless 12.
Irving had a night out to lead the Cavaliers to a seven-point overtime win over the struggling Wizards in Washington.
The Wizards fell to a 2-7 record with Irving hitting 41 points to help Cleveland to the win.
He did have six turnovers to go with the career-high points tally, but Irving shot 14-of-26 from the field, 4-of-7 from three-point range and a perfect 9-of-9 from the charity stripe while also having five assists, four rebounds and two steals.
Tristan Thompson also scored 15 points and had 12 rebounds for Cleveland with Jarrett Jack hitting 13 points off the bench.
Bradley Beal led the way for Washington with 28 points while Nene had 24, Marcin Gortat 12 and 11 rebounds, and John Wall nine and 12 assists.
Atlanta continued New York's tough start to the season with the Hawks handing the Knicks another dismal loss at Madison Square Garden beating them on Saturday night by 20 points.
The Hawks improved to a 6-4 record with the victory with eight players scoring in double-figures – Jeff Teague with 16 points, Kyle Korver 15, Paul Millsap 14, Al Horford 12, Shelvin Mack 12, Mike Scott 11, Gustavo Ayon 10 and DeMarre Carroll 10.
Carmelo Anthony finished with 23 points and 12 rebounds for the Knicks with Andrea Bargnani 16 and Iman Shumpert 11.
The Chicago Bulls then improved to a 5-3 record by handing Indiana its first loss of the season with an impressive 16-point victory in Chicago despite the Pacers attempts to try and fight back in the final quarter.
Luol Deng led the way for the Bulls with 23 points and seven rebounds while Derrick Rose had a better showing with 20 points and four assists while nailing 6-of-11 from downtown. Taj Gibson also had 15 points, Kirk Hinrich 13 and Carlos Boozer 13 for Chicago.
Indiana's winning run to start the season came to an end at nine with the defeat despite 14 points, 10 rebounds and three blocked shots from centre Roy Hibbert.
David West added 13 points and seven rebounds for the Pacers with Chris Copeland also scoring 13 points, Paul George 12, Lance Stephenson 12 and George Hill 11.
The Rockets improved to a 7-4 record with an 11-point victory in a high-scoring affair against the Nuggets.
Dwight Howard led the way for Houston with 25 points and seven rebounds with Chandler Parsons adding 20 points, James Harden 17, Jeremy Lin 16 and Terrence Jones 14.
Ty Lawson top-scored for Denver with 28 points and 17 assists while JJ Hickson had 14 points, Wilson Chandler 14 and Evan Fourrier 10.
Minnesota bounced back from a tight loss to Denver the previous night with a solid 18-point win over Boston at home on Saturday night.
Kevin Love had 23 points and 12 rebounds despite seven turnovers for the Timberwolves with Nikola Pekovic and Kevin Martin both adding 20 points apiece.
Avery Bradley top-scored for the Celtics with 27 points with Brandon Bass adding 15 points and Jordan Crawford 10.
New Orleans snapped a three-game losing run with an incredible scoring display with 135 points to thump the 76 by 37 points at home on Saturday night.
Ryan Anderson top-scored for the Pelicans off the bench with 26 points on the back of shooting 6-of-10 from three-point range with Eric Gordon adding 19 points, Tyreke Evans 15, Jrue Holliday 14, Anthony Davis 13 and Austin Rivers 12.
Darius Morris hit 20 points off the bench for the Sixers with Tony Wroten adding 19 and Spencer Hawes 14.
Oklahoma City improved to a 6-3 record with a comfortable 13-point win in Milwaukee over the struggling Bucks.
Russell Westbrook had 26 points and four assists for the Thunder with Kevin Durant adding 24 points and Serge Ibaka 15 to go with 20 rebounds and four blocked shots.
OJ Mayo top-scored for the Bucks with 22 points with Khris Middleton adding 14 points, Ekpe Udoh 11 and John Henson 10.
The Warriors improved to a 7-3 record on the back of a 14-point win over the one-win Utah in Oakland.
Klay Thompson top-scored with 25 points for Golden State with Andre Iguodala adding 16 points, David Lee 13 and Stephen Curry 15 to go with 11 assists.
Australian centre Andrew Bogut had 12 points, 11 rebounds, two assists and two blocked shots.
Derrick Favors had 17 points and seven rebounds for the Jazz with Marvin Williams adding 14 points as did Gordon Hayward.
The Clippers then beat an undermanned Nets by seven points at the Staples Centre to improve to a 7-3 record on the back 30 points and 12 rebounds from Blake Griffin.
JJ Redick also had 26 points on the back of 5-of-7 from threes while Jamal Crawford had 13 points off the bench and Chris Paul 12 to go with 13 assists.
Mason Plumlee had 19 points and six rebounds for Brooklyn with Andrey Blatche adding 19 points and eight rebounds.
Alan Anderson also had 15 points, Joe Johnson 13 and Tyshawn Taylor 13 with Brooklyn playing without Brook Lopez, Deron Williams, Paul Pierce and Kevin Garnett.
NBA Results Saturday November 16
Miami Heat 97 defeated Charlotte Bobcats 81
Dallas Mavericks 108 defeated Orlando Magic 100
Cleveland Cavaliers 103 defeated Washington Wizards 96
Atlanta Hawks 110 defeated New York Knicks 90
Indiana Pacers 94 lost to Chicago Bulls 110
Denver Nuggets 111 lost to Houston Rockets 122
Boston Celtics 88 lost to Minnesota Timberwolves 106
Philadelphia 76ers 98 lost to New Orleans Pelicans 135
Oklahoma City Thunder 92 defeated Milwaukee Bucks 79
Utah Jazz 88 lost to Golden State Warriors 102
Brooklyn Nets 103 lost to LA Clippers 110