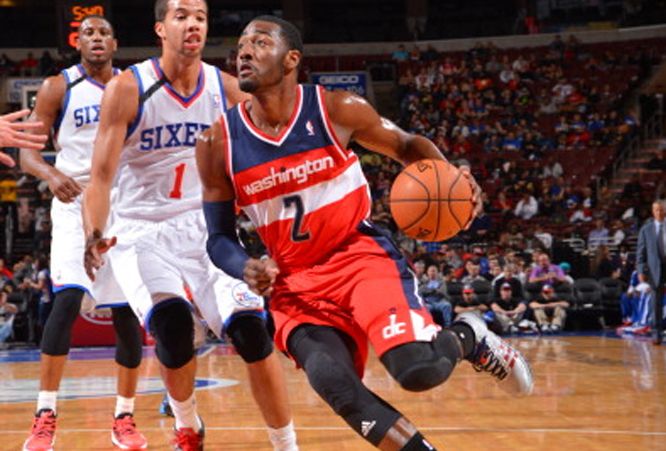 INDIANA stretched its unbeaten start to the NBA season to five beating Chicago in Wednesday night action while Boston and Washington belatedly got their first victories of the new campaign.
There were 10 games in the NBA on Wednesday with the Pacers remaining the only unbeaten team at 5-0 so far this season while the Celtics and Wizards now finally are on the board leaving just the Utah Jazz and Denver Nuggets without a win.
Charlotte beat Toronto 92-90, Indiana downed Chicago 97-80, Orlando beat the Clippers 98-80, Washington beat Philadelphia 116-102, Boston held out Utah 97-87, New Orleans upset Memphis 99-84, Milwaukee beat Cleveland 109-104, Golden State comfortably downed Minnesota 106-93, San Antonio won a thriller over Phoenix 99-96 and Oklahoma City beat Dallas 107-93.
The Bobcats continued their better than expected start to the season improving to a 3-2 record with a narrow two-point win at home to the Raptors.
Gerald Henderson led the way scoring 23 points with Michael Kidd-Gilchrist adding 14, Josh McRoberts 13 and Jeff Taylor 13.
Rudy Gay scored 20 points for Toronto and DeMar DeRozan 14.
Indiana won its fifth straight game to start the season thanks to a 34-18 final quarter against Chicago to end up downing the Bulls at home by 17 points.
Paul George top-scored for the Pacers with 21 points despite shooting 6-of-19 from the field. David West contributed 17 points and 13 rebounds while centre Roy Hibbert has his eyes firmly set on the Defensive Player of the Year award and had another eight points, 10 rebounds and five blocked shots.
Derrick Rose had 17 points for the Bulls but again struggled with his shooting at just 6-of-15 from the field while Luol Deng also added 17 points for the 1-3 Chicago.
Orlando also continued a surprisingly impressive start to the season improving to a 3-2 record with a strong 98-90 win over the also 3-2 LA Clippers, largely thanks to a 25-16 final period which was on the back of the Clippers fighting back from a 15-point half-time deficit to lead at three quarter-time.
Nikola Vucevic was the star for the Magic with 30 points and 21 rebounds while Jameer Nelson added 11 points and eight assists.
Blake Griffin finished with 23 points and 10 rebounds while Chris Paul had 18 points and 10 assists, and DeAndre Jordan nine points and 19 boards.
Washington got its first win of the season and handed Philadelphia its second straight loss after Brett Brown's 76ers started the season in a blaze of glory with three straight wins.
John Wall led the Wizards with 24 points and nine assists on the back of hitting 5-of-8 from downtown. Marcin Gortat also had 19 points and 12 rebounds for Washington with Bradley Beal adding 17 points and eight boards.
Evan Turner had 24 points and seven rebounds for the Sixers while Spencer Hawes finished with 23 points, 13 boards and five assists. Rookie Michael Carter-Williams also had 19 points, seven rebounds and five assists.
The new-look Boston Celtics without Doc Rivers, Paul Pierce, Kevin Garnett and Jason Terry, and still without star point guard Rajon Rondo, finally got their first win on the board this season beating the winless Utah Jazz by 10 points.
Brandon Bass scored 20 points for the Celtics with Jeff Green adding 18 and rookie big man Kelly Olynyk 14 to go with eight rebounds.
Gordon Hayward had a good night for the Jazz with 28 points, nine rebounds and five assists with Enes Kanter adding 22 points and eight boards.
New Orleans dominated the disappointing Memphis to win by 15 points in Memphis on Tuesday with Eric Gordon scoring 19 points, Anthony Davis 18 (and nine rebounds) and Tyreke Evans 16 (and seven boards).
Mike Conley had 26 points and hit 10-of-16 from the field and 4-of-6 from three-point territory for the Grizzlies.
Milwaukee improved to a 2-2 record with a hard fought five-point win over Kyrie Irving and the Cleveland Cavaliers.
OJ Mayo was on fire for the Bucks scoring 28 points on the back of nailing 6-of-7 from downtown while Gary Neal added 23 points and four assists off the bench.
Irving had a good night also for the Cavs with 29 points and eight assists on the back of hitting 4-of-6 from beyond the arc. Dion Walters also added 21 points.
Golden State improved to a 4-1 record with a comfortable road victory over Minnesota by 13 points on Wednesday with Klay Thompson hitting 30 points.
David Lee added 22 points and 15 rebounds with Andre Iguodala contributing 20 points and six assists while Australian centre Andrew Bogut finished with two points, five rebounds, four assists and two blocks.
Kevin Love was a monster again for the Timberwolves with 25 points, 16 rebounds and six assists. Kevin Martin added 23 points and Corey Brewer 18 but they had precious little help particularly off the bench.
The Spurs and Suns played out a thrilling contest at a high-tempo with San Antonio prevailing in the end by three points to improve to a 4-1 record.
Tony Parker had 20 points and six assists for the Spurs with Danny Green adding 19 points and Tim Duncan 17 to go with five rebounds and five assists.
Markieff Morris scored 23 points and 12 rebounds off the bench for Phoenix while shooting 11-of-13 from the field. Gerald Green scored 15 points as did Miles Plumlee for the Suns.
The final game of the night took place in Oklahoma City with the Thunder holding out the Dallas Mavericks to win by 14 points.
Kevin Durant hit 23 points to go with 10 assists for the Thunder with Russell Westbrook adding 22 points and Serge Ibaka 17, 13 rebounds and three blocked shots.
New Zealand rookie Steven Adams also had an impact for Oklahoma City in 20 minutes of court time with six points and nine rebounds while also getting to know Dallas star Vince Carter, and also not flinching when taking an elbow from the veteran.
Monta Ellis finished with 20 points for the Mavs with Shawn Marion adding 17 and Dirk Nowitzki 16.
NBA Results Wednesday November 6
Toronto Raptors 90 lost to Charlotte Bobcats 92
Chicago Bulls 80 lost to Indiana Pacers 97
LA Clippers 90 lost to Orlando Magic 98
Washington Wizards 116 beat Philadelphia 76ers 102
Utah Jazz 87 lost to Boston Celtics 97
New Orleans Pelicans 99 beat Memphis Grizzlies 84
Cleveland Cavaliers 104 lost to Milwaukee Bucks 109
Golden State Warriors 106 beat Minnesota Timberwolves 93
Phoenix Suns 96 lost to San Antonio Spurs 99
Dallas Mavericks 93 lost to Oklahoma City Thunder 107