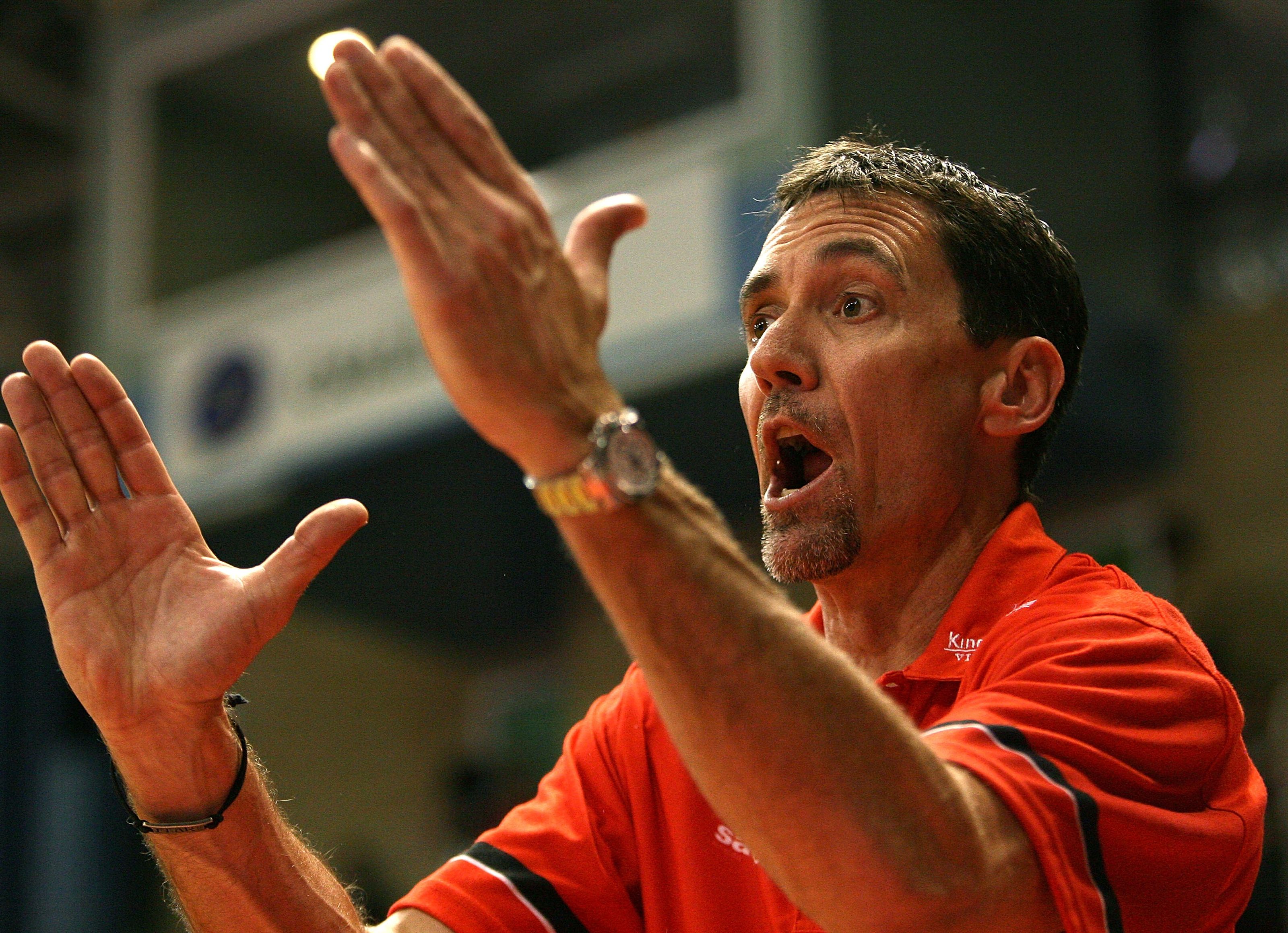 New Adelaide 36ers head coach Conner Henry likes the players the Sixers have been able to retain for the 2020/21 NBL season, is excited by the addition already and what the squad will look like as he looks to build something over the next three years and beyond.

The 2019/20 season might not have ended how anyone at the 36ers hoped with a potential finals campaign going up in smoke and then the club attracting headlines for the wrong reasons.

When the smoke cleared, it had been determined that coach Joey Wright, co-captain Kevin White, imports Ramone Moore, Jerome Randle and Eric Griffin along with Harry Froling and Anthony Drmic wouldn't be returning for the 2020/21 campaign.

But what presented was for the reset button to be hit at the Sixers under a new head coach and the club appears to have struck gold with the appointment of Conner Henry for the next three seasons.

It's hard to imagine a more well credentialed man to come in and take over the helm at the 36ers.

During his professional playing career, Henry was a standout in college at the University of California, Santa Barbara before earning NBA opportunities with the Houston Rockets, Boston Celtics, Milwaukee Bucks and Sacramento Kings.

From there, he spent the rest of his playing days both in the United States including being MVP of the CBA in 1990 at Rapid City Thrillers and going on to play internationally in Italy, France, Spain and Greece.

His coaching journey then began back home in Claremont, California before his first sojourn down under began by teaming up with former college teammate, and fellow Californian, Scott Fisher at the Perth Wildcats.

Henry would assume the head coaching role for the 2008/09 season but that would prove a one and done season before he spent a season with the Sydney Kings.

Since he has been back in the United States winning a G-League championship at the Fort Wayne Mad Ants, and an assistant at the Orlando Magic in the NBA among other roles.

So that all adds up to quite the resume as a player and coach that Henry brings with him to the 36ers for at least the next three seasons as head coach.

The 56-year-old liked what he heard from chairman Grant Kelley and head of basketball Jeff Van Groningen so much he wanted to sign up for three years with a long-term vision.

"Going through the conversations with Grant and Jeff, once we got to the point, they understood that I wanted to come out there and stay, and have the opportunity be a part of building something," Henry said on recent episode of Sixers Fix with Scott Ninnis.

"My time in Perth was cut short and having the three-year deal is important. It allows us some flexibility to build the roster and to share those moments, good and bad, and start to build that culture that Grant truly wants.

"He wants a team that's going in a direction that is solid within the community and the league. To be able to be part of it and lock in on a three-year deal was essential to me."

Henry enjoyed his time immensely last time in the NBL and in Australia. He could consider himself unlucky to have only got the one season to be head coach at Perth when that season was hindered by injury and then ended by a stunning John Rillie and Townsville Crocodiles display.

Consider that the Wildcats have won six of the 11 NBL championships since and with a bit of luck going his way, and faith from management and Henry could have been part of some, or all, of that success.

But a return down under was always on the radar of Henry should the right opportunity open up and that's exactly what he sees this current job to take on at the 36ers as being.

"I'm excited for this opportunity to not only come back and be on the sidelines, but to really return back to Australia where I've got friends and I enjoyed my time there," he said.

"I couldn't be more excited about the club, I've had great conversations with Grant and Jeff over the last month and-a-half and those conversations were free-flowing, good and bad with all the craziness right now, and how it can be affected.

"Once I went through the initial three or four conversations I got a real good picture of what they want to build in Adelaide and I felt comfortable moving forward, and here we are."

Even while back in the US for the last decade, Henry has continued to keep an eye on the NBL and had the hope that one day he'd get the chance to come back and show that he deserved better than being let go after one year as a head coach.

He wanted to make sure he only returned for the right chance, though, and one where he felt he would be given the support and confidence from the club to build something over a period of time to set things up for sustained success – much like what Perth is now experiencing.

"I've just been keeping my eye out on the NBL for a number of years with the hope of being able to put myself in a position to possibly return," Henry said.

"After two years of scouting with the Timberwolves, the last six or seven months I've been on the sidelines not working and watching a lot of basketball trying to connect with as many people as I could to try to see if there would be a coaching opportunity.

"And Jeff and I have known each other now really from when I was in Perth and then even more so during my brief time in Sydney, and we've always kept in touch. He comes out to Summer League and when he's in LA we catch up and he reached out to me.

"He asked if I would be interested in the gig and if he put me on a list to consider, and to have a chat with Grant. I gave him the go ahead on that and that's really how it started. From there, eventually I had two really good conversations with Grant and went through a nice interview process I felt which was balanced and not rushed, which it can be if you aren't being fully considered.

"I never got that impression, I always felt that Jeff, Grant and then Ben the CEO treated me well and it felt good. They eventually went through their process to narrow it down to two people, and like most people know coincidentally that was also Adam who was a former point guard of myself and Fish.

"Adam is just a really solid coach and person, and has done some really good work so they understandably approached him but it wasn't a fit for him. So Jeff and Grant circled back, and within about 10 days we hashed things out and agreed to start getting into the numbers and term, and that was really the process. It's worked out well, it's been really enjoyable."

Now that Henry has been appointed coach at the 36ers and is hoping to be out in Adelaide from California by early July, preparations are on in earnest to put a team together for the 2020/21 season.

While there will be plenty of changes and White, Randle, Griffin, Moore, Drmic and Froling won't be back, Henry is already excited to know he'll be able to bank on Brendan Teys, Daniel Dillon, Jack McVeigh, Obi Kyei and 323-game superstar, Daniel Johnson.

The signing of emerging gun Josh Giddey through the Next Stars is a massive coup for the 36ers too and now Henry and the club management are looking to round out the rest of the roster even if it's challenging with free agency pushed back to begin now on July 1.

"As I look at our roster, obviously it's not complete and we've let a couple of players go in Drmic and Froling, but we have an All-NBL player in DJ, experience in Daniel Dillon who I'm hoping to recharge his mentality and his ability to be successful even at age 34 now," he said.

"I've had a good text chat with him and he sounds good, and he wants to get back to contributing at a high level. I've had a good conversation with Teys as well and have shared text messages with Josh, DJ and (Alex) Mudronja.

"I still have to catch up with Obi and McVeigh even more. We've got some pieces who have played back up minutes in the past at all the positions and want to excel in those positions that we have and make them better basketball players, and enjoy the process.

"And then if we get our imports right and if we add a player of let's say a Boomer quality through free agency if that's at all possible, then come July our roster may look a little different but I can't imagine drastically so. But you never know. We like who we have and we just have to make everybody better and to come together."

Important as it is to put the roster together, Henry is also working on the game style he'll be looking to implement once he gets to Adelaide.

While it will be one that will be based to take advantage of the strengths of the roster, it's fair to say two of its key components will be that it will be made up of strong ball handling and lockdown defence as cornerstones.

"I believe that we've got to play balanced basketball on both ends of the floor," Henry said.

"I've never been able to coach a team just defensively and not be balanced on the other end, and I've never coached a team nor do I know a system that is just fast-paced and shoots only threes while switching everything on defence.

"That does partly seem the trend now throughout not only the NBL with some teams but the G-League and of course the NBA. I expect us to have a defensive system in place where everybody is held accountable and everybody rocks up encouraging each other and communicates with each other.

"If we play that way on the defensive end, it's only going to help us on the offensive end and vice versa. It all works together and if you can be efficient on both ends, and have a physicality of which I hope we do, then I hope we are physically and mentally tough with the roster we build.

"I want us to go through some shared experiences both good and bad, and then come back and really start to figure it out."