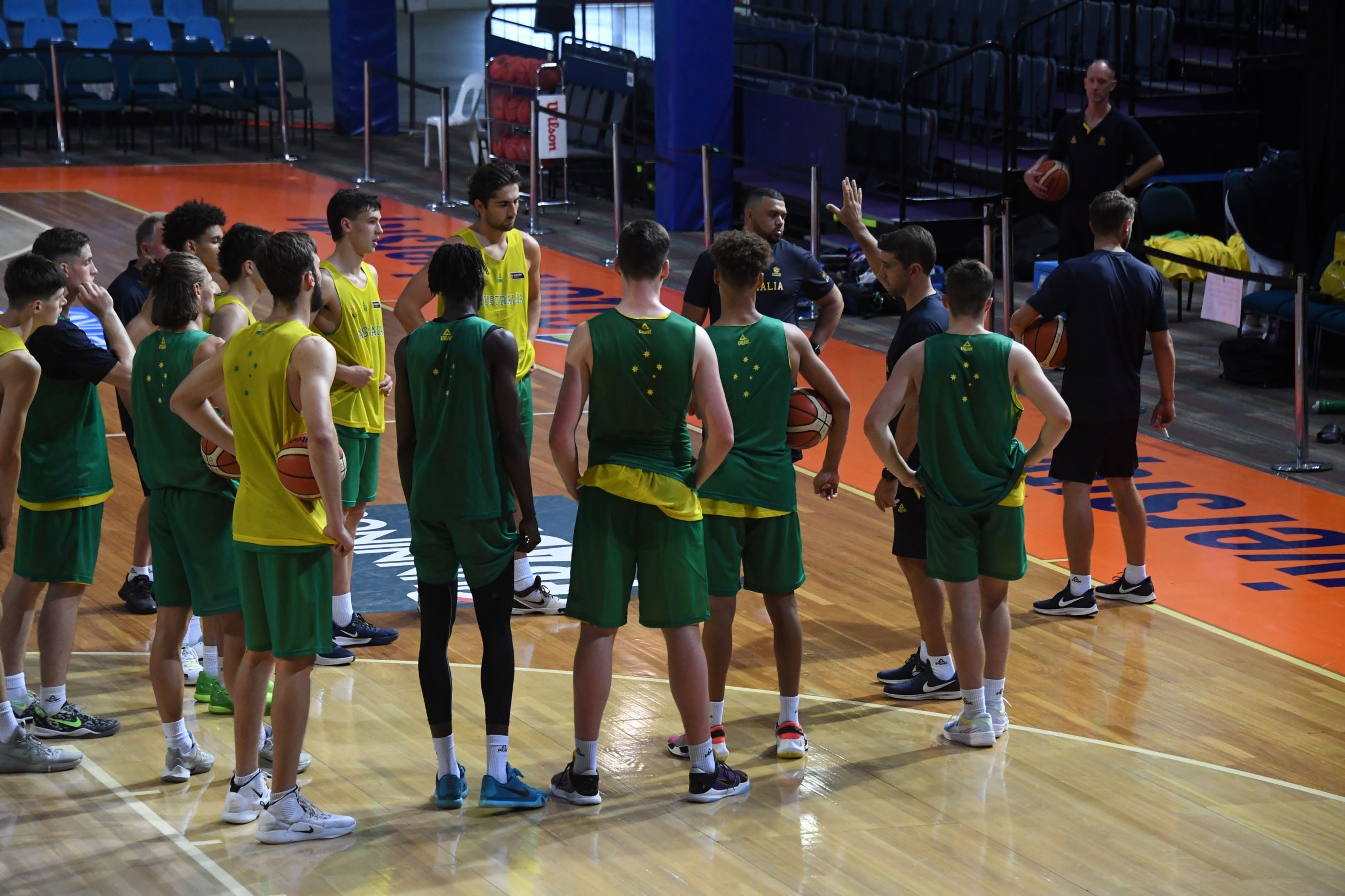 Saturday night in Cairns provides a glimpse into the future for the Australian Boomers with an eye on the Paris Olympics, but by no means does that mean winning isn't the goal against the New Zealand Tall Blacks.
This 2021 FIBA Asia Cup Group C qualifier presents a tremendous opportunity both for the group to get out and show what they are capable of, but to also begin to build that road to the 2024 Olympics.
Fast forward to the next Olympic Games beyond Tokyo later this year and the majority of the players who are representing the Boomers in Cairns on Saturday will have started, or be about to start their professional basketball careers whether it be in the NBA, NBL or elsewhere.
While there is an eye to the future, this is a meaningful game too. That's naturally the case any time you play for your country but it counts towards qualifying for August's FIBA Asia Cup which would grant Australia qualification to the 2023 World Cup.
Coach Adam Caporn is embracing the experience as well and having worked with the majority of the playing group at the Centre of Excellence, knows how much this means to them.
"What we are really working hard to do is making it a positive experience against great competition and a strong basketball nation," Caporn said.
"I truly believe lots of guys on this team can vie for Paris and beyond, and that's meaningful and we are starting that journey here in a lot of ways. They have a passion for that and they understand the weight of it.
"There's always pressure on to perform and athletes thrive on that, but there's something very important to uphold and that's the way you play while representing your country. I've been really impressed with the way this group has gone about respecting that."
Caporn is just happy to be around a group with such enthusiasm and exuberance to get out on the court and show what they are capable of.
"We feel good and we are really excited. The nicest thing about this is seeing young guys who have worked really hard but have been through an interesting 12 months with COVID," he said.
"These guys have worked really hard in that vacuum and now this is an opportunity that popped up for them, and their excitement and enthusiasm, and understanding of it is obvious to me. I'm thankful to be around that and their youthful enthusiasm, and pride in putting on the green and gold."
The Boomers team is made up of those Caporn has worked with at the Centre of Excellence Dyson Daniels, Jack McWilliams, David Okwera, Patrick Ryan, Reyne Smith and Harry Wessels with Alex Toohey and Tyrese Proctor out of the NBA Global Academy.
Taran Armstrong, Hunter Clarke and Hunter Goodrick all have college experience and then is the group's 'veteran' Matt Kenyon who at 23 has already played in the NBL and the NBA G-League.
COVID-19 has meant a lot of the group hasn't had the past 12 months they hoped but Caporn sees that as a great positive as they now look to hit the court representing their country.
"The opportunity to play a game of basketball in the green and gold with Australia on your chest means a lot to all of them, and they understand what that means," Caporn said.
"They all speak to that emotionally with how much it means to them and I'm really proud to be around that, and I feel fortunate to be exposed to that passion that they have for it.
"That's the driving force behind what we are doing this week and there definitely is some wide-eyed excitement about getting to do our thing again from the players.
"I have been impressed with the diligence the ones I was around in the past year to continue to train hard with everything that has been going on, and I'm happy that they now get this opportunity on the back of the work they've put in.
"It's even better that they get to do that in the green and gold so their passion and excitement is exciting, and now we have to harness that in the right way in the game."
It will come as no surprise given he is the one player in the squad with professional experience, that former Brisbane Bullets guard Matt Kenyon has been named captain of the Boomers for the clash with the Tall Blacks.
Caporn couldn't have been more impressed with the way he has conducted himself.
"Matt Kenyon has had a hard time in some aspects. He had a growing career that he was fighting for as a professional where he started well in the NBL and then had a good time in the G-League," he said.
"But with the unusual circumstances of COVID, he just found himself fighting for a professional job in basketball. He should definitely be playing somewhere and like a lot of guys in this unusual time, he has arrived fit and ready to go, and he couldn't be more impressive and enthusiastic.
"His leadership has been outstanding and he will take this opportunity with two hands, and do something really special with it."
Caporn himself had a fine playing career firstly as part of Australia's rich history at Saint Mary's University before playing in the NBL with the Wollongong Hawks and Perth Wildcats before on-going knee issues led to his retirement.
He has spent the last 10 years growing as a coach and that's included being assistant on the Boomers team and now it's his greatest honour to be head coach of the national team.
But just as exciting is his coaching staff with the legendary Gordie McLeod offering his remarkable experience and then Kerry Williams is a rising coaching star and Indigenous trailblazer and role model.
"It means so much and it's the greatest honour there is to represent your country in any capacity. I feel really privileged and I feel the responsibility to do my job right with this young group," Caporn said.
"We've got young guys entering their first experience as a Boomer which is the start of what we expect their futures to include being known around the country and the world.
"My responsibility is to make sure they understand what the Boomers are about and we have a great staff here with me with Gordie McLeod and all his experience and Kerry Williams to help drive that.
"What they love doing the most is to put on the green and gold, and play with their mates and we have no doubt they will play their hearts out. I'm just trying to give them some guidance and I feel privileged and lucky to work with them and the staff that we have."
As for the opponents, any time a team features the legendary Mika Vukona who thrives on representing New Zealand and is an NBL champion five times over and veteran of 476 games, and they are going to be tough to beat.
But Caporn is glad his young players will get to play against a Tall Blacks legend like Vukona and the rest of their young and talented squad.
"Not for a second did it ever enter my mind that this would be an easy game. They are playing for their country too and this is a great opportunity for our guys to play against such a competitor and international player like Mika," Caporn said.
"What a great thing it is that he is playing and I feel privileged to have the opportunity to compete against him. We know it's going to be a tough game and we want them.
"What I love about our team is that we are young and talented, but they are competitive too and they want this moment and they know that in a lot of ways it's the start of a journey to Paris for a lot of them. And we want to help them make that a reality which starts with this opportunity."