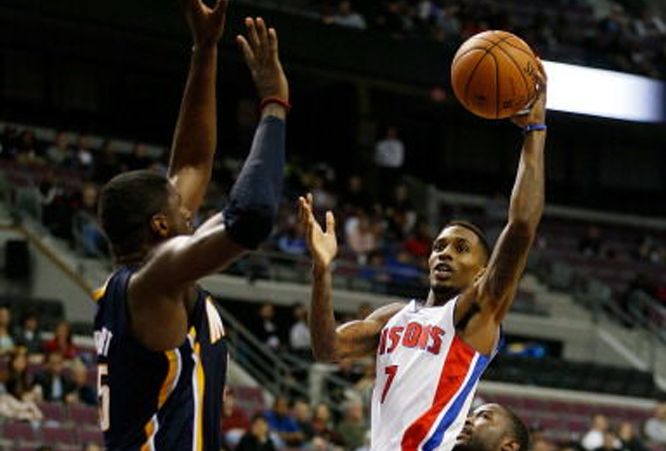 INDIANA beat the Pistons in Detroit on Tuesday to remain the only unbeaten team in the NBA while the Knicks suffered another disappointing loss in New York.
Tuesday's action saw Miami beat Toronto 104-95, Brooklyn take care of Utah 104-88, Indiana down Detroit 99-91, Charlotte beat the Knicks in New York 102-97, Phoenix beat New Orleans 104-98, Dallas thump the LA Lakers 123-104, San Antonio beat Denver 102-94, Houston down Portland 116-101 and Atlanta beat the Kings in Sacramento 105-100.
Indiana remained the only unbeaten team in the NBA after four games of the 2013/14 season with an eight-point win over the Pistons in Detroit on Tuesday night.
Paul George top-scored for the Pacers with 31 points and 10 rebounds with CJ Watson adding 15 points, David West 12 and Roy Hibbert eight to go with 10 rebounds and a massive seven blocked shots.
Brandon Jennings had 17 points and six assists for the Pistons but shot just 6-of-20 from the field. Josh Smith added 16 points and Greg Monroe 14 points to go with 10 boards.
Brooklyn returned to the winner's list to keep Utah winless after just four games this season with the Nets cruising to the 16-point win at the Barclays Centre.
Brook Lopez had a massive night for the Nets with 27 points and seven rebounds while Gordon Hayward had 22 points for the Jazz and Enes Kanter 21 to go with eight boards.
Miami improved to a 3-2 record with a nine-point win on the road in Toronto against the Raptors with LeBron James leading the way with 35 points, eight rebounds and eight assists. Dwyane Wade scored 20 points, six boards and five assists.
DeMar DeRozan hit 21 points for the Raptors with Jonas Valanciunas adding 18 points, Rudy Gay 13 and Kyle Lowry 13.
The Knicks' disappointing start to the season continued with another dismal loss inside Madison Square Garden, this time by five points against the Charlotte Bobcats.
Kemba Walker starred for Charlotte with 25 points, six assists and five rebounds with Gerald Henderson adding 18 points and seven boards, and Michael Kidd-Gilchrist 16 points and eight rebounds.
Carmelo Anthony had 32 points for New York but shot just 10-of-28 from the field with Metta World Peace adding 18 points and six rebounds off the bench.
Dwight Howard's Houston improved to a 4-1 record to start the season with a comfortable 15-point win in Portland over the Blazers.
Howard had a big night as well with 29 points and 13 rebounds with James Harden continuing his superb start to the 2013/14 NBA season for the Rockets with 33 points and seven boards.
Damian Lillard had 22 points and five assists for the Trail Blazers with LaMarcus Aldridge also adding 21 points and Wesley Matthews 19.
San Antonio improved to a 3-1 record and kept the Nuggets winless this season with an eight-point win for the Spurs in Denver.
Tony Parker led the way for the Spurs with 24 points and six assists with Tim Duncan adding 17 points, eight rebounds, eight assists and four blocked shots.
Ty Lawson top-scored for Denver with 20 points to go with eight assists while Kenneth Faried added 15 points and eight rebounds for the Nuggets.
Dallas scored a big home win over the Lakers by 19 points with Monta Ellis starring with 30 points and nine assists. Jae Crowder added 18 points off the bench in an impressive shooting display for the Mavericks hitting 4-of-6 from downtown.
Nick Young top-scored for the Lakers with 21 points on 8-of-12 shooting from the field.
Phoenix continued its surprisingly impressive start to the season with a six-point road win over New Orleans to see the Suns improve to 3-1 and the Pelicans slip to 1-3.
Eric Bledsoe led the way for the Suns with 25 points with Gerald Green adding 18 points, Markieff Morris 17 and Marcus Morris 16 to go with nine rebounds.
Eric Gordon scored 20 points for the Pelicans with Anthony Davis and Brian Roberts adding 17 apiece.
The Hawks won their first game on the road for the season downing the Kings in Sacramento by five points with Al Horford leading the way with 27 points and 10 rebounds.
Paul Millsap also had 25 points and 11 boards with Jeff Teague adding 18 points and 10 assists for Atlanta.
Isaiah Thomas led the way for Sacramento with 26 points and five assists.
NBA Results Tuesday November 5
Miami Heat 104 beat Toronto Raptors 95
Utah Jazz 88 lost to Brooklyn Nets 104
Indiana Pacers 99 beat Detroit Pistons 91
Charlotte Bobcats 102 beat New York Knicks 97
Phoenix Suns 104 beat New Orleans Pelicans 98
LA Lakers 104 lost to Dallas Mavericks 123
San Antonio Spurs 102 beat Denver Nuggets 94
Houston Rockets 116 beat Portland Trail Blazers 101
Atlanta Hawks 105 beat Sacramento Kings 100