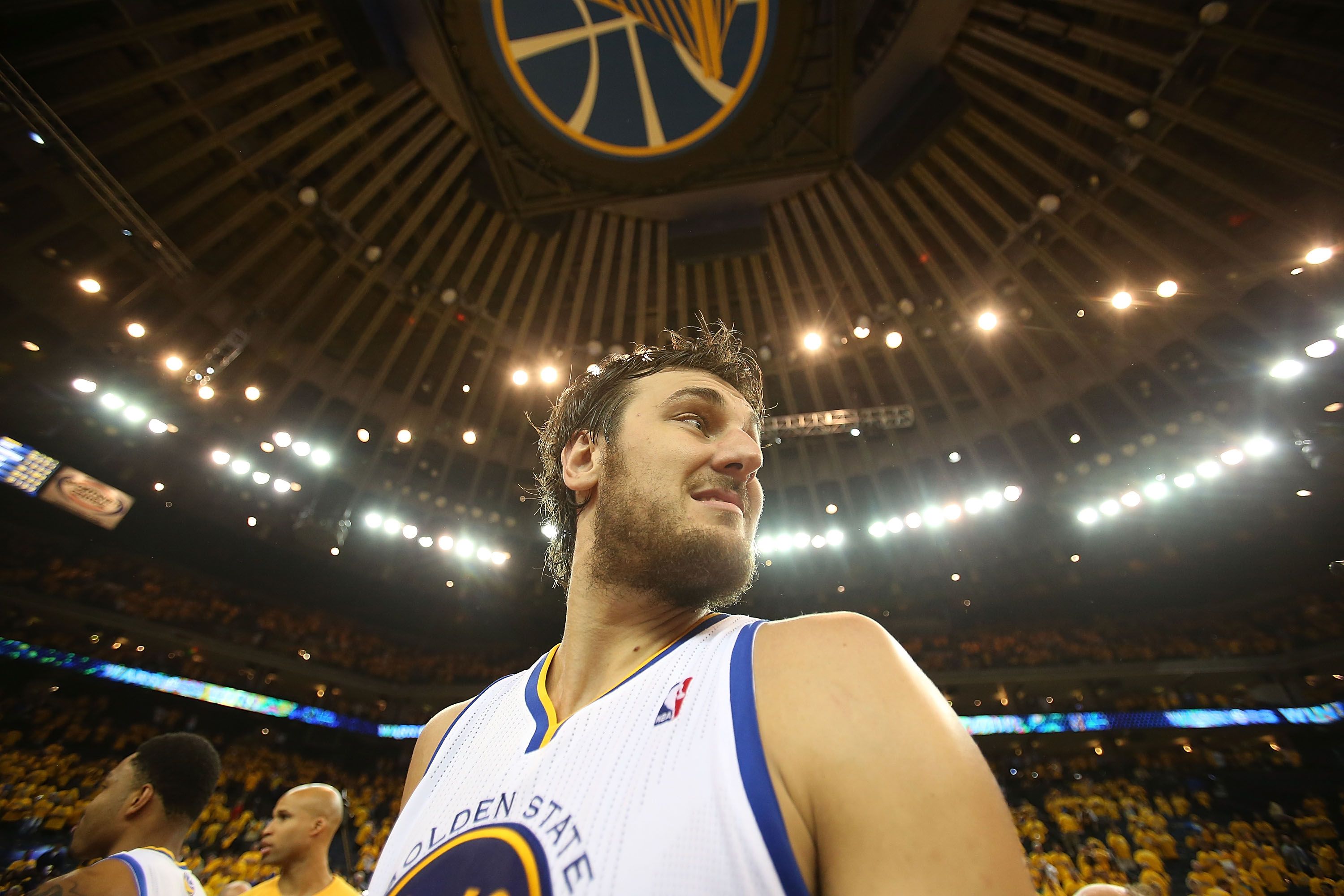 AUSTRALIAN basketball superstar Andrew Bogut is in career-best form and has led his Golden State Warriors to an upset first round NBA playoffs victory over the Denver Nuggets.
Despite the Warriors coming into the NBA playoffs having finished sixth in the western conference with a 47-35 record and coming up against the third-seeded 57-25 Denver Nuggets, Golden State wrapped up the series with a 4-2 victory with a thrilling win in the deciding Game 6 on Friday (Australian time).
The Warriors looked in control of the contest for much of the night before doing their best to throw it away against the Nuggets with 10 turnovers in the final quarter, but Denver couldn't quite take full advantage with Golden State holding on to win 92-88 in Oakland.
It was the best playoff game of Bogut's career and it came on the night that he advanced past the opening round of the playoffs for the first time in his eight-season NBA career.
It comes on the back of a horror season for the Melbourne-native as well with the 28-year-old seven-foot centre restricted to just 32 games in the 82-match regular season due to ankle surgery.
But in the series clinching game, Bogut finished with an incredible stat-line of 14 points, 21 rebounds, four blocked shots and three assists.
It was the first double-double of his playoff career and both the 14 points and 21 boards are career playoff highs for him.
Making Bogut's performance all the more impressive is that he almost didn't play because of his troublesome ankle, but he took the first pain-killing injection of his career and the results were obviously there for all to see in his performance.
"It's very satisfying and it was an emotional game for me. The season has been a nightmare for me personally but putting the team first we've had a lot of success and to come into a playoff series that no one predicted us to win is massive," Bogut said.
"Firstly no one predicted us to be in the playoffs so we had that chip on our shoulder and made it, and then no one picked us to win this series and we did. We have a young, emotional group who really thrives off each other and I couldn't be happier.
"I'm just glad that I have been able to play better basketball. I struggled to handle back-to-backs with the ankle during the season and it was a struggle today as well but it was very satisfying to have a good day and close out against a team we weren't supposed to beat."
Bogut received strong support from star guard Steph Curry as well who added 22 points and eight assists for the Warriors including hitting 4-of-8 from three-point territory.
With the LA Lakers already knocked out of the playoffs by the San Antonio Spurs, the Clippers struggling in a series with the Memphis Grizzlies and Sacramento Kings now in danger of leaving the state altogether for Seattle, remarkably the perennial struggling Warriors could be the leading Californian team this season largely thanks to Bogut.
It will be a big task for the Warriors to go much further, though, with Golden State's second round opponent being the top-seeded Spurs.
That creates excitement for Australian fans triple-fold, however, with Bogut going up against the Spurs' Aussie pair of dynamic point guard Patty Mills and tough big man Aron Baynes.
Bogut also has the massive task of spending much of his time in the series matched up against San Antonio's four-time championship-winning Hall of Fame big man Tim Duncan, but based on his form on Friday he's certainly ready for that challenge.