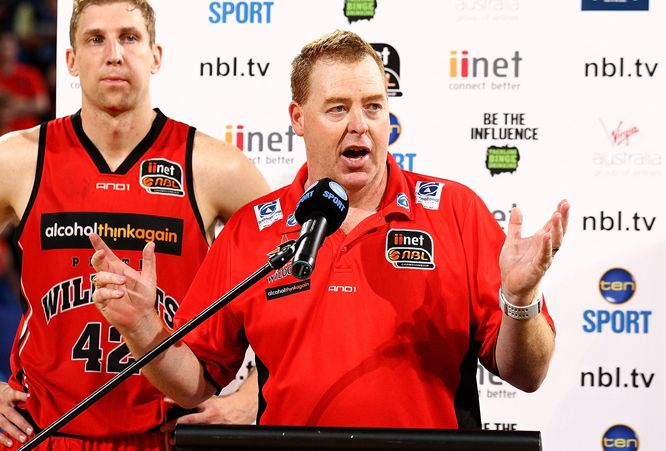 ROB Beveridge might not have been the man holding up the NBL championship trophy but deserves much of the credit for building the Perth Wildcats team that crushed the Adelaide 36ers in Game 3 of the grand final series.
The only two major changes to the playing squad was the Wildcats deciding to spend up and sign two imports and they went to the United States, and came back with the signatures of James Ennis and Jermaine Beal.
But aside from those two, the core of the Wildcats team was Shawn Redhage, Damian Martin, Matt Knight, Greg Hire and Jesse Wagstaff.
Redhage had four outstanding years under Beveridge while Wagstaff came out of college to become a top-rate NBL player, Hire went from being a development player to the first picked in any squad and then Martin and Knight have played virtually their whole careers under Beveridge.
Tom Jervis was another addition to the Wildcats team of 2013/14 but he had already spent plenty of time training with the Wildcats under Beveridge so also can thank him for plenty of his development.
After a distinguished career working with young talent in NSW, Beveridge got the best out of under resourced West Sydney Razorbacks and Sydney Spirit teams before arriving at the Wildcats ahead of the 2009/10 campaign.
He rebuilt the squad virtually from the bottom with Shawn Redhage and Brad Robbins the only players to remain as he ended up putting together a group of players under a proven game plan that led the Wildcats to a record fifth NBL championship.
And his coaching pedigree and style continued to be proven successful over the next three years with the Wildcats making a semi-final series against New Zealand where they only lost in one of the all-time great NBL playoffs series.
Then in 2012, there was a three-game grand final loss again to the Breakers in a classic series and then last year, the Wildcats lost inspirational leader Martin heading into another grand final against the Breakers and just came up short.
Beveridge and the Wildcats parted company following last season and he was then unlucky to miss out on the Australian Boomers job with them opting for Andrej Lemanis instead from the Breakers.
However, Beveridge is one of the most respected and successful coaches perhaps in NBL history with any club with a coaching vacancy, including the Sydney Kings and a potentially new Canberra franchise, sure to have him at the top of their list.
However, he has plenty of offers coming from overseas too.
One man who has spent virtually his whole playing career under Beveridge up until this year which included a world championship with the Emus and then his whole NBL career with the Razorbacks, Spirit and Wildcats where he will go down as one of the all-time great defenders, is Martin.
He was Beveridge's undisputed leader on the court in any team he coached and now after the pain of losing in the last three finals series to the Breakers, Martin is revelling in the fact that he is now a championship-winning captain.
"The feeling is indescribable. To lose the last two and finally be on the other end holding up that trophy is just a dream come true. We couldn't have scripted it any better than to win at home, in Game 3 and in a deciding game of a grand final in front of 13,000 people. Holding that trophy up in front of all those people is a feeling I will never forget," Martin said.
"It's hard to compare but I think after losing two it probably means a little bit more because I have suffered the pain of back-to-back losses and watching another team hold up the trophy. It's a very special moment for myself, my teammates and everyone involved in the club.
"Now I wish I had my fourth title but it does go a long way to helping forget those losses, but there is that little bit that wishes you won them all."
Martin does pay credit to the importance of the core group remaining together topped off by the addition of Ennis and Beal, but his future is undecided with his contract up and he just wants to enjoy the celebrations before thinking about where he might be next season.
"We have had a core group of players together for a while now and we have a lot of confidence. Then we get two imports who will go down as two of the best ever in the NBL. It has been a special year, we recruited well and then everyone else we brought in on top of that had a great year," Martin said.
"I have been here for five years and Perth is home. I have loved my five years and to be part of two championships and four grand finals, it has been an incredible journey and hopefully I can continue that.
"But I haven't even spoken to the club yet. The focus has been on seeing out this season and ideally I'd like to see out my career here, but I do hope I have a few years left in me."