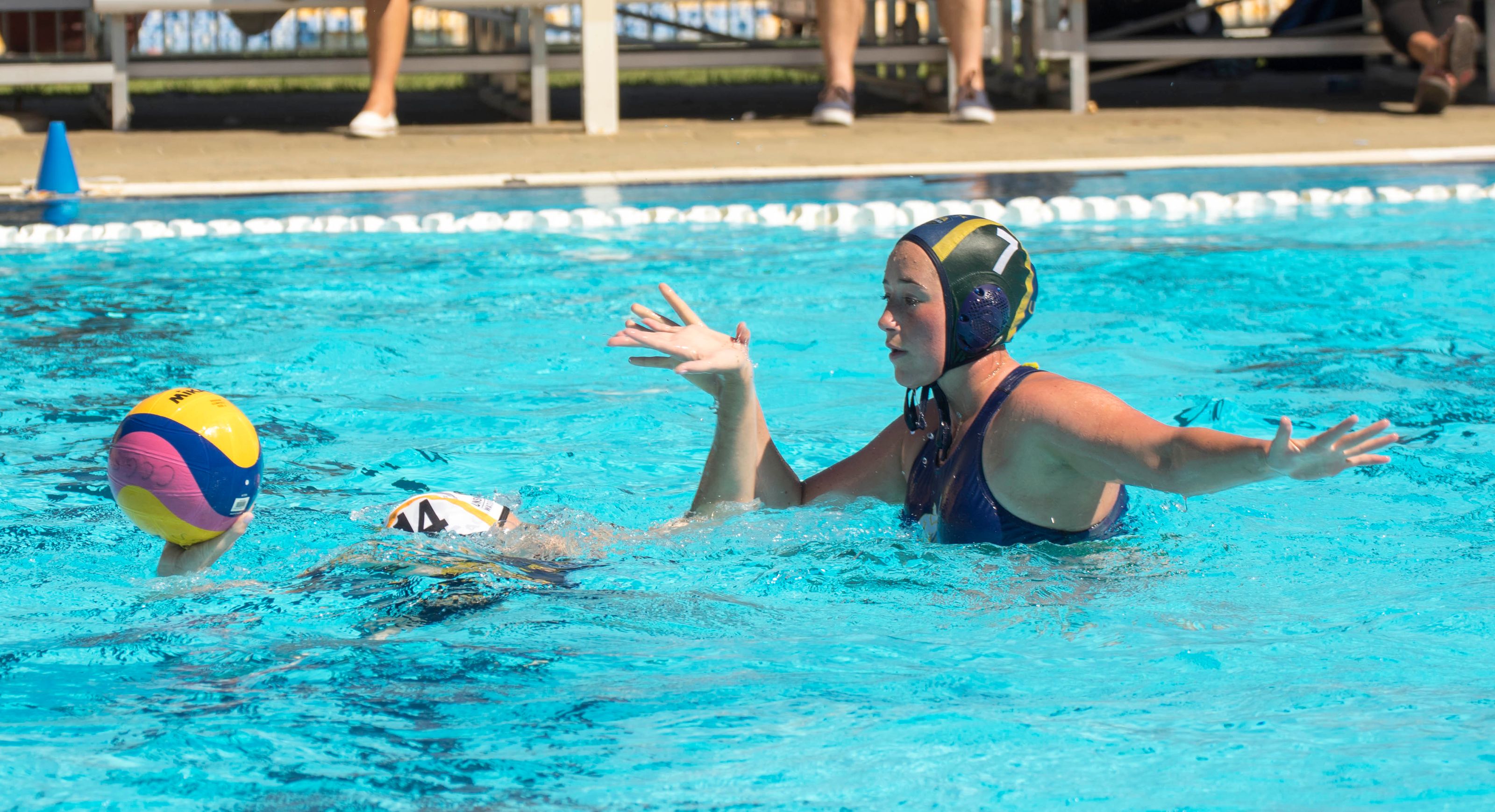 VESSELINA Velikova has now returned home to Switzerland after the best year of her life that included a stay in Canada and included three months in Perth playing with the UWA Torpedoes.
Velikova had become a mainstay of her water polo club back home in Horgen, Switzerland, and is also a regular representative of the Swiss national team.
Playing abroad had not been something she had ever really considered before.
Her focus was on earning her qualifications to become an English teacher and to do that it required spending some time as an exchange student to an English-speaking country.
So for the second half of 2016 that took her to Queen's University in Kingston, Ontario, Canada where she continued her studies but the added bonus was that she became part of the Gaels water polo team there.

Velikova impressed so much in the pool at Queen's that when coach Dave Hill was asked by new Torpedoes coach Scott Schweickle if he had anyone he could recommend for his first season in charge at UWA, it was her name that was immediately thrown up.

While she was expecting to return home after her time in Canada, it was another adventure awaiting in Perth that was unexpected and turned out to be something she will never forget.

Velikova enjoyed the water polo experience at the Torpedoes and she provided important leadership and experience to a youthful team.

She scored six goals along the way and being part of a competition that involved flying all-round the country is something she'd never experienced before.

"It was an amazing, once in a lifetime experience that I couldn't be more happy about that I had the chance to come here and experience everything about it," Velikova said.

"I couldn't believe that I would get the chance to come here to play water polo. I'm just happy that everything worked out so well. It was a very nice surprise that I got to do this before going back home after my time in Canada."

But it was life in Perth and Australia that is what will really stick with her.

Avoiding the snow-filled winter back home in Switzerland, Velikova spent more time at the Perth beaches than she ever has in her life and loved every minute of it.

She even learned how to surf and will forever enjoy that experience but it was just everything about the three months in Perth on the back of the six months in Canada that will stick with her forever.

"It has been an incredible adventure the last year, I don't know how else to describe this. Sometimes I can't believe how lucky I've been to be able to have this experience because it has just been exciting from the day that I got accepted to go on exchange to go to Canada," she said.

"I have got to travel and go to a different university, meet so many people and play in another country. And then the adventure just kept on going to Australia and I feel really lucky to experience all of it. I would say it has been the best year in my life."

The whole water polo experience firstly in the college system in Canada and then in the National Water Polo League in Australia was a steep learning curve for Velikova though.

Getting to know two completely new groups of teammates, styles of water polo, opposition teams and players, the officiating and even dealing with the language barrier despite her fluent English all presented challenges.

While it wasn't easy, Velikova will forever be glad that she challenged herself to play water polo in two different countries.

"The water polo has been very different especially because in Switzerland I've been used to playing with the same team with the same people that I knew for years. I knew the other teams we played against too so I knew when we played them how they would play and what our chances are," Velikova said.

"I also knew the referees whereas I went to Canada and everything was just so knew. I first had to get to know my team and then coming here, I heard the girls talking about other players and who to watch out for, but I didn't know who everybody was and I had to find out what number she wore.

"I tried to remember their cap numbers because it was really hard to get to know so many new players on my team and the other teams all at once. It wasn't easy to get used to different people, different teams, different players and different referees but I loved the whole experience."

Looking back to this time last year and Velikova was pretty happy with the life she had set up at home in Horgen, along the south bank of the Lake of Zurich.

Then she started planning her exchange trip to Queen's University and that was more than enough of a life-changing experience to prepare for.

The last thing she imagined was that it would end up with her coming to Australia and then she the chance did present, all she could think about was the wide array of killer animals down under she'd always heard about.

Ironically it was only after she left Australia and landed in Myanmar that she was on the receiving end of a jellyfish bite.

But she can't be happier with the whole experience.

"Pretty much a year ago I was planning my exchange to go to Canada and I would have never thought that I would end up in Australia. How crazy is that," she said.

"All that I knew about Australia basically was that everything wanted to kill you and that it was dangerous. But I did actually have a lot of friends who have been to Australia and they all loved it, and everyone always wanted to go back.

"I had heard about the boxing kangaroos, the sharks, beaches and surfing, and the weather being hot all-year round. So I had heard quite a lot about Australia before I came here.

"Now that I have survived, I'm glad none of those dangerous things killed me! So I survived and I'm very happy about that. It is definitely a beautiful country and I understand why everyone says they love it and wants to come back, and had a great time. That's basically how I feel about the whole experience."

Velikova fell in love with the beaches in WA and was glad she got to visit Rottnest Island just before she left as well.

To learn to surf is something that she especially enjoyed but really it was playing with the UWA Torpedoes and the lifelong friends she made that she will remember the most.

"I just love the beaches here, they are amazing. I really tried to check out as many beaches as possible because they are all so beautiful. I have never spent as much time at beaches in my life as I have the last few months and I've loved it," Velikova said.

"It's hard to pick a favourite part, but meeting a new team and training with the girls and going on tours across the country to play water polo was something I could have never imagined before coming here. The people you meet and become friends have made it an amazing experience."

It was also a new experience for Velikova to pick up living with a host family in Perth.

She was used to being out on her own in Switzerland having moved out of the family home several years ago, but living with the Barbas family is something she had a terrific time with as well.

And as she looks back, the whole three-month journey seemed to end just as she was settling in to life in Australia.

"Living with one of the girls from the team and her family was a unique experience as well. It was funny too because it felt like I was moving back into home with my parents in some way. It was like having a sister and brother, and it has been a lot of fun," she said.

"I was helping around the house and had a mum to look after me again. She cooked food for me and even looked after me when I was sick. That is a pretty unique experience I guess that I'm going to miss because it felt like home somehow even though it was on the other side of the world.

"Before I left, I told all the girls that it felt like I just arrived a day ago. I remember getting off the plane and meeting them all for the first time and now all of a sudden it's all over. They were the same and saying it felt like it was yesterday when they saw me at the airport, but it is crazy how fast the time flew but I wouldn't change anything about the whole experience."

Velikova spent a couple of weeks in Myanmar before returning home to Switzerland where she will immediately pick up her water polo career back playing with SC Horgen.

"I'm really lucky that our season back home just started so I will get to jump right back in and continue playing our season. I'm really excited about that," Velikova said.

"I have had one more adventure in Asia before going home as well. I met a friend in Myanmar and got the chance to travel around there for another two weeks. I had never been to Asia before so that was another thing to add to this adventure I've had over the past year."