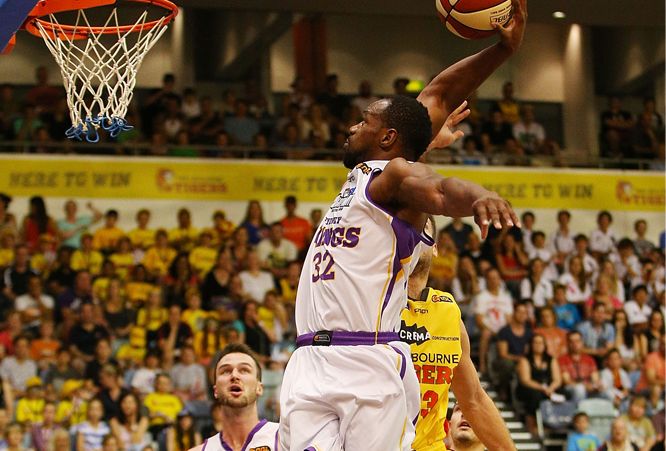 SAM Young showed in his second NBL game why the Sydney Kings were so excited to sign him by putting the team on his back in a tight 67-63 win over the Tigers in Melbourne on Sunday.
Young scored Sydney's last five points of the game with two strong moves to the basket and a free-throw to lead the way in the eventual four-point victory at The Cage as the NBA-experienced swingman finished with 27 points in what was a crucial win for the Kings.
The result means that Sydney now improves to a 5-4 record on the season to be in third spot on the ladder with plenty of improvement to come once Young becomes even more adjusted to the NBL, and his teammates to him as well.
Meanwhile, it was Melbourne's third straight loss after Chris Anstey's men appeared to be building some form with wins over Wollongong and Cairns, to now slip outside of the top-four at the expense of the New Zealand Breakers.
The Kings were coming off a 43-point annihilation last Sunday at the Perth Arena from the league-leading Wildcats, and were quick out of the blocks in Melbourne in response.
After scores were tied at 11 midway through the first quarter, the Kings went on an incredible run of 19 straight points either side of quarter-time before eventfully the Tigers stopped the slump through Chris Goulding just under two minutes into the second period.
That sparked a Melbourne run of nine straight points as well as the home side got back to within 10 points before Sydney still managed to lead comfortably 40-30 at half-time.
However, the Tigers dominated the third quarter outscoring Sydney 14 points to seven and then took the lead during the final period, but it was Young who was the difference down the stretch.
Showing the experience gained from four years at college and 249 games in the NBA, Young got the job done for the Kings when it mattered the most.
Young finished the game with 27 points and 10 rebounds while shooting 11-of-21 from the field.
He received strong support from fellow import Charles Carmouche who had 14 points on 5-of-9 shooting from the field, and 3-of-4 from three-point range for the Kings.
Centre AJ Ogilvy added 10 points, 12 rebounds and four blocked shots while Brad Hill also had nine points and four rebounds.
Melbourne centre Scott Morrison finished with 20 points and four rebounds with Goulding ending up scoring 20 points despite shooting just 8-of-25 from the field and 2-of-9 from beyond the arc.
They were the only two Melbourne players to score in double-figures with Mark Worthington finishing with eight points and 10 rebounds, and new import Mustapha Farrakhan six points and two assists.