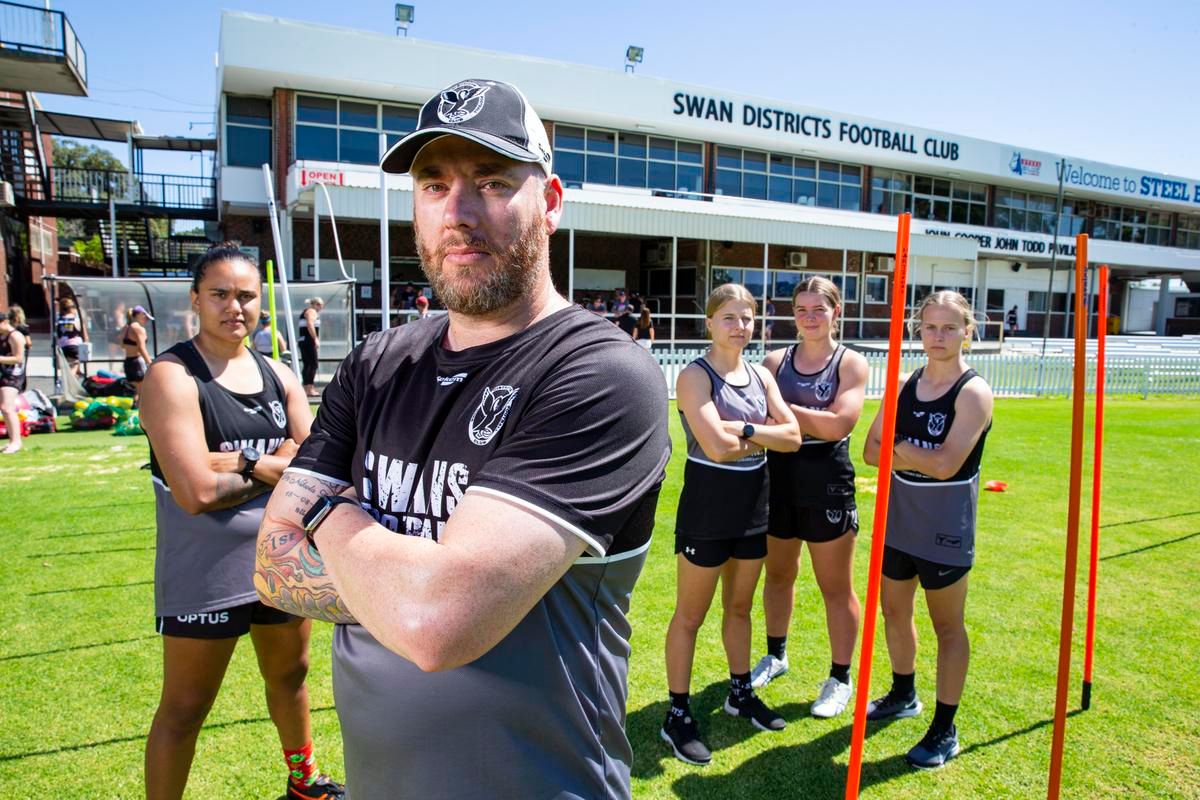 The preparations continue for the WAFLW season at Swan Districts in 2023 and senior coach Adam Dancey couldn't be happier with the coaching group that he has working alongside him.
It's a new look for the Swan Districts WAFLW team on a number of fronts coming into the 2023 season which begins away to Peel Thunder on Saturday March 11 in Mandurah.
The preparations are now in full swing with less than a month to go until Round 1 and one of the aspects that Dancey is delighted with how it's come together has been the coaching staff that he will work with.
Dancey is entering his third season in charge of the Swan Districts' WAFLW team and the first point of call was retaining the services of Tiffany Ferguson-Blight as his senior assistant.
Oliver Beath, Craig Hoyer and Scott Howie will be involved as well while Swan Districts will welcome Sandover Medallist and club legend Shane Beros, Max Jetta and Rogers Cup coach Shanae Davidson into the set up for the WAFLW team as well.
While there has been plenty of change both in terms of the playing stocks and the coaching staff for 2023 at Swan Districts, Dancey is delighted to elevate Ferguson-Blight into a more senior role.
"We're very happy with the coaching group this year. We did make a significant amount of change," Dancey said.
"Tiff is our senior assistant and she's still with us so she has been coaching with the program the whole time I have. She's progressed from backs to mids now so that's an important step for her in her coaching pathway."
With Ferguson-Blight his senior assistant helped in the midfield by Beros, Hoyer looking after the rucks and talls, Jetta having a game day role, Beath remaining head of development and then Davidson and Howie among those helping out, Dancey is delighted with the group he's working with.
"We've got Craig Hoyer who has joined us and taken on a role with the rucks and talls," he said.
"He'll also be chairman of selectors for us which is really important. Ollie Beath is still with us as our head of development, Shanae Davidson who was a club player before she got drafted and is now at West Coast, is back and head coach of our Rogers Cup program.
"She's throwing a lot of good information around and putting demands on the player group at that level to make sure they're building up to league footy."
As well as Davidson's involvement throughout the female football program, Rebecca Coleman is among the other coaches who will develop their craft starting with the Rogers Cup group.
"We picked up a couple of new development coaches as well at Rogers Cup level who will be fresh and are learning," Dancey said.
"They were part of our academy as well and we've had Scott Howie come across to us. So we are really happy with our coaching group, we're all aligned and there's a lot of great communication between the coaches and a lot of challenges, but also a lot of fun. We've got our own values that we've put in place so that's going very well at the moment."
Then there is Beros who will throw himself into helping the WAFLW program as a development midfield coach as much as time will permit.
On the back of his remarkable 193-game WAFL career that saw him win a Sandover Medal and three Swan Medals, and be one of the most universally respected modern day players, Beros' contributions to the WAFLW program will be invaluable.
"Shane Beros is a club legend and Sandover Medallist who has become part of our program," Dancey said.
"He's working with Tiff as a development coach for mids based on his time and availability, but he's also working with the group in terms of skills and technical aspects of the game which is really important."