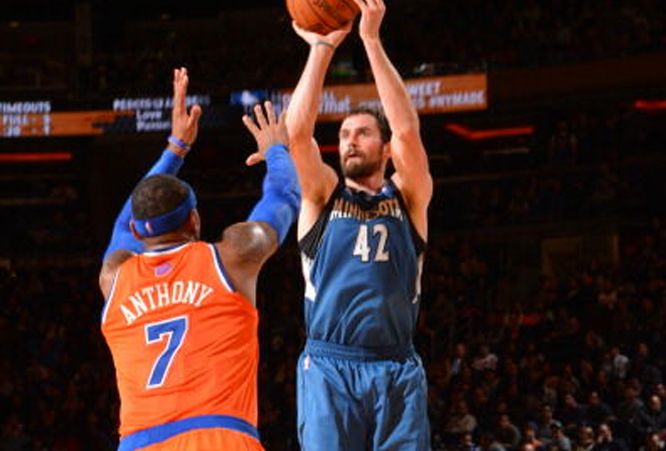 THERE were a couple of significant upsets in the NBA on Sunday night with Orlando downing Brooklyn and Minnesota also beating the Knicks in New York.
There were six matches in the NBA on Sunday with the Detroit Pistons beating the Boston Celtics 87-77, the Miami Heat beating the Washington Wizards 103-93 and the Orlando Magic downing the Brooklyn Nets 107-86.
The Oklahoma City Thunder beat the Phoenix Suns 103-96, the Minnesota Timberwolves downed the New York Knicks 109-100 and the LA Lakers held on to down the Atlanta Hawks 105-103.
Brooklyn was coming off a win against Miami, but couldn't back that up in Orlando with a Magic team expected to be horrible this season improving to a 2-2 record with an impressive and dominant 21-point win.
Rookie Victor Oladipo starred for Orlando with 19 points with Andrew Nicholson adding 17 points and 11 rebounds also off the bench. Nikola Vucevic also had 19 points and 12 rebounds and Arron Afflalo 16 points, eight assists and six boards.
The Nets were playing under new coach Jason Kidd for the first time after he was out suspended the opening two nights, but his team didn't quite respond. Brook Lopez had 21 points and Paul Pierce 16.
The night's other upset saw the Knicks go down at Madison Square Garden to the Timberwolves with Minnesota prevailing 109-100 to remain unbeaten after three games this season so far.
Kevin Love had a massive night for the T'Wolves with 34 points, 15 rebounds and five assists with Kevin Martin adding 30 points.
Carmelo Anthony scored 22 points and pulled in 17 boards for the Knicks with Metta World Peace adding 17 points in his best performance so far with New York.
The revamped Pistons recorded their second win from three matches to start the season to keep a Celtics team that was dismantled in the off-season so far winless, and not having looked likely of coming close to a win either.
Josh Smith and Greg Monroe both had 15 points for Detroit with Andre Drummond also adding 15 to go with his 12 rebounds. Brandon Jennings made his Pistons debut after missing the opening two games with a fractured jaw, and he finished with 14 points and four assists.
Rookie Kelly Olynyk had 15 points and eight rebounds for the Celtics with Avery Bradley and Jordan Crawford adding 13 points apiece.
Two-time defending champions Miami rebounded from losing its last two games to Philadelphia and Brooklyn beating the winless Wizards 103-93 at home on Sunday.
LeBron James had 25 points for the Heat with Chris Bosh adding 24 points and Dwyane Wade 20.
Bradley Beal top-scored for Washington with 19 points with Marcin Gortat adding 15 points and 11 rebounds.
Oklahoma City welcomed back point guard Russell Westbrook for his first game of the season and first appearance since injuring his knee late last season, and the Thunder responded with a seven-point win over the previously unbeaten Phoenix.

Kevin Durant scored 33 points and had 10 rebounds for Oklahoma City with the returning Westbrook scoring 21 points and dishing out seven assists.
Eric Bledsoe did all he could for the Suns with 26 points, 14 assists and seven rebounds. Vlacheslav Kravtsov scored 21 points and Channing Frye also added 19 for Phoenix.
Sunday's thriller took place at the Staples Centre with the LA Lakers surviving a ferocious comeback from Atlanta to beat the Hawks 105-103 to record their second win of the season without Kobe Bryant.
Xavier Henry led the way for the Lakers with 18 points with Paul Gasol adding 16 points and 13 rebounds while Nick Young and Steve Nash had 13 points apiece.
Kyle Korver hit 22 points for the Hawks while nailing all six of his three-point attempts.
NBA Results Sunday November 3
Boston Celtics 77 lost to Detroit Pistons 87
Washington Wizards 93 lost to Miami Heat 103
Brooklyn Nets 86 lost to Orlando Magic 107
Phoenix Suns 96 lost to Oklahoma City Thunder 103
Minnesota Timberwolves 109 beat New York Knicks 100
Atlanta Hawks 103 lost to LA Lakers 105