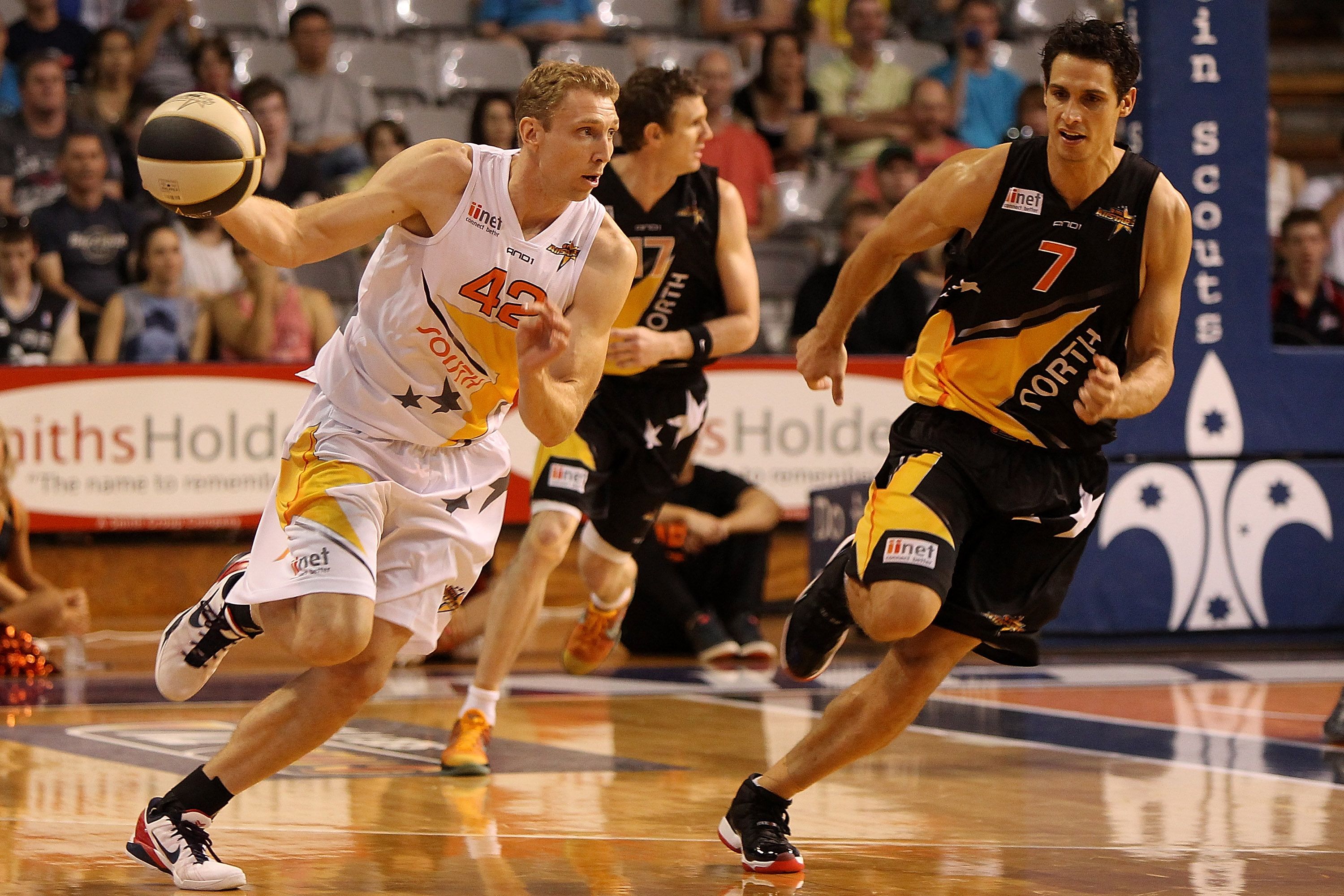 THE format might still need some work, but the NBL revived the All-Star concept in Adelaide on Saturday to largely positive reviews with the team dubbed South beating the North All Stars 134-114.
The day at the Adelaide Arena began with a slam dunk and three-point shooting contest, and then was rounded out with a largely entertaining All-Star game with the South side running out 20-point winners after racing to a 25-point quarter-time lead.
The South team was made up of players from the New Zealand Breakers, Melbourne Tigers, Adelaide 36ers and Perth Wildcats, with the North featuring the Sydney Kings, Wollongong Hawks, Cairns Taipans and Townsville Crocodiles.
While that does throw up some curious geographic queries with what team is where, all players put on a good show on Saturday afternoon with Melbourne Tigers guard Chris Goulding ending up being named MVP for his 24 points highlighted by a massive two-handed reverse dunk in the dying minutes.
Even though the favoured format for All Star games past has been to showcase the Australian talent against the international players in the league, the NBL went a different way this year and even though it was overall a success the majority of fans would likely prefer the imports against the locals.
That could have seen the likes of Australians Goulding, Adam Gibson, Daniel Johnson, Shawn Redhage, Ben Madgen, Oscar Forman, Cam Tragardh and Peter Crawford going up against imports Jonny Flynn, Lance Hurdle, Gary Ervin, Adris Deleon, Jamar Wilson, Cedric Jackson and Seth Scott.
However, it was South against North and as well as Goulding's starring role for the South team, Adelaide centre Johnson had 21 points, Tigers big man Scott 19 and nine rebounds and New Zealand forward Tom Abercrombie 15 and six.
Breakers guard Jackson added 12 points and seven assists and Wildcats forward Redhage 12 points and eight boards. Former NBA star and Tigers guard Flynn had seven points, 10 assists and five rebounds.
Hawks guards Deleon and Hurdle both scored 18 points for the North team with Deleon adding nine assists, five rebounds and three steals as well.
Sydney Kings forward Darnell Lazare also scored 18 points and pulled in 11 rebounds with Crocs point guard Ervin tremendous with 16 points, eight assists and seven boards.
The Tigers made a perfect start to the day's festivities with guard Bennie Lewis claiming the slam dunk competition.
Lewis was a last minute addition to the contest after injury ruled out Adelaide's Mitch Creek, and he joined Wollongong's Hurdle, New Zealand's Abercrombie, Melbourne's Lucas Walker and Sydney's Darnell Lazare in the competition.
Hurdle and Lewis were the last two standing after the first round to qualify for the final, and Lewis took it out with a perfectly scored dunk as judged by former Adelaide greats Al Green and Mark Davis, and local politician Kate Ellis.
The other highlight of the day was the three-point competition with Adelaide 36er Stephen Weigh coming out on top in the final over Crocs guard, and Olympian, Crawford. The pair earlier beat Sydney's Ben Madgen, Cairns' Clint Steindl and Wollongong's Oscar Forman.
Despite a slow build for the All Star event, the underwhelming formula of selecting the teams and the late withdrawals of Perth's Kevin Lisch, Sydney's Corin Henry and Adelaide's Anthony Petrie, 4523 turned out to watch and it was a step in the right direction for the NBL to have a showcase event mid-season once again.