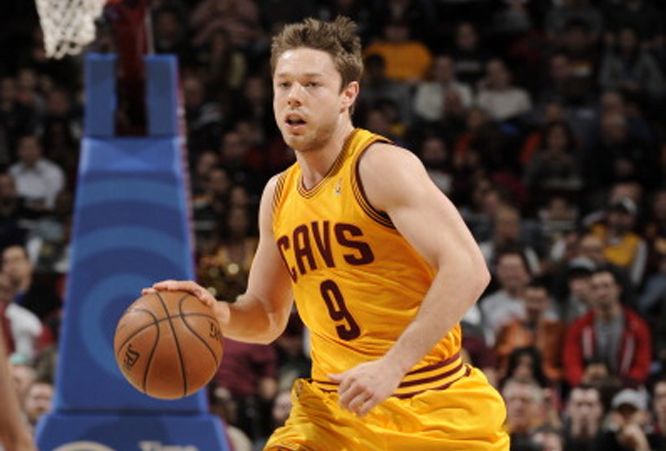 BROOKLYN, New York, Utah and Milwaukee continued their miserable starts to the NBA season on Wednesday while San Antonio, Portland, Indiana and Miami kept winning.
There were 13 matches in the NBA on Wednesday night with Charlotte beating Brooklyn 95-91, Washington downing Cleveland 98-91, Indiana beating New York 103-96, Miami thrashing Orlando 120-92, Toronto beating Philadelphia 108-98, Atlanta downed Detroit 93-85 and Portland were too good for Milwaukee 91-82.
The Clippers also beat Minnesota 102-98, New Orleans downed Utah 105-98, San Antonio beat Boston 104-93, Sacramento downed Phoenix 113-106, Memphis beat Golden State 88-81 and Dallas won a Texas thriller over Houston 123-120.
Charlotte improved to a 500 record with a four-point win at home over the terrible Brooklyn on Wednesday night with the Jason Kidd-coached Nets now falling to a 3-8 record despite Deron Williams returning and Brook Lopez still missing.
Kemba Walker led the way for the Bobcats with 31 points while hitting 4-of-7 from three-point territory. Gerald Henderson and Ramon Session also added 13 points apiece.
Andray Blatche had 25 points and seven rebounds off the bench for Brooklyn with Joe Johnson scoring 19 points, Alan Anderson 16 and Paul Pierce 12.
Washington recorded a road win also on Wednesday downing the Cavs in Cleveland by seven points with Bradley Beal leading the way with 26 points, eight assists and seven rebounds.
Nene also finished with 24 points, eight boards and six assists for the Wizards with Martell Webster adding 15 points and John Wall 15 points and nine assists.
Kyrie Irving had a good night for the losing Cavaliers with 28 points and six assists while hitting 3-of-4 from three-point range and shooting well overall with 9-of-14 from the field.
Anderson Varejao had 14 points and 11 rebounds while Australian guard Matthew Dellavedova impressed with nine points and three rebounds while hitting 3-of-6 from downtown.
The rookie earned praise from coach Mike Brown as well.
"We didn't compete. We had one guy that competed the entire time he was on the floor. That's Matthew Dellavedova."
The Knicks also fell to a dismal 3-8 record despite an improved showing in an overtime seven-point loss to the now 10-1 Indiana Pacers at Madison Square Garden.
Paul George led the way with 35 points for the Pacers with George Hill adding 23 points and David West 10 to go with his 10 rebounds.
Carmelo Anthony shot just 10-of-28 from the field but did rack up 30 points and compiled 18 rebounds.
JR Smith added 21 points off the bench for the Knicks with Beno Udrih also scoring 19 points and Andrea Bargnani 10.
The two-time defending champion Miami improved to a 9-3 record with a dominant 28-point win over Florida rivals the Magic in Orlando.
LeBron James had 21 points, seven assists and six rebounds while Chris Bosh scored 18 points, James Jones 17 and Michael Beasley 14 in the absence of Dwyane Wade.
Arron Afflalo starred for the Magic with 30 points on the back of 7-of-9 shooting from three-point range with Victor Oladipo scoring 20 points and Jameer Nelson 17 to go with five rebounds and five assists.
Toronto also won on the road on Wednesday with a 10-point win over the 76ers in Philadelphia with DeMar DeRozan starring for the Raptors with 33 points.
Rudy Gay was also terrific for Toronto with 18 points, eight rebounds, eight assists and two blocked shots with Terrence Ross adding 17 points and Kyle Lowry 13 to go with 10 assists.
Spencer Hawes did all he could for the Sixers with 28 points and 10 rebounds while Evan Turner scored 13 points to go with his 10 rebounds and five assists.
James Anderson added 13 points and Michael Carter-Williams 10 to go with six rebounds and six assists for Philadelphia.
Atlanta improved to a 7-5 record on the back of an eight-point win at home over the struggling Pistons.
Paul Millsap hit 19 points for the Hawks while Jeff Teague had 18 points and seven assists.
Brandon Jennings had 21 points, seven rebounds and six assists for the Pistons with Rodney Stuckey adding 18 points off the bench and Josh Smith having just 11 points and six boards while shooting 5-of-15 from the field and 0-of-4 from downtown on his return to Atlanta.
Portland continued its surprisingly impressive start to the season improving to a 10-2 record while the dismal Milwaukee fell to 2-8 as the Blazers won by nine points in Milwaukee.
LaMarcus Aldridge top-scored for the Trailblazers with 21 points with Damian Lillard adding 19 points and Wesley Matthews 15.
Luke Ridnour top-scored for Milwaukee with 13 points, five rebounds and five assists. Zaza Pachulia also had 11 points, Gary Neal 11 and John Henson 10.
The Clippers scored a four-point win on the road in Minnesota against the Timberwolves in a battle of two teams who appear destined for a playoff appearance in the western conference.
Blake Griffin had 20 points and 10 rebounds for the Clippers with Chris Paul having 20 points and 11 assists.
Jamal Crawford added 16 points off the bench with JJ Redick adding 15 and Jared Dudley 11.
Kevin Martin had another good night for the Timberwolves with 28 points, 10 rebounds and four assists.
Nikola Pekovic added 20 points, Corey Brewer 17 and Kevin Love just 10 on 2-of-14 shooting but he did have 12 boards and eight assists.
New Orleans recorded a solid seven-point win at home over the now 1-12 Utah Jazz on Wednesday night.
Anthony Davis top-scored for the Pelicans with 22 points and nine rebounds with Ryan Anderson adding 19 points, Jrue Holiday 14, Tyreke Evans 13 and Jason Smith 11.
Enes Kanter scored 19 points and nine rebounds for the Jazz while John Lucas III scored 14 points, Richard Jefferson 13, Derrick Favors 13 and Trey Burke 11.
San Antonio improved to a 10-1 record with a solid 11-point win over Boston at home.
Tony Parker led the way for the Spurs with 19 points and five assists with Kawhi Leonard adding 16 points and eight rebounds.
Tim Duncan also had 13 points and nine boards for San Antonio with Boris Diaw scoring 12 points, Tiago Splitter 11 and Danny Green 11.
Jeff Green had 19 points for the Celtics with Jared Sullinger adding 19 points and 17 rebounds.
Avery Bradley also had 19 points for Boston with Jordan Crawford scoring 12 points as well.
Sacramento recorded an impressive road win over Phoenix to win by seven points on the back of a 39-point final quarter.
Isaiah Thomas led the Kings with 23 points off the bench with DeMarcus Cousins adding 19 points and 12 rebounds.
Grelvis Vasquez also had 13 points and six assists for Sacramento while Luc Mbah a Moute scored 11 points and Jason Thompson 10.
Goran Dragic did all he could for the Suns with 31 points while Gerald Green scored 23 points, Marcus Morris 13, PJ Tucker 12 and Miles Plumlee 12.
The Memphis Grizzlies continued their improved form with a seven-point overtime win over the Golden State Warriors in Oakland.
Zach Randolph top-scored for the Grizzlies with 21 points and 12 rebounds while Mike Conley added 19 points while Marc Gasol added 21 points and 12 boards.
Klay Thompson had 21 points for the Warriors with David Lee adding 18 points and eight rebounds.
Harrison Barnes added 16 points, eight boards and five assists for Golden State while Australian centre Andrew Bogut finished with 12 points, 14 rebounds and two blocked shots.
Dallas then prevailed in the battle of Texas at home to Houston with a three-point win thanks to a massive 36 to 19 final period.
Monta Ellis and Dirk Nowitzki both had massive nights for the Mavs with Ellis finishing with 27 points and eight assists, and Nowitzki adding 35 points, seven rebounds and four assists.
Shawn Marion and Jose Calderon also added 13 points apiece for the Mavericks.
Dwight Howard top-scored for the Rockets with 33 points and 11 rebounds with James Harden adding 23 points, Chandler Parsons 21 and Terrence Jones 18.
NBA Results Wednesday November 20
Brooklyn Nets 91 lost to Charlotte Bobcats 95
Washington Wizards 98 defeated Cleveland Cavaliers 91
Indiana Pacers 103 defeated New York Knicks 96
Miami Heat 120 defeated Orlando Magic 92
Toronto Raptors 108 defeated Philadelphia 76ers 98
Detroit Pistons 85 lost to Atlanta Hawks 93
Portland Trailblazers 91 defeated Milwaukee Bucks 82
LA Clippers 102 defeated Minnesota Timberwolves 98
Utah Jazz 98 lost to New Orleans Pelicans 105
Boston Celtics 93 lost to San Antonio Spurs 104
Sacramento Kings 113 defeated Phoenix Suns 106
Memphis Grizzlies 88 defeated Golden State Warriors 81
Houston Rockets 120 lost to Dallas Mavericks 123