Updated July 16, 2018 4:08 p.m. EDT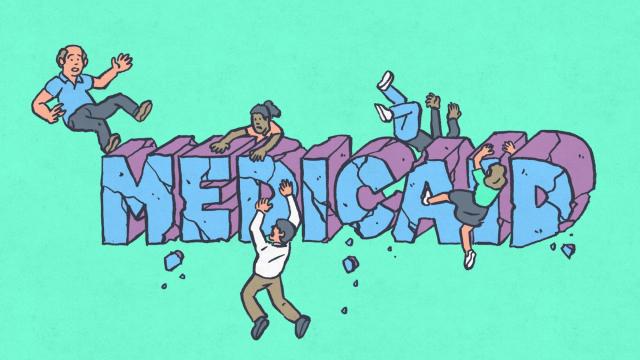 EDITOR'S NOTE: Catherine Clabby is a longtime North Carolina journalist who reports most often on environmental health issues, science and medicine. She is an alum fellow of the MIT Knight Science Journalism Program.
In the spring of 2017, a tractor trailer side-swiped the car Hendell Curtis was driving not far from his North Raleigh home.
His longtime lack of health insurance made getting needed medical care afterwards a physical and financial minefield.
The crash left Curtis requiring surgery to install a metal plate to stabilize weakened vertebrate in his lower back. A settlement from the truck driver's auto insurance will cover the surgery, but only AFTER it is complete.
Paying for an operation up front is not an option for Curtis, who is 61. The Wake County native lost his income in 2014 when a transportation company eliminated his contract job.
It took months but Curtis found an orthopedist in Raleigh, his brother's doctor, willing to operate first and get paid later. Next Curtis must get physically stronger to endure the surgery.
Having worked most of his life without health insurance, Curtis received irregular medical care over the years. For one, long-undiagnosed diabetes has taken a toll.
Curtis never planned to be among the health-care needy. He worked from the time he was five, he said, starting when he helped his sharecropper parents hang tobacco for curing on the Wake County land where he and his wife live now.
And he was healthy. Now his kidneys don't function normally. His eyesight is diminished and his feet are unsteady. Curtis requires a walker to get around his tidy home. He downplays how much he hurts but his wife hears him moan from pain at night.
"Bad things happen to good people," is the way Freida Curtis, his wife, explains it. "A lot has happened since 2014. A lot of things we didn't expect."
It wasn't just bad luck that led to the predicament Curtis faces. Like more than 330,000 other North Carolinians, he lives in what health policy experts call the health insurance gap.
When injury or serious illness strikes people in "the gap", no government health insurance is available to help them recover from the blow.
A Partial Net
Several events preserved a health insurance gap in North Carolina after passage of the Affordable Care Act (ACA), also known as Obamacare.
Because the federal government would be picking up nearly all of the costs, architects of the ACA expected every state to expand Medicaid eligibility to cover adults younger than 65 earning up to 138 percent of the federal poverty line, $22,715 in 2018 for a household of two.
Despite federal financial incentives, North Carolina and 15 other states, supported by a Supreme Court ruling, have declined to expand Medicaid, however. In fact, this state's General Assembly in 2013 passed legislation prohibiting a North Carolina governor from doing so.
Medicaid eligibility for North Carolina adults remains limited to pregnant women, parents caring for children 18 and younger, people who are disabled or those who care for disabled relatives at home. Curtis fits in none of those groups.
On top of that, enrollment in ACA plans are out of reach for most adults with very low incomes.
That's because subsidies for premiums are limited to people making 133 percent of the poverty income, currently $21,892 for a family of two, or more. Medicaid expansion was supposed to take care of everyone else.
"It's hard to explain this. It seems like a silly thing to say 'you don't make enough money to receive subsidies'," said Erin Storie, with the Roanoke Chowan Community Health Center who is trained to link patients with any health insurance coverage within reach.
Will N.C. close its gap?
There is some bipartisan support to mend holes in the state's health insurance safety net and it may be growing.
State Rep. Greg Murphy (R-Pitt County), a urological surgeon, and other lawmakers last year submitted a bill that proposed a partial expansion of Medicaid for North Carolina, which they call "Carolina Cares."
That program would use federal Medicaid funding to provide health insurance primarily to people who live in families where someone works but earn less than 133 percent of the federal poverty level. Like a Medicaid expansion program in Indiana, it would also require many enrollees to pay a small premium too: two percent of household income.
Carolina Cares has yet to get traction in the state legislature. In fact, a proposal supported by some House Democrats and Republicans to simply study the costs and benefits of Medicaid was recently rejected in the state Senate.
And the viability of a Medicaid work requirement, now approved in Arkansas, New Hampshire and Kentucky as well as Indiana, may be less certain today than in 2017. A federal judge in June struck down Kentucky's work stipulation, saying Medicaid's primary purpose is to provide medical assistance. That said, a successful appeal or federal legislation could bolster the rules.
Still, attending community forums on rural health needs across the state in recent months convinces John Coggin of the N.C. Rural Center that local and state bipartisan support for expanding Medicaid is growing. Some local and state political leaders, public health directors and medical providers recognize that having pools of uninsured residents can harm both individuals and institutions, including financially insecure hospitals.
"Across the state many people — farmers, fishermen and others — are making ends meet, but just barely. It's impossible for them to make the math of buying health insurance work," said Coggin, advocacy director for the statewide rural center.
Supporters of Medicaid expansion note that federal expansion dollars could pay for more than 90 percent of the cost for new beneficiaries. Hospitals would shoulder some costs under the Carolina Cares. The North Carolina Medical Society, the statewide physicians organization, has welcomed the proposal.
Carolina Cares carries exemptions to the work requirement too, including adults caring for disabled sons and daughters who are also adults, people receiving substance abuse treatment, and people classified as medically frail. Veterans seeking work would be exempt too.
Most adults — 60 percent — finding themselves North Carolina's "insurance gap" live in families where at least one person is employed, according to the Henry J. Kaiser Family Foundation. They tend to work in industries that often lack employer-sponsored health insurance, according to the North Carolina Justice Center, such as construction, food service, cleaning, transportation, child care and home health work.
North Carolina Gov. Roy Cooper, who has sought to expand Medicaid since taking office in 2017, has embraced Carolina Cares' potential. His administration submitted an amendment to the state's pending "1115 Medicaid waiver" that both seeks approval for a long-planned transition to Medicaid managed care and, if legislators pass it, to Carolina Cares.
Waiting
In the meantime, some people without coverage, including Curtis, have only a network of free clinics across the state that provide limited medical treatment to those in the gap.
The Open Door Clinic run by Urban Ministries in Wake County gives Curtis prescription medicines to control his diabetes and high blood pressure and arranges for him to see doctors who monitor his kidneys and blood pressure, which he is deeply grateful for.
But those helping patients in these clinics are well aware of the limitations of their services, said former Open Door director Pablo Escobar. Patients still lack coverage for treatments that insured people in this state can take for granted, such hospital emergency room visits, surgeries and hospitalizations.
"It's a good way to manage your chronic illness if you are too poor for the (ACA) subsidies and don't have access to Medicaid. Without that people's lives can spiral out of control. But it's not insurance," Escobar said.
Freida Curtis does have health insurance, part of the benefits package she received after retiring from 25 years with Wake County schools to care for her elderly mother, who died last summer.
After her mother died, she started looking after her 86-year-old father, who was covered by Medicare and remained in his home. And now she looks after her injured husband.
Curtis hopes he will regain more independence if he can get the back surgery. Yesterday would not be too soon.
"I'd like to get back," he said.
BY THE NUMBERS: COST OF DENYING HEALTH INSURANCE IN N.C.
2014-16
2017
JAN-JULY
2018
TOTAL

Diabetics Without Medication*

81,132

19,048

14,778

14,778

Annual Mammograms Missed*

36,153

12,048

7,028

53,221

Deaths*

3,436 to
1,355

1,750 to
456

1,115 to
266

5,810 to
2,001

Federal Funding Lost**

$9 billion

$1.454 billion

$1.454 billion

$11.1504 billion

Jobs Not Created**

43,700

14,076

8,201

63,641
*Opting Out Of Medicaid Expansion: The Health And Financial Impacts, Health Affairs Blog
** The Economic and Employment Costs of Not Expanding Medicaid in N.C., Center for Health Policy Research, The George Washington University, Dec. 2014
Capitol Broadcasting Company's Opinion Section seeks a broad range of comments and letters to the editor. Our Comments beside each opinion column offer the opportunity to engage in a dialogue about this article.
In addition, we invite you to write a letter to the editor about this or any other opinion articles. Here are some tips on submissions >> SUBMIT A LETTER TO THE EDITOR