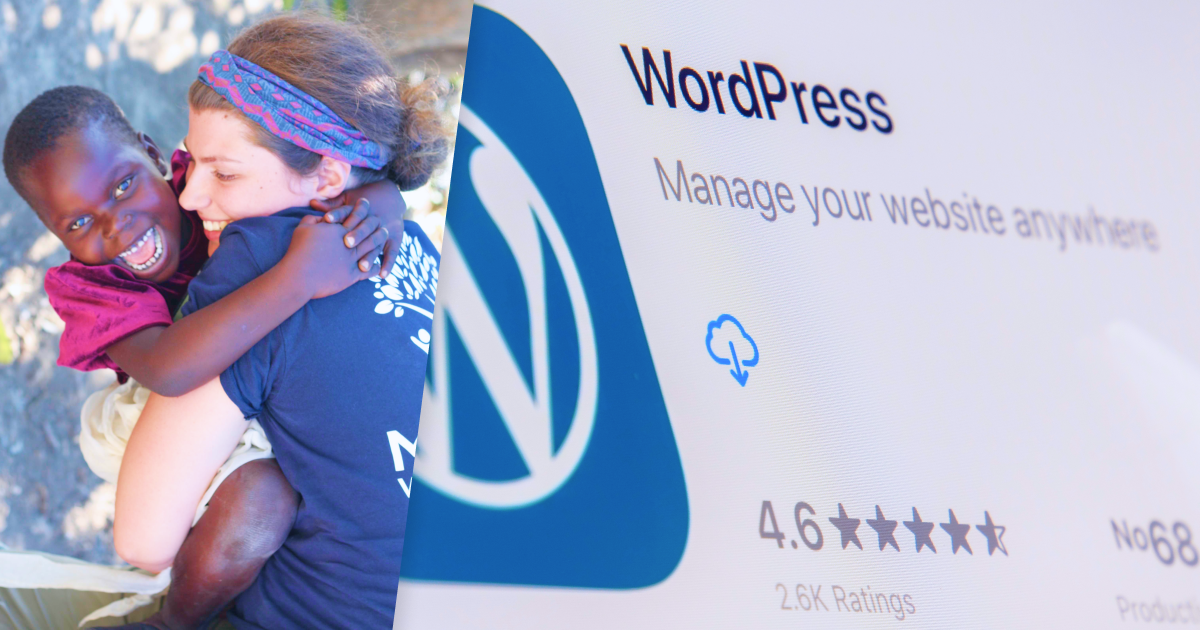 You have goals and a mission, now all you need is a little technical information about how to start a nonprofit to get your organization off the ground.
The good news is that once you have your legal paperwork in order, you can boost your digital presence, establish credibility, and even start collecting tax-deductible donations with a WordPress website.
Yet, all of this takes money to get started. Don't worry. We have a solution for you. The good news is that all you really need to start your nonprofit is WordPress, which is free.
Ready? Let's get started.
How to Start a Nonprofit (Basics)
The most important step toward starting a nonprofit is to organize a legal business entity.
In the United States, there are a variety of ways your business can be set up. Once it is, you also have to apply for nonprofit status.
Processes for establishing a nonprofit entity vary in other countries as well.
The one commonality is that no matter where you live or where your business will be located, a few of the steps to get there are the same.
Start with business data and research.
Create a business/nonprofit plan with a solid foundation.
File all appropriate federal and state paperwork to form your business entity.
Apply for nonprofit status.
Ensure that your team has a working knowledge of rules to maintain your nonprofit status.
All of that sounds impossible if you're starting from scratch with no funding. So, how do you really start a nonprofit? You get support from your community.
1. Invest in Your Website
Now you need to turn that idea into something tangible. That's where creating a website comes in.
A website can help a nonprofit spread the word about a cause. It's the perfect place to build a community that supports your vision.
A WordPress website is ideal for nonprofits. It is the most widely used content management system in the world, and it's built to scale so you can start with a small website that only contains a handful of pages and it can grow with your organization.
Additional elements, such as plugins, themes, and nonprofit tools (including GiveWP) can boost the functionality of the website with fairly easy installation. You can create functionality and build onto a website without having to learn a any code.
A website is an investment for most organizations, and while you can build a basic website on your own, you may want to consider hiring a designer/developer to help. They can focus on getting your business online while you are working on other parts of the new organization setup.
The value of this investment really hinges on your familiarity with working on websites and time.
2. Raise the Initial Funds
Before you can even apply to become a nonprofit, you need the money to do it. That's why we recommend building your website on WordPress. You can create something simple to raise money before you build out your full nonprofit site.
You can collect online donations as an individual before you file for nonprofit status, as long as you are up front about the fact that these donations are not tax-deductible.
Adding donation tools to your website makes this process seamless. GiveWP includes a donation form, button, and donor database to help you collect donations and manage gifts.
Plus, you won't have to change the tool or rework the website when your nonprofit status comes in. You can simply let your donors know that from then on, their donations are tax-deductible.
To make the most of your initial fundraising campaign, set a goal and share it with potential donors to jumpstart your mission.
3. Go Through the Legal Procedures
Once your business entity is set up, it can take some time – even up to a year – to complete all the paperwork and get approval for your nonprofit. Look for a local attorney who may be able to help you fill out all the necessary legal documentation. Some firms will even offer pro bono services to help establish nonprofits.
You can work through the legal process while beginning other activities to support your pending nonprofit, including website development and planning a new fundraising strategy.
In the U.S., tax-exempt (nonprofit) status falls into a few different categories:
Charitable, Religious, and Educational Organizations
Social Welfare Organizations
Other Nonprofits Organizations
Legal steps include:
Determine where your organization qualifies for nonprofit status.
Create bylaws for the organization.
Create a board (if necessary).
Hold your first meeting and keeping minutes.
Apply for tax exempt status.
Register as a charity (if applicable).
4. Tell Your Donors!
Once you have a website and fundraising campaign set, it's time to share your organization and mission with potential donors.
If you use GiveWP with MailChimp, Constant Contact, or ActiveCampaign, you can email all your subscribed donors to let them know the good news! GiveWP donor tools integrate directly with popular email newsletter tools to make communicating with donors that much easier.
Once your nonprofit status is approved, don't forget to email donors again and ask them to become recurring donors now that donations are tax-deductible. Remember to add the recurring donation option to forms as well.
Get Your Nonprofit Started Today
The combination of WordPress and GiveWP gives you the tools to start raising money for a new nonprofit today. Even if you are still in the beginning stages of getting your organization off the ground, these tools can help you jumpstart efforts and grow as your organization picks up speed.
Get started with the free plan today.
Amplify your fundraising with a GiveWP Plan
Carrie Cousins has more than 15 years of experience in media, design, and content marketing. She's a writer and designer, has an MBA from Virginia Tech, and is passionate about creating amazing experiences for businesses online. Her work has been featured in publications such as Design Shack, Webdesigner Depot, The Next Web, and Fast Company. She's an avid runner, which comes in handy with a trio of Australian shepherds at home.