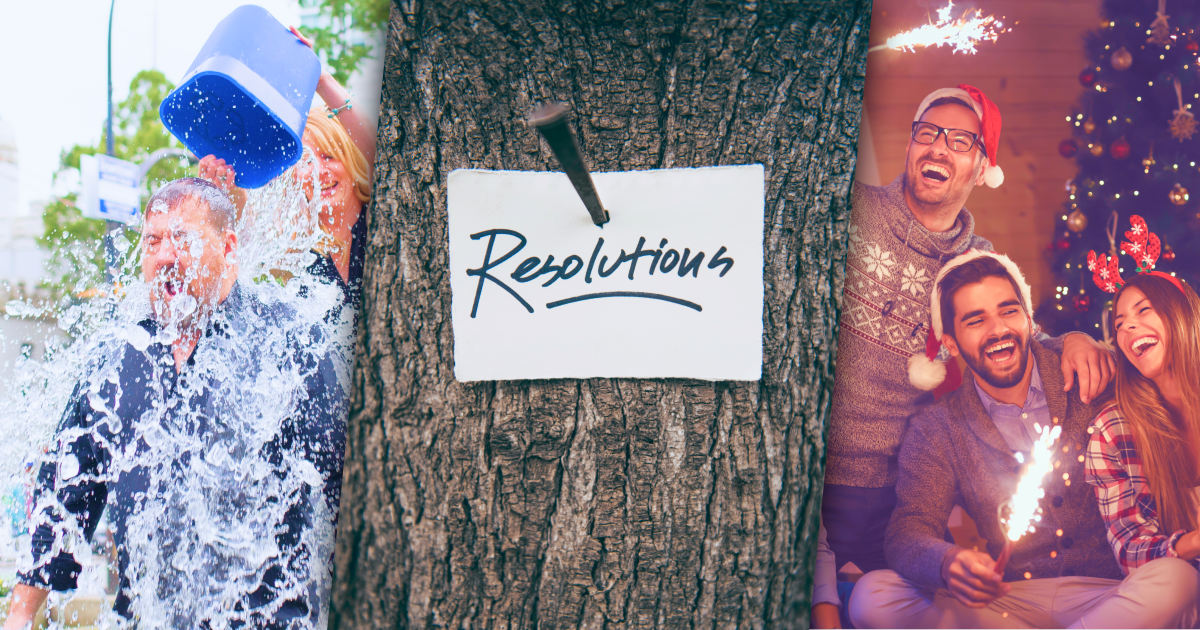 The start of a new year is the perfect time to launch a fundraising campaign. Between end-of-year giving and a desire to fulfill new year's resolutions, your donors may feel more compelled to help you at this time.
Donors also want some accountability to help them meet their new year's goals. A peer-to-peer campaign centered around new year resolution fundraising can help inspire donors to give. Supporter's can also challenge their friends and family to support your cause and help hold them accountable to their goals as well.
Finding a community to help support a resolution is one of the top ways to stick to those goals, according to a Smarter Living column in The New York Times. That makes peer-to-peer campaigns the perfect way to help donors make – and keep – their resolutions with the support of a network.
What is Peer-to-Peer Fundraising?
Peer-to-peer fundraising allows donors to fundraise independently on your organization's behalf using individual donation pages. GiveWP has the tools to help donors raise funds on their own, with all donations going back to your organization.
The benefit of peer-to-peer fundraising is that you can create a greater impact from a single campaign.
The median amount raised by events on behalf of an organization through peer-to-peer fundraising pages is typically 4.5 times greater than ticketed events, according to the State of Modern Philanthropy 2021 report.
The power of peer-to-peer to increase your reach cannot be overstated. On average, four out of five people who give to an individual's fundraising page will be new donors.
How to Use Peer-to-Peer Fundraising for a New Year's Resolution Campaign
You can play off common goals and new year's resolutions to help donors create peer-to-peer fundraising initiatives. Include accountability as a key part of your messaging to help encourage donors to use your fundraising campaign to help them keep their resolutions.
You don't have to think too hard to find ways to support team giving in the new year. Allow people to submit their resolution as an individual fundraiser. Or, create teams for typical resolutions such as:
Eating healthier
Exercising daily
Getting up earlier
Going to bed earlier
Reading more books
Send the campaign to your donor list via email to encourage them to use donations as an accountability method for their resolution. A donor might set milestones they will meet if certain dollar amounts are raised on their fundraising page. For example, reading one book for every $100 raised throughout the year.
Public new year's resolutions and accountability goals can help individuals find greater success while supporting your mission as well.
The trick for your organization is to create an easy campaign that will resonate with your audience. Try to support new year's resolutions that have some alignment with your non-profit mission. Encourage resolutions that create greater impact or increase nonprofit activity through giving and volunteerism in 2023.
How to Set Up a Peer-to-Peer Campaign
You can set up a peer-to-peer campaign from your WordPress dashboard, and find Donations > P2P Campaigns in the menu.
Choose "Create a Campaign" and name it. Create a new donation form for this campaign. To keep everything organized, it's important to use a form specific to the peer-to-peer campaign.
Fill in campaign details, upload images, and choose your settings for teams, fundraisers, and sponsors. The short description is a few sentences that explain how and why to get involved. The long description is a more substantial call to action. The call to action should incentivize others to donate or create a team.
Key features of P2P campaigns that work well for new year's resolutions:
Individual and team fundraising pages
Gamification features like progress bars and leaderboards to increase engagement
Ability to customize campaigns within unique branding
Integration with popular GiveWP add-ons like recurring donations, fee recovery, tributes, and more
For greater detail on how to create this type of campaign in GiveWP, read this tutorial.
5 Ideas for New Year's-Based Peer-to-Peer Campaigns
Not sure how to encourage your donor base to use peer-to-peer campaigns to support their new year's resolutions? Here are five ideas to consider that you can implement today.
Donate for health goals such as encouraging friends to contribute every week that they meet their water goal or cook a home-cooked meal.
Run, walk, hike, or bike a mile for every dollar donated through a peer-to-peer fundraising page.
Ask peers to match your donations when you contribute for meeting a goal such as getting up or going to bed at a certain time.
Track progress toward a goal by asking for $1 for every page or book read.
End a bad habit with donations for every day that you don't do the thing you are trying to stop, or reverse the accountability by posting to your donation page that you won't eat sweets or smoke (or whatever habit you are trying to break) one day for every specific amount donated.
Get Started
With the new year right around the corner, now is the time to create your resolution campaigns, set donation forms, send information to your donor base, and post on social media. While most people will wait until New Year's Eve to commit to specific resolutions, you need your campaign to be top of mind so they can set up individual fundraising pages and be ready to start working toward their goals when the ball drops.
Get started today. The GiveWP Peer-to-Peer Fundraising add-on is available with all Pro plans or you can get a single license.
Carrie Cousins has more than 15 years of experience in media, design, and content marketing. She's a writer and designer, has an MBA from Virginia Tech, and is passionate about creating amazing experiences for businesses online. Her work has been featured in publications such as Design Shack, Webdesigner Depot, The Next Web, and Fast Company. She's an avid runner, which comes in handy with a trio of Australian shepherds at home.