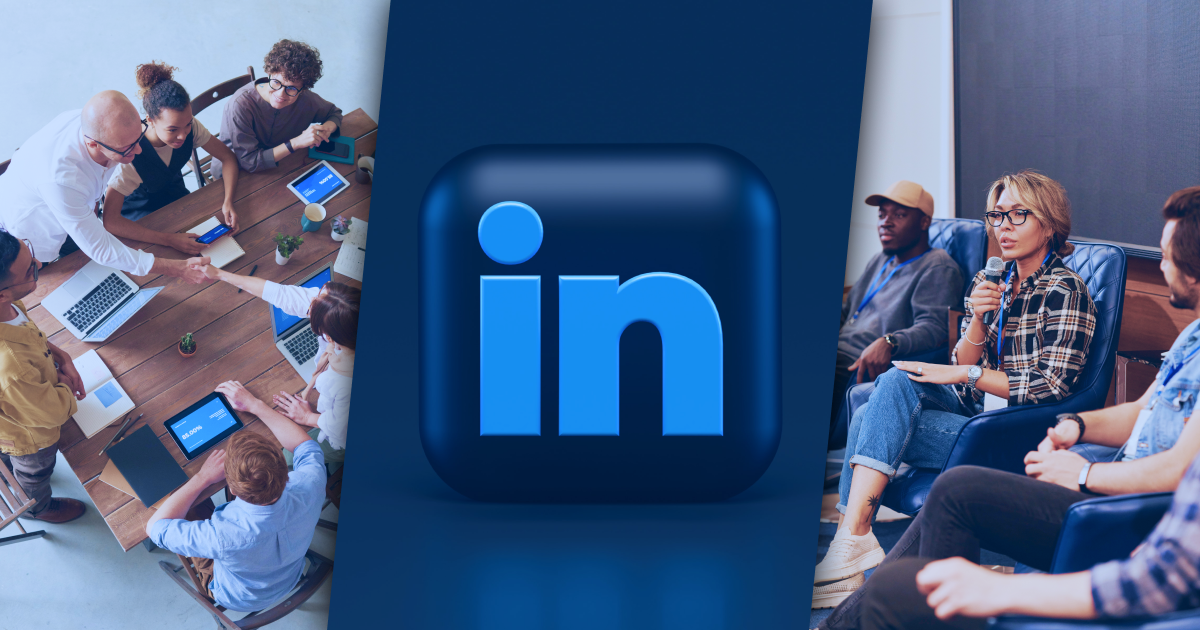 More than a tool for job seekers and hiring, LinkedIn for nonprofits provides the tools and resources your organization needs to get the most out of the platform. With more than 1 million nonprofit organizations and 26 million nonprofit employees on the social networking platform, LinkedIn is for nonprofits, too. You can use it to connect with current and potential donors to help spark giving and campaigns as well as for general communications.
The network reports that up to 53% of LinkedIn members donate to nonprofits and are 56% more likely to donate than the average Internet user.
LinkedIn has a special program for nonprofit organizations as well with access to resources and some discounted tools for everything from recruiting to LinkedIn Sales Navigator and LinkedIn Learning.
Here's a guide to everything you need to get started with LinkedIn for nonprofits.
LinkedIn for Nonprofits: Getting Started
Using LinkedIn for nonprofits starts with some basic use of the tool for your organization and staff. Use it to connect with supporters, build or expand your network, and raise greater awareness about your mission or cause.
Because the platform is designed for sharing and online social interaction, it can help you gain traction for campaigns and connect with larger potential audiences and people who are similar to those already closest to your organization.
When you are getting started with LinkedIn for nonprofits, you'll want to think about it from two directions:
From your nonprofit company page
From the individual pages of your team members
Here are some things you can do to ensure that the presence of each is strong on the platform and that you are making the most of the tool.
Company LinkedIn Pages
Start by developing a strong company page for your nonprofit. If you already have a company page, use these suggestions to ensure it is strong or you can use this as a set of guideposts for getting started with a new page.
Create a Clear and Concise Page
Your organization's LinkedIn page should include a clear description of your mission, goals, and programs. Make sure to include your logo, contact information, and links to your website and other social media profiles. Your logo and cover images should be high-resolution and easy to see and understand.
Post Regularly
Create a plan to post regular updates about your organization's activities, news, and accomplishments. Respond to comments and messages from followers, and thank them for their support. Having a social media content calendar is a good way to plan messaging and ensure you don't allow your account to get stagnant. Remember, utilizing LinkedIn for nonprofits is like using any other social media platform – you have to post consistently.
Connect with Your Network
Connect with other nonprofit organizations, volunteers, and donors in your area as well as organizations nationally of relevance. One of the best ways to use LinkedIn for nonprofits is by joining LinkedIn groups.
Groups allow you to participate in discussions, ask questions, raise awareness of your cause, and connect with like-minded individuals. You can connect with folks in the industry as well as potential donors or sponsors who are interested in supporting your cause.
You can also share information about fundraising campaigns on your LinkedIn page and encourage followers to donate and participate in activities.
Use Paid Tools
LinkedIn's sponsored content feature can help target potential donors based on their interests and demographics. You can also use LinkedIn's job posting feature to advertise open positions at your organization and encourage your followers to with their networks.
Utilize the LinkedIn for Nonprofits Program
Finally, apply for LinkedIn for Nonprofits. The program provides free resources and discounted products to help you hire and develop talent, connect with potential donors, and spread the word about your mission to attract new supporters.
Individual LinkedIn Pages
Individual pages are any LinkedIn profiles of people connected to your nonprofit organization, including staff, board members, and volunteers. They can use their personal LinkedIn profiles to post and share information about your organization with their networks.
You should encourage your team to like and share posts from your company page and be active on the platform.
It's also a good idea to encourage all employees and volunteers to add their connection to your company page on LinkedIn and follow it as well. This way, each individual will link to your page and organization.
Employee/Supporter Advocacy and User-Generated Content
The best advocates for your nonprofit are your employees, volunteers, board members, and supporters. For our purposes, we'll use "employee advocacy" as a catch-all term.
An employee advocacy strategy enables your supporters to:
Amplify messages, increasing brand awareness
Share their experiences with your organization
And act as an expert, recommending your organization to their own network
On social media, advocacy means that your supporters are posting about your organization in a positive manner. Encourage folks to share their own personal experiences or, at the very least, reshare content that your organization is putting out. Creating a social media toolkit can help your supporters stay on brand, as well.
User-generated content is another form of advocacy – it's content that is generated by others that your organization can re-share. Some examples of UGC for nonprofits include stories about your organization's impact or stories from your volunteers and donors.
Advocacy and UGC is a critical part of creating content because it creates social proof. Like reading reviews before purchasing a new vacuum cleaner, this type of content essentially works as an endorsement for your organization.
Fundraising Strategies on LinkedIn for Nonprofits
The best fundraising on LinkedIn starts with impactful content. Many of the same stories that you are creating and sharing on other platforms – such as your website, emails, or social media – are also perfect here as well.
Your fundraising strategy on LinkedIn starts with sharing stories of how your organization has made a difference in the lives of those you serve. Show the impact of programs, volunteers, fundraising, and the positive change your organization is making. These stories can be powerful in motivating people to donate.
Consider using sponsored content (this is paid advertising) to reach new audiences and target potential donors based on their interests and demographics. Promote specific fundraising campaigns, events, or initiatives. Make sure your content is compelling, relevant, and includes a clear call-to-action that encourages donations.
Show appreciation for donors and supporters on your nonprofit LinkedIn page. Share updates, stories, and successes to keep them engaged and interested in your cause, and even consider rolling "thank you" posts to highlight specific donors. This is a great way to highlight corporate donations or sponsorships as well. (Don't forget to tag company pages of corporate supporters!)
Consider the power of LinkedIn's Sales Navigator tool that allows you to use targeted searches to find connections, better use your organization's network, manage prospect activity, and engage more on LinkedIn.
Use LinkedIn Events to promote your live or online events. By creating and promoting events, you can engage with your followers and attract new supporters.
Finally, you can use LinkedIn analytics to help better understand your efforts and their success. The LinkedIn for Nonprofits team recommends tracking these five key performance indicators:
Unique visitors to see how many people are looking at your company page
Page followers to see growth over time
Impressions to have an idea of how many people potentially saw your content
Engagement rate to track what resonates most with LinkedIn audiences
Click-through rate so you can see what is generating website or donor page traffic
Identifying Donors and Sponsors with LinkedIn
As you know, building relationships with donors and sponsors takes time and effort. That is equally true on LinkedIn and it is not good to use for cold calling. As you curate relationships on the platform, be authentic, build trust, and focus on creating value for your supporters.
At the same time, you can use two tools to help identify donors and sponsors on LinkedIn.
LinkedIn's Advanced Search feature can be a valuable resource to help you to identify potential donors and sponsors. You can search by location, industry, and company size to find people who might be interested in supporting your cause. Use keywords related to your organization's mission to narrow search results.
Further, take advantage of LinkedIn Sales Navigator. Eligible nonprofits can receive up to 50% off annual contracts for this tool, which can help you connect with more people on LinkedIn. Sales Navigator can provide lead recommendations based on your search criteria, giving you a list of potential donors and sponsors to connect with and helping you reach out to new potential contacts, including through LinkedIn's mail feature.
Update Your Nonprofit Profile on LinkedIn Today
LinkedIn can be a valuable tool for nonprofit fundraising. Almost every nonprofit can benefit from having a company page and making posts part of your overall marketing strategy. Plus, creating a page does not come with any cost, so there's no reason not to take the leap into this social media network designed for business professionals.
Additional LinkedIn for Nonprofits tools, including some paid features, can be beneficial as well.
But you have to get started to see what benefit this tool has for your nonprofit. Now is the time to update your profile or create it for the first time and start connecting with your team, volunteers, donors, and extended network.
About the Author
Carrie Cousins
Carrie Cousins has more than 15 years of experience in media, design, and content marketing. She's a writer and designer, has an MBA from Virginia Tech, and is passionate about creating amazing experiences for businesses online. Her work has been featured in publications such as Design Shack, Webdesigner Depot, The Next Web, and Fast Company. She's an avid runner, which comes in handy with a trio of Australian shepherds at home.