Getting started with fundraising can be somewhat daunting, but with the right tools, resources, and strategy it's actually easier than you might think.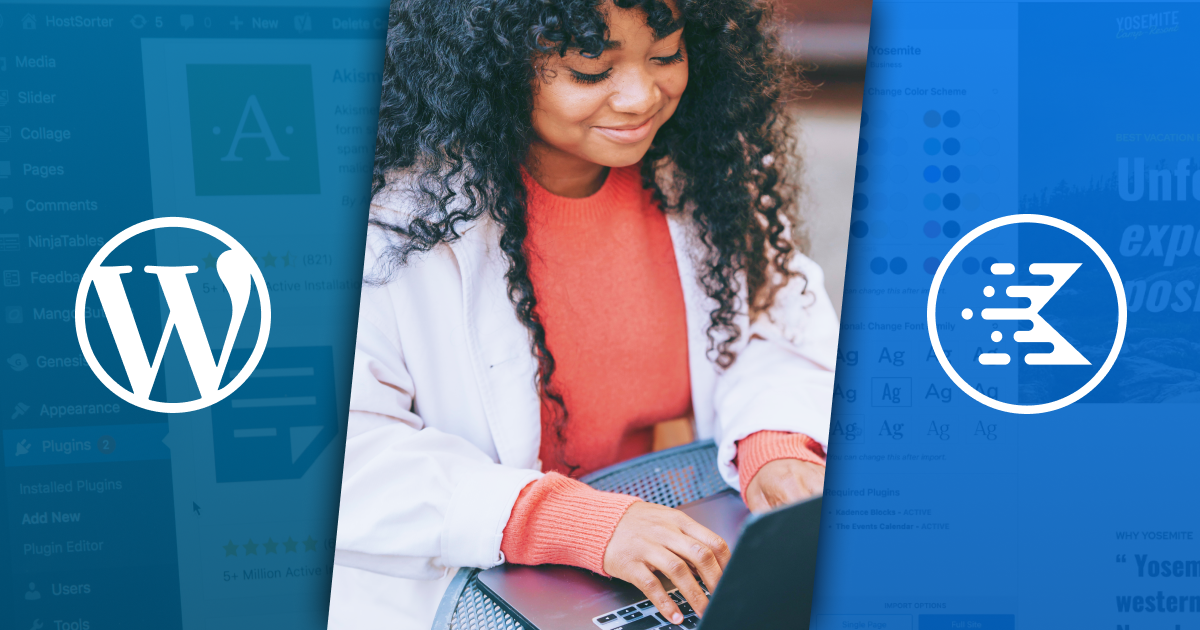 For most new fundraisers the two biggest challenges are technology, both from setup and marketing perspectives, and connecting with donors.
This guide will help turn these challenges into opportunities with tools and resources to help you start fundraising with everything you need to know from technological setup to creating a solid strategy.
How to Set up Online Fundraising (with WordPress)
Let's start with the technology part of fundraising because that can cause the greatest concern for some. The good news is you don't have to be a website expert to set up online fundraising. WordPress makes is fairly easy to create a fundraising website and connect all the basic tools you need to launch a campaign.
Domain and Hosting
First, buy a domain (such as givewp.com) and hosting (where your website will live). If you already have a domain and hosting, you can use that.
Choose a Template
Next, find a starter template that has a design look and feel that works for your organization. You can then customize it with your branding, images or videos, and content. If you aren't familiar with WordPress, Kadence has a collection of no-code, ready-to-use starter templates that you can use to build your website.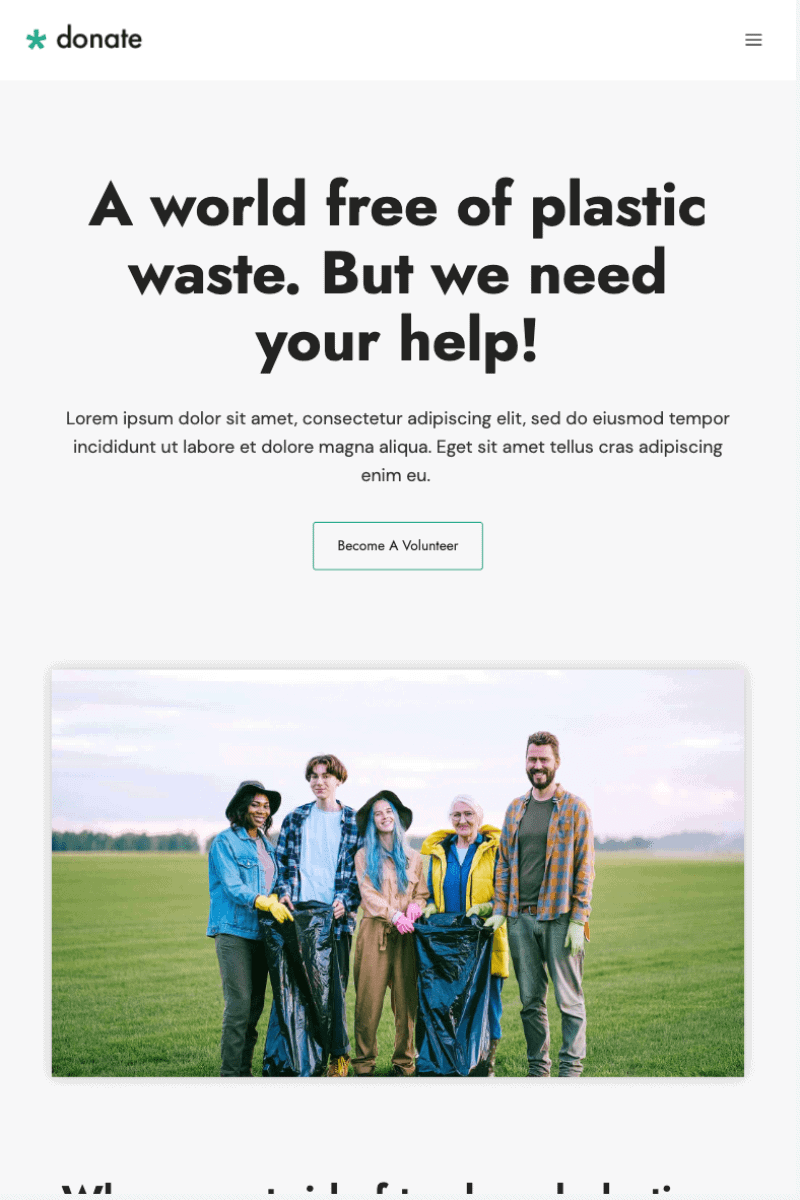 Here are three starter templates that you might want to consider:
Donate (pictured above): Includes beautiful galleries, powerful blog posts, and customizable forms, plus GiveWP is part of the template
Charity: Gorgeous layouts and royalty-free images and included, all you need to do is customize for your charity's specific mission and needs
Children's Museum: Includes royalty-free imagery and a clean, easy-to-follow layout that's ready for your custom content to encourage visitors, attendance at events, and volunteerism
Using GiveWP
Once you have a theme in place, you'll need a donation tool. That's where GiveWP comes in. GiveWP is a free WordPress donation plugin that provides you with a full-featured online fundraising platform directly on your website.
You can create unlimited donation forms, keep track of donor relationships, and analyze your fundraising performance using built-in fundraising reports.
All three of the KadencWP starter templates we mentioned above come with a version of GiveWP built-in. However, if the theme you chose does not, you'll want to go download it here and install the plugin yourself.
To use GiveWP for online fundraising, install it as you would any other free WordPress plugin. Go to your WordPress admin dashboard and find "Plugins > Add New."
Then, search for GiveWP in the plugin directory. When you find it, choose "install," and "activate."
After you active the plugin, you'll want to complete some basic setups so that your donation tool is ready to use.
Connect a payment processor
You can connect to Stripe or PayPal immediately without purchasing any of our add-ons. Keep in mind that if you use the included version of Stripe, GiveWP adds a 2% fee that goes to maintaining our connection with Stripe. If you upgrade to use the Stripe add-on, this fee goes away and you get access to Priority Support as well as Google and Apple Pay. Also, if Stripe and PayPal don't work in your country, or you prefer something else, we have a growing library of other payment gateways to choose from.
Add a donation form
Go to Donations > Add Form. Choose a donation form template or the GiveWP legacy form to get started. Go through each setting in the form to customize the options and make it your own.
Start by naming your form and choosing a template (multi-step, classic, or legacy)
Choose your donation options, such as whether you will have multiple donation suggestions or a set donation amount, whether custom amounts are allowed, and even minimum and maximum donation amounts
Set visible form fields with additional fields and the appearance of the fields within your form, including payment gateway defaults (separate from global settings), whether to use name prefixes, enable company fields, anonymous donations, and control whether donors register for a user account or not
If your campaign has a goal, set a donation goal for the form
Set terms and conditions for campaigns; these may or may not be the same as universal website policies
Determine if you want to enable offline donations and customize the instructions on the form if you opt in to this feature
Manage Stripe account settings if you are using that payment gateway to direct which connected Stripe account you want to use for this form
Manage communication and messaging for email notifications and donation receipts if they are different from your global settings
Once you have the form all set, you can publish it on your website and insert the form on pages or in widget areas on your website.
Landing Page
To maximize the impact of your form and donor engagement, it is recommended to create a landing page for fundraising campaigns that includes the donation form.
A fundraising landing page will include information about the campaign, benefits of contribution, organizational mission, and how funds will be used. A good donation landing page contains more than a single form, it tells a story of giving.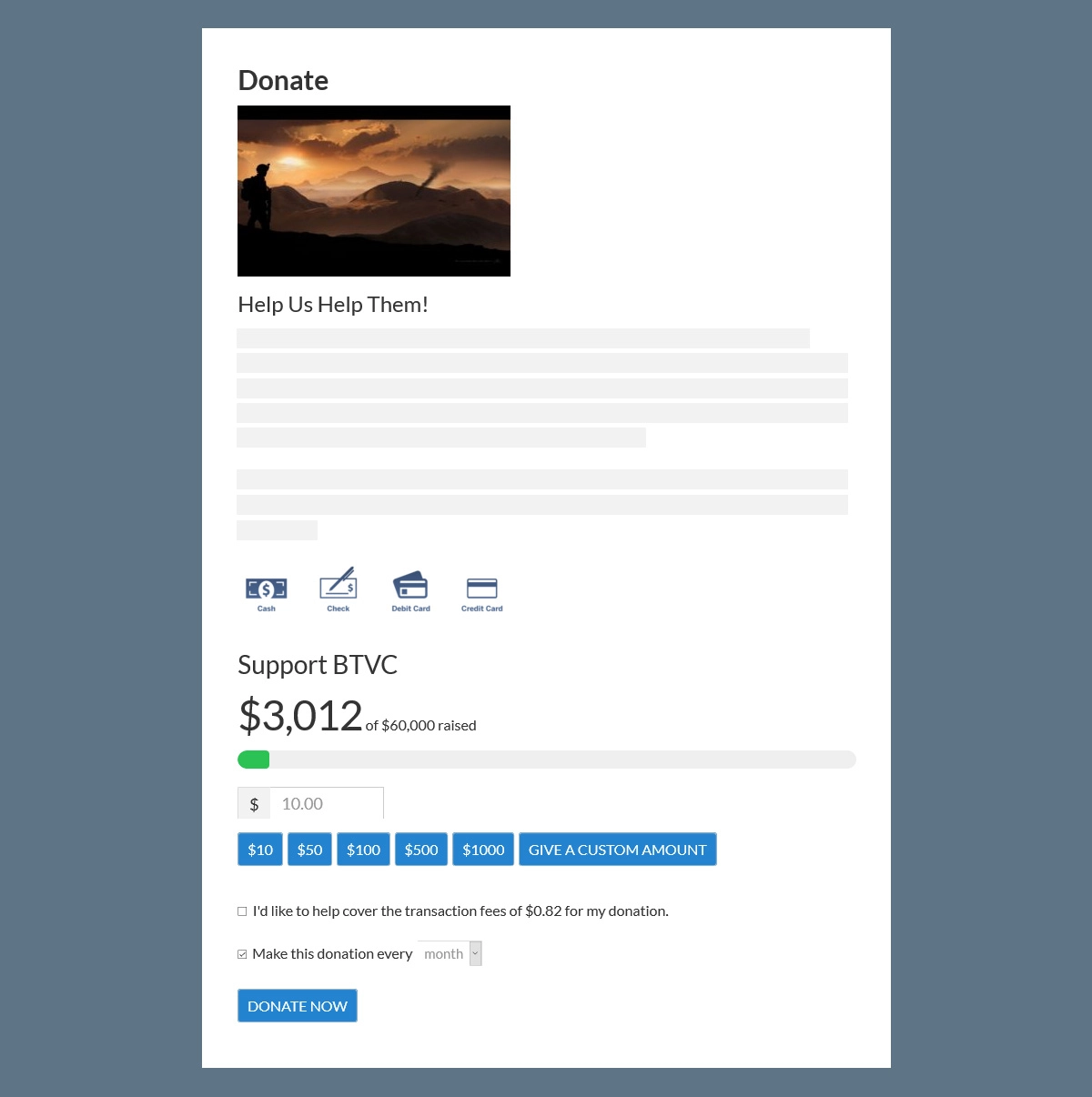 Elements to include on a fundraising landing page include:
Share links to help donors share your mission with others
How to Start Your Fundraising Strategy
Your fundraising strategy starts with a little creative brainstorming. A solid fundraising strategy helps you tell an organizational story, connect with the right target audiences, and establishes your nonprofit brand. Most importantly, a fundraising strategy will help keep your staff, volunteers, partners, and even donors on track and focused on your key goals.
Your overall fundraising strategy is rooted in your organizational mission and goals. It's storytelling and financial planning.
Create a fundraising plan
Review present and past fundraising processes and performance
Audit your organization's strengths and resources
Know your prospective donor base
Set guidelines and goals for upcoming campaigns
Make sure you have tools in place to make donating easy
Formulate your brand story and campaign messaging
Create fundraising materials
Determine success metrics and tracking to keep up with campaigns
Create a messaging strategy
Think about the following questions and how you would answer them. Would everyone in your organization have similar answers?
What's your niche in this space? How is your mission different from others?
Why should people care about your cause above others?
What kind of audience will you attract and what's their motivation to give?
What voice and tone do you want to convey?
Once you've answered the questions, you can start to form your messaging.
Create the ask
A key element to any fundraising communication is how to make the ask the right way.
Establish donor goals.
Write a detailed backstory that speaks to your donor goals and makes your campaign goals clear.
Craft your donation asks using the donation ask formula: Donation Ask = Your Organization's Missional Values + "You" Statement + Ask for Action.
Gather the details of your campaign, statistical facts and data to support your work, volunteer stories, impact stories, and the key messaging you chose in the kickoff meeting. Think about anything that paints a positive picture of your cause.
Then, craft three different stories with different key messages targeted to different kinds of supporters (individuals and businesses).
Create supporting materials
Once you have converted that formula into a statement for your organization, you are ready to craft the rest of the materials to support your strategy and launch your fundraising campaign.
Don't forget to include all of this information on your website landing page with a donation form.
Create media assets (you want your campaign to be shareable)
Reach out to key partners and influential people to help kickstart your visibility
More Fundraising Tips for Startup Nonprofits
When you are getting started in nonprofit fundraising, remember the 80-20 rule, or Pareto Principle. Simply, focus your efforts and resources on the core audience (20%) that is most likely to give. This concept will help you focus your target audience and maximize effort as you get started with new campaigns.
This 20% will likely be your biggest donors, supporters, and advocates. Don't forget to ask them to help share the benefit of supporting your cause. Nonprofits can use reviews to build trust in their cause, show organizational transparency, and increase SEO efforts.
Then you'll want to get creative as you chart the course through your first year as a nonprofit. Keep the following tips in mind to help facilitate success:
Establish a fundraising story that resonates with potential donors
Create a fundraising website that makes donating easy
Invest in tools in infrastructure that will grow with you
Ask for help from board members, volunteers, and donors
Share your story with enthusiasm and always remember your ask
Get Started with GiveWP
Once you have the strategy, GiveWP is here to help you with the technical setup. GiveWP provides you with an intuitive way to accept donations online through your own WordPress site with a variety of payment methods available in multiple countries. Tell your story, collect donations, and even manage donors with a powerful reporting database.
More than 100,000 organizations are already using GiveWP to power giving online. See a live demo today
Carrie Cousins has more than 15 years of experience in media, design, and content marketing. She's a writer and designer, has an MBA from Virginia Tech, and is passionate about creating amazing experiences for businesses online. Her work has been featured in publications such as Design Shack, Webdesigner Depot, The Next Web, and Fast Company. She's an avid runner, which comes in handy with a trio of Australian shepherds at home.