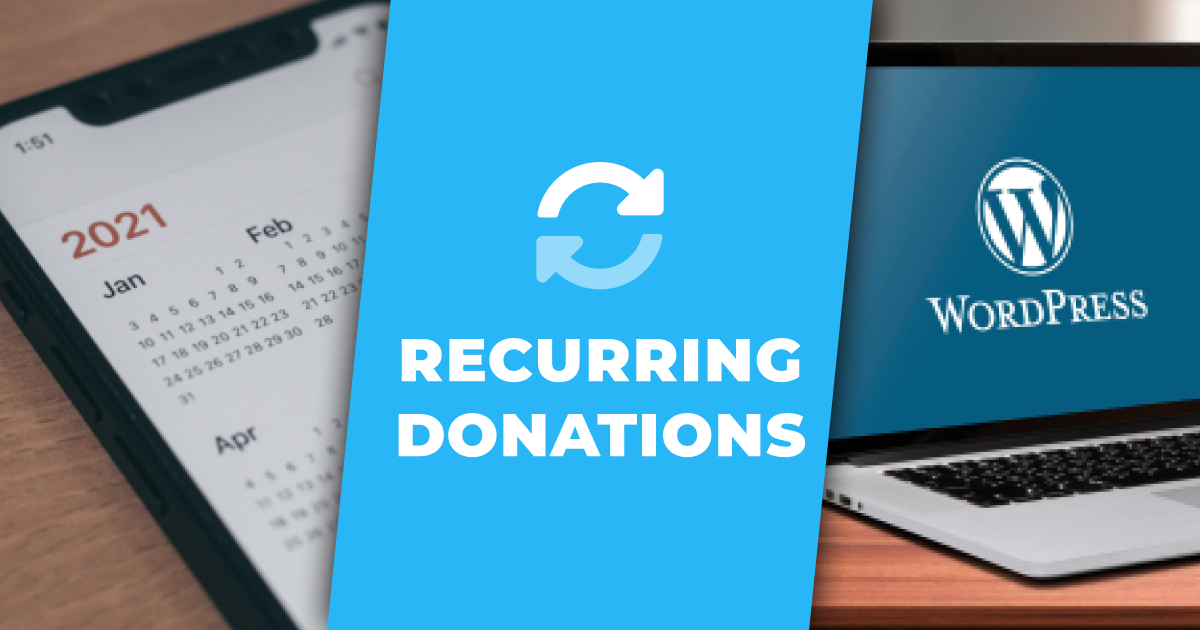 If recurring donations aren't already a part of our fundraising strategy, it's time to think about how this valuable feature can help boost giving and increase your overall donor base.
Over the course of a year, recurring donors will give more than one-time donors.
There are other benefits as well. Recurring donation functionality can allow you to increase your donor base, attract millennial donors that may not be ready to give a lump sum, create more loyal supporters, and retain more donors year after year.
Here's the best part for you: Setting up recurring donations is easy with WordPress.
What Are Recurring Donations?
First thing's first: A recurring donation is any ongoing gift from the same donor that happens automatically. A donor might choose to automate a donation of $10 per month, rather than donate $100 to your campaign up front.
You'll get smaller deposits from each donor over the course of the year, rather than a lump sum at once. Eventually, this adds up to more overall annual fundraising revenue.
Donors like the control of cash flow this option provides as well as the idea that they are helping your nonprofit all year long. That's why this type of donor is often called a "sustaining" donor. Recurring donations increase overall giving potential and often turn into long-term donor networks.
Recurring donations can work at any interval you choose, including weekly, monthly, quarterly, and annually (depending on your payment processing gateway).
Use a WordPress Recurring Donations Plugin
The GiveWP Recurring Donations Add-on makes it easy for donors to set up recurring donations for any campaign on your WordPress website. Plus, it only takes you a few minutes to set up.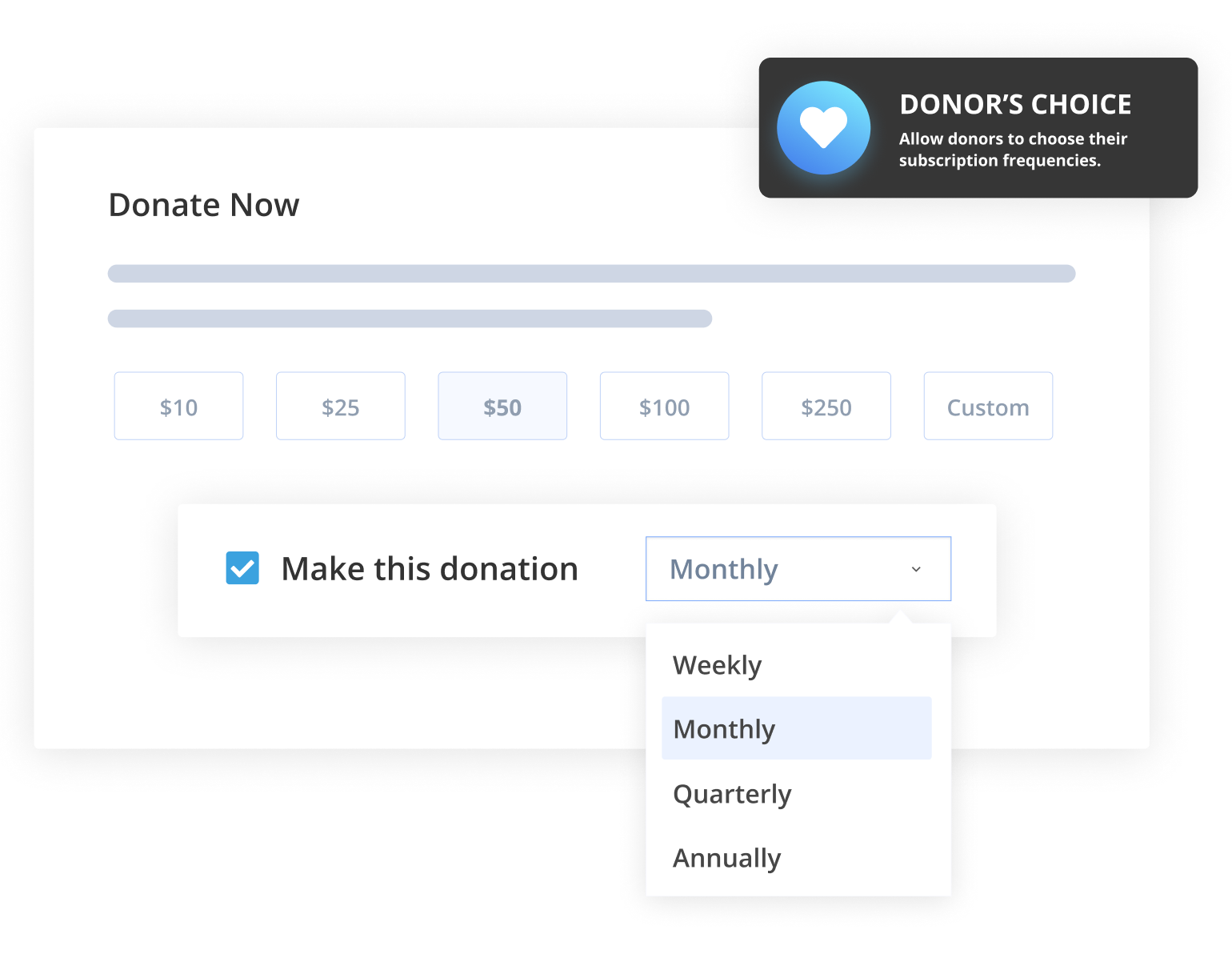 Let donors choose how much to give and at what frequency and the too will help you manage these subscriptions, view reports, and connect with this special segment of donors.
It works right with the donation form that you're already using with GiveWP and doesn't require code to install and use. You can actually adjust forms to add recurring donation options in a matter of minutes.
How to Set Up Recurring Donations on WordPress
If you are already using GiveWP with WordPress to manage donations and fundraising campaigns for your nonprofit, adding recurring donations is easy. If not, our Getting Started Guide will get you up and running in no time.
Step 1: Ensure that you have a GiveWP Plus or Pro plan. The Recurring Donations add-on is included in these plans.
Amplify your fundraising with a GiveWP Plan
Step 2: Activate your license and download the ZIP file for the Recurring Donations add-on. You can also find the add-on through the Downloads section of your My Account page.
Step 3: Go to the plugins area of your dashboard and choose to upload a new plugin. Drag and drop to upload and activate Recurring Donations.
Step 4: Add a recurring donation option to donor forms. You need to make choices about the length of recurrence (daily, weekly, monthly, quarterly, yearly) and how many times the donation repeats (ongoing is the default setting or you can change it to a specific number).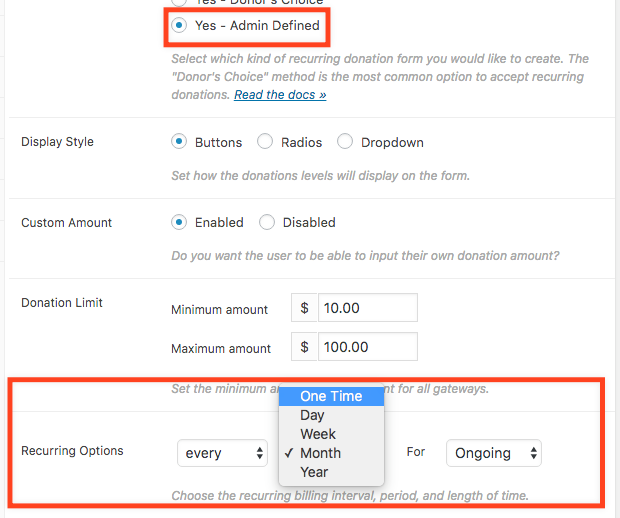 Step 5: Set a form to accept recurring donations. Each form will have three options once the add-on is installed – none/no recurring donations, yes, admin defined/you set recurring donation parameters, and yes, donor defined/individual donors can set recurrence parameters. (The donor defined option is the most popular choice.)
Step 6: Turn on recurring emails (optional). You can also notify donors each time a donation is processed with a recurring email.
Step 7: Add a link to your website that allows donors to manage their recurring subscriptions and accounts. Recurring Donations does this with the [give_subscriptions] shortcode. It is a best practice to list this page in your menu for your donors to easily be able to access and update their subscription information.
Now you are ready to collect recurring donations on your WordPress website.
Help Donors Set Up Recurring Donations Today
Use the GiveWP Recurring Donations tool and make it easy for donors to set up donations in the amount – and frequency – they choose. Recurring donations are a valuable tool for helping create sustainable donation funnels.
All you need to get started is the Recurring Donations add-on with GiveWP and you can combine the powerful donor database and dashboard with this must have feature. Learn more and get started today.
Amplify your fundraising with a GiveWP Plan