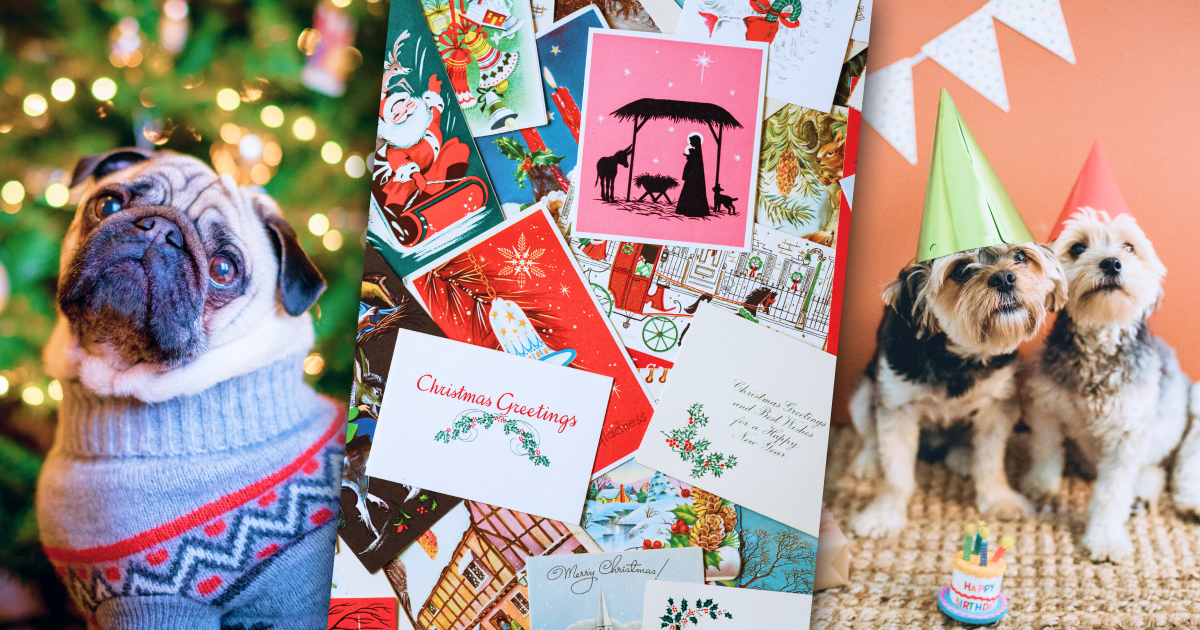 Give people the option to send eCards to their friends with a donation. It encourages giving and generates additional fundraising opportunities.
Not only can eCards be used to help spur new donations or generate awareness about a specific campaign, but they can also provide an option for donors to give in honor of someone else and help them see that donation.
How Does an eCard Work?
Donation eCards are a great way to increase donations on a specific fundraising campaign. When donors give, they can then send a card to their friends.
Using GiveWP tools, you can set up campaigns with an eCard option. Donors can choose from a single card option (or you can provide them with multiple options) to send when they make a gift.
Once an eCard is set up for a campaign, all the donor has to do to send the card is pick the option they want to use, add any text customizations they want to make, and enter the email address of the card recipient.
The eCard will automatically be emailed to that person. You'll also have a database of every recipient for your records.
Fundraising Campaign Ideas Using eCards
If you haven't used eCards in the past, you might be wondering how to make them work as part of your fundraising efforts.
In addition to thank you's or tribute notifications, there are plenty of ways to help engage donors with eCards.
Here are eight campaign ideas to try:
Encourage eCards as a Way to Honor Donors: When people make a fundraising gift on your website, allow them to make that gift in honor of someone else. Make that donation special by allowing the donor to send a card to the honoree, noting the gift, amount (if they like), and include a special message about the donation. Make sure your eCard includes a short mission statement for your organization and link to your website so that people can learn more.
Use eCards for a Peer-to-Peer Giving Challenge: Ask donors to challenge their friends to give to your organization with eCards that they can send when they give. With each gift, a donor can send an eCard to one other person encouraging them to participate as well.
Tie eCard Donations to Holidays, Birthdays, or Special Events: With every donation, there's an opportunity to send a free eCard for a holiday or special event. Your eCard can serve as a holiday acknowledgement as well as a gift. It's a win-win! All you have to do is create an image and message for different holidays and encourage your donor base to send and share.
Use eCards to Thank Donors: It's almost a no-brainer, but eCards are a great thank you for donors. While eCards might generate social proof (which could encourage donations from others), they are more of a digital token of appreciation for those individuals contributing to your mission. (You could even use a Thank You eCard to note the amount of annual giving at the end of each year.)
Create an eCard for #GivingTuesday, End of Year Giving, or Other Special Fundraising Days: As with holidays or birthdays, you can create special eCards that can be sent as part of relevant events. #GivingTuesday, end of year giving, and campaign milestones are great options to start with.
Use eCards for Corporate Giving Campaigns: Allow companies to send eCards to employees on behalf of corporate donations. Some of your biggest gifts might come from companies and they can share the good they are doing in the community via eCards to their employees.
Tie eCards to Social Sharing and Donations: While most of the time eCards are associated with email, they can also be an element that's designed for social media sharing. Use eCards on social media to encourage donations or make shareable cards, that donors can download and share on their own. Use great images and text to maximize the impact of these cards. Remember to think of the design as an actual card – highly visual with simple messaging. You can use Canva to design your eCards and then upload them to use as your eCard in Tributes.
Encourage Donations as Gifts with an eCard: Make a quirky or sentimental eCard and promote it as a gift giving vehicle. In a world where people are moving away from so many material gifts in exchange for charitable contributions, this is the perfect opportunity. Don't forget to email your current list with this option and tell them about the availability of eCards and a reminder about how these gifts can help your organization.
Get Started Today
The Tributes add-on is an easy way to incorporate personalized giving into your fundraising campaigns. This feature is part of the GiveWP platform on Plus, Pro, and Agency plans.
Tributes allow your donors to send eCards and produce customized mailable cards that honorees will love. Having the option for an eCard or mailable card is a premium feature that will help set your online fundraising campaigns apart from others.
GiveWP fundraising eCards are customizable and are emailed to honorees at the time the donor choose. Plus, they can add a personal message for a special touch that creates a lasting memory.
Learn more about all the GiveWP tools including Tributes and eCards.
Amplify your fundraising with a GiveWP Plan