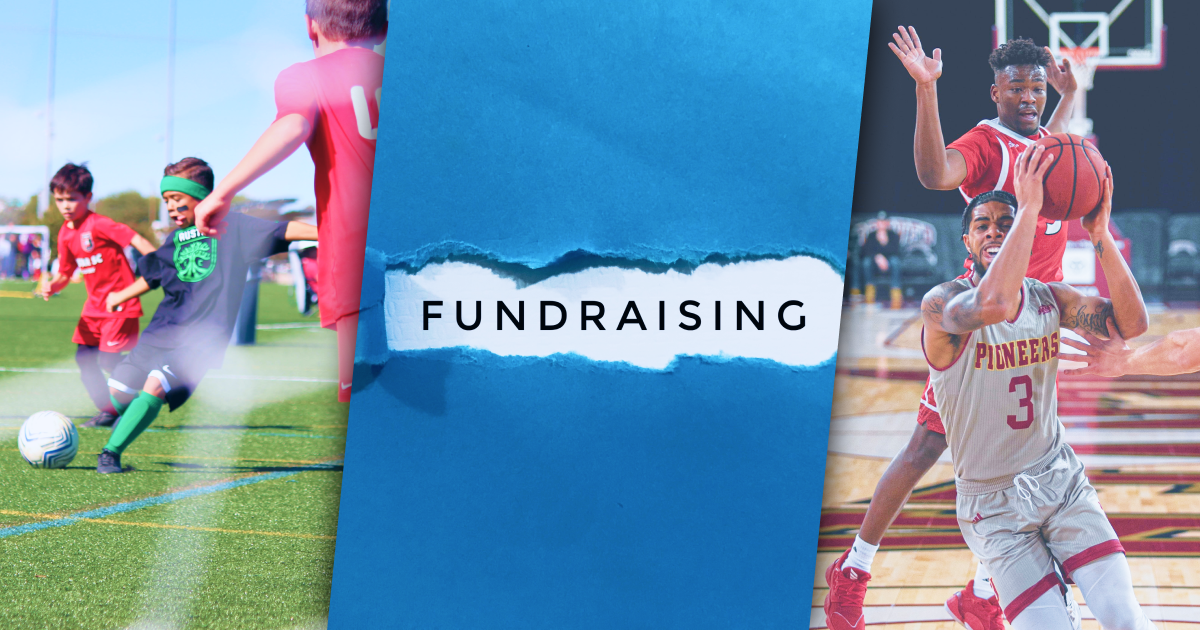 From gear to travel, sports fundraising ideas are the foundation for helping members of almost any team get everything needed to participate successfully.
The need can be great depending on the sport and number of participants. Fundraising can be equally important for adult and youth teams as well.
So where do you get started? Here, we've got a monster list of ideas for any group, youth sports, and adult teams. The good news is that many of these fundraising ideas can connect back to your team website using easy-to-manage tools that facilitate donations. This can help you generate fundraising activity with people in your circle and beyond.
Fundraising for Teams
Before undertaking any fundraising events or ideas, create a foundation for accepting donations and earmarking them for appropriate usage.
This can start on your website with a donation form that uses funds and designations to note that gifts should go to a certain team or event.
Create a page on your website for each different designated fundraising group you may have. For example, this could be one for each team if your organization has multiple teams. Make sure every member knows where to find their fundraising page. Print cards, send emails, or share on social media.
Now that you have the basics set up, let's get into a few specific ideas of how you can fundraise for sports teams.
Fundraising Ideas for Youth Sports
There are plenty of fun things you can do with the kids on your youth sports team that don't involve selling candy or local discount cards. When you create and run fundraisers yourself, more of the proceeds end up staying with your organization, so every dollar goes a little further.
Host a sport-specific-a-thon: Have your team showcase their skills with a shoot-a-thon, hit-a-thon, pass-a-thon (you get the picture). Use your website to have people pay to guess how many collective shots/hits/passes your team can make with a prize for the best guess. You can use the Form Field Manager add-on for GiveWP to add a field for people to enter their guesses.
Hold a clinic for younger kids: Your youth team can mentor the next generation with an on-court/on-field skills clinic for younger kids. Charge a donation to participate and have them register on your website.
Plan a car wash or dog wash: It can be a lot of fun to wash cars or dogs on a warm day and generate donations for your group. Don't forget to create posters asking people to donate online or provide a text-to-give number at the event.
Create a coach challenge: Develop a goal that the team works toward to get the coach to do something silly or unexpected – such a wearing another team's gear, going in a dunk tank at a fair, or anything that will motivate team members and their extended circles to give. You can use the GiveWP goal bar to display your progress on your fundraising pages.
Plan a video challenge: Make the most of TikTok or another social media video platform and plan a challenge that you can do and share as a team.
Sponsor an athlete: Consider working with corporate or individual sponsors to provide everything for a team member. Create a package that includes everything a youth player would need for the season and allow donors to sponsor these packages. You might even use the GiveWP form grid to allow donors to choose an athlete to sponsor on your website.
Bring back team alumni: Reach out to past youth sports athletes and ask for their support for the organization. Use your email list to reach out to former players to help support the current team. Take it a step further and host a homecoming event and invite them back. "Celebrity" alumni might include players who are still in your area and playing at the high school or collegiate level.
Rent-a-team for public service: Pick a couple of public service projects and allow donors to bid on having your team come out to do the work. Your team could rake leaves, clean a park, or pick a variety of other tasks that they could complete as a group fundraising project. Make sure to include the package options on your website next to the donation form.
Partner with another sports team: If there are pro or semi-pro sports teams in your area, try to create a partnership where your team can create a quick time out or halftime activity to generate donations. Options include selling concessions, raffle tickets, or developing a prize game for a seat upgrade.
Text-to-give: Create a few flyers or posters to distribute at team events encouraging participants to text donations. Create giving teams or groups to engage everyone's competitive spirit and propel fundraising efforts.
Fundraising Ideas for Adult Sports Teams
It might take a little more creativity to encourage donations for adult sports teams. Engage your family and friend circles with activities and challenges that will make them want to support your team (or at least push to participate in a public challenge).
Sell branded merchandise on your team website: Don't forget to include an option to add a donation to all merch sales. (It's like a virtual tip jar.)
Partner with a restaurant or food truck: Get all of your friends and family to eat at a certain place on a special day for a percentage of sales.
Promote corporate matching: Email and provide information to everyone on your team about corporate match gifts and encourage individuals and companies to participate.
Host a charity auction: In exchange for fundraising contributions, adult sports team members can wait tables, wash cars, or donate other services.
Sponsor fitness tracking: Almost everyone wears a fitness tracker. Have donors commit to donate a $10 per mile walked for a month, or a collective goal from the team.
Host a fitness contest: Whether it is push-ups, sit-ups, curls, deadlifts, or squats, create a friendly competition for who can log the most reps. Get creative with donations; use your form to allow donors to "pay" for certain team members to commit to specific activities or reps.
Develop a crowdfunding campaign: Are you looking to buy new gear or clean up a park or field to use for games? Crowdfunding can generate a lot of interest and help your team raise money in the process.
Hashtag it: Make the most of networks on social media with a hashtag fundraising campaign that sends people back to your donation website. Have some fun with silly or "viral" challenges that will help push your fundraising goals.
Host a tournament: Bring together teams from multiple locations to a single venue and host a tournament to raise funds for your adult sports team. Share the event and encourage other groups or businesses to form a team and try to beat your group for ultimate bragging rights.
Host a prize raffle: Use your teammates' collective networks to collect prizes and raffle them for your organization. You can host the prize raffle online or in person and connect it to your donation website.
Get Started Today
No matter the cause, GiveWP has the tools to help facilitate online donations and giving. All it takes is a little imagination on your part and installing the plugin on your WordPress website. You'll then have the tools to generate donations backed with a donor database.
Book a demo or download GiveWP free to get started using GiveWP for sports fundraising.
Amplify your fundraising with a GiveWP Plan