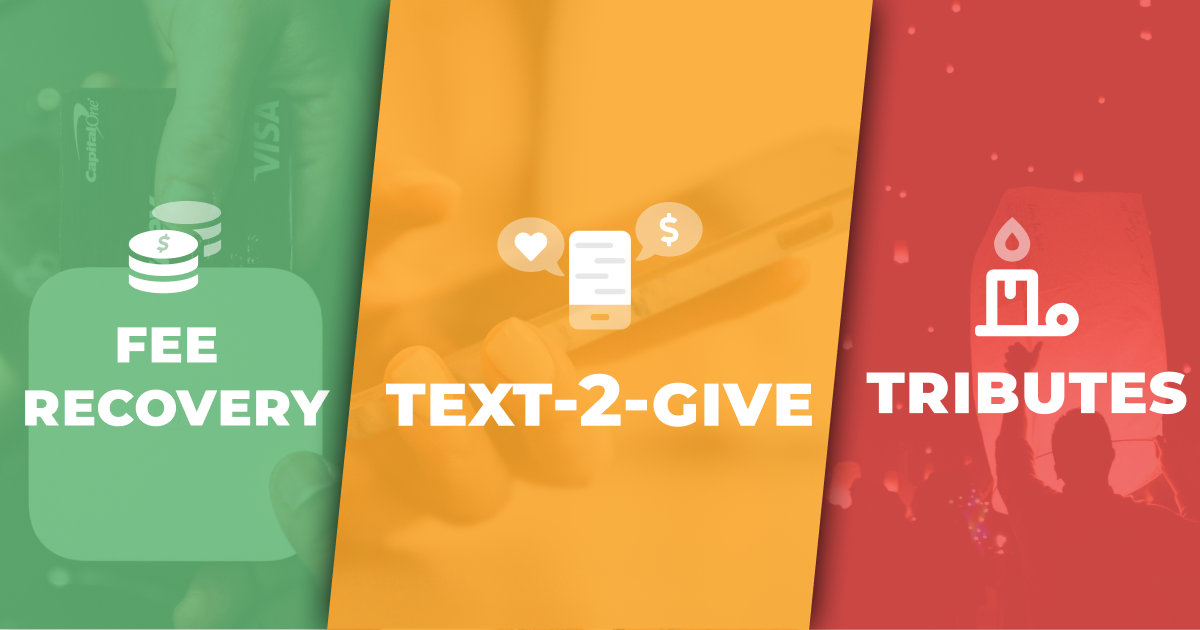 Each of these WordPress donation plugin features can help you save time and effort managing donations online. And almost every tool here creates a better user-experience, making it easier to give. Let's dive right in.
Strong Donation Forms
Every nonprofit needs a WordPress donation plugin that manages strong and customizable forms. This must-have tool is the backbone for any website fundraising structure.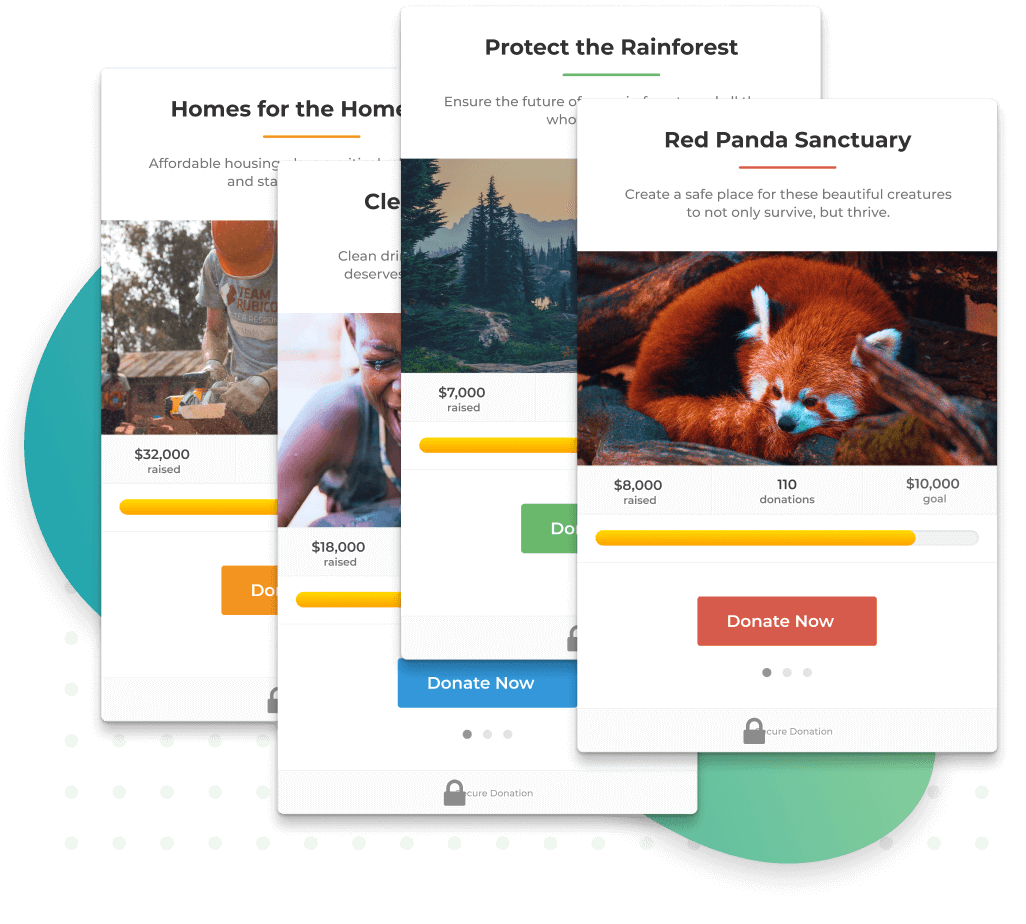 When it comes to forms there are three factors that contribute to a robust form plugin:
Form templates: Jumpstart donation forms with ready-made templates with file suggestions and more (then continue to customize if you like).
Custom form fields: A customizable drag-and-drop interface makes it easy to change forms and ask for just the information you need (no coding needed).
Easily extensible by developers: If you want to do more than a form can do out of the box, you want your developer to be able to work with it easily and create additional customizations.
Payment Gateway Options
One of the most common questions and concerns when it comes to online donations is safety and security. Using a reputable payment gateway is the solution.
These payment gateways allow donors to make secure gifts without storing any of their personal or financial information on your website.
Two of the most common payment gateways are Stripe and PayPal. Most users are comfortable using these platforms and don't worry about entering their payment information. Plus, both Stripe and PayPal are included free with the GiveWP donation plugin.
Your options don't stop there though. GiveWP supports more than a dozen other payment gateways so you can connect with a payment processor you are already familiar with.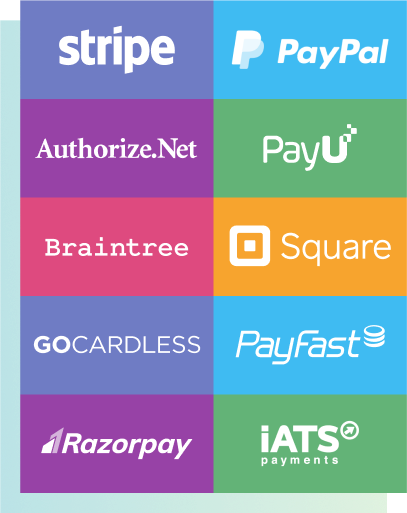 Recurring Donations
Don't limit your online donation opportunities. Look for a WordPress donation plugin that features recurring donation options.
Recurring donations allow gifts to renew on a repeating basis – monthly, quarterly, annually, etc. – making it easier for repeat donors to stay on top of gifts. To maximize recurring giving revenue, optimize each campaign for custom recurring gift amounts and frequencies that relate to the audience segment and campaign objective.
Text-to-Give
Text-to-give is a popular and instant tool to facilitate online giving directly from a mobile device.
This option allows donors to contribute from anywhere they have a phone signal. It's great for events and in-person activities. Plus, it is easy. Making a donation is as simple as sending a text message.
GiveWP text-to-give tools work with forms already on your website as well.
Peer-to-Peer Fundraising
Use social proof and gamification to encourage greater fundraising campaign participation. A peer-to-peer WordPress donation plugin can help you create donor leaderboards, encourage community fundraising, and more.
Display the progress of a campaign, create fundraising groups or teams, and encourage social sharing with peer-to-peer fundraising tools. Then connect it all to other key tools such as designated funds or with tributes to maximize the impact of this fundraising option.
This tool also allows for support and showcasing corporate donors and sponsors to help increase visibility even more. Peer-to-peer fundraising options are especially beneficial for specific campaigns or event-driven fundraising.
Fee Recovery
Don't miss out on a piece of every donation because of credit card processing fees. When your WordPress donation plugin features a fee recovery tool. it allows each donor to add the cost of these fees to their donation amount so that your nonprofit gets the full donation.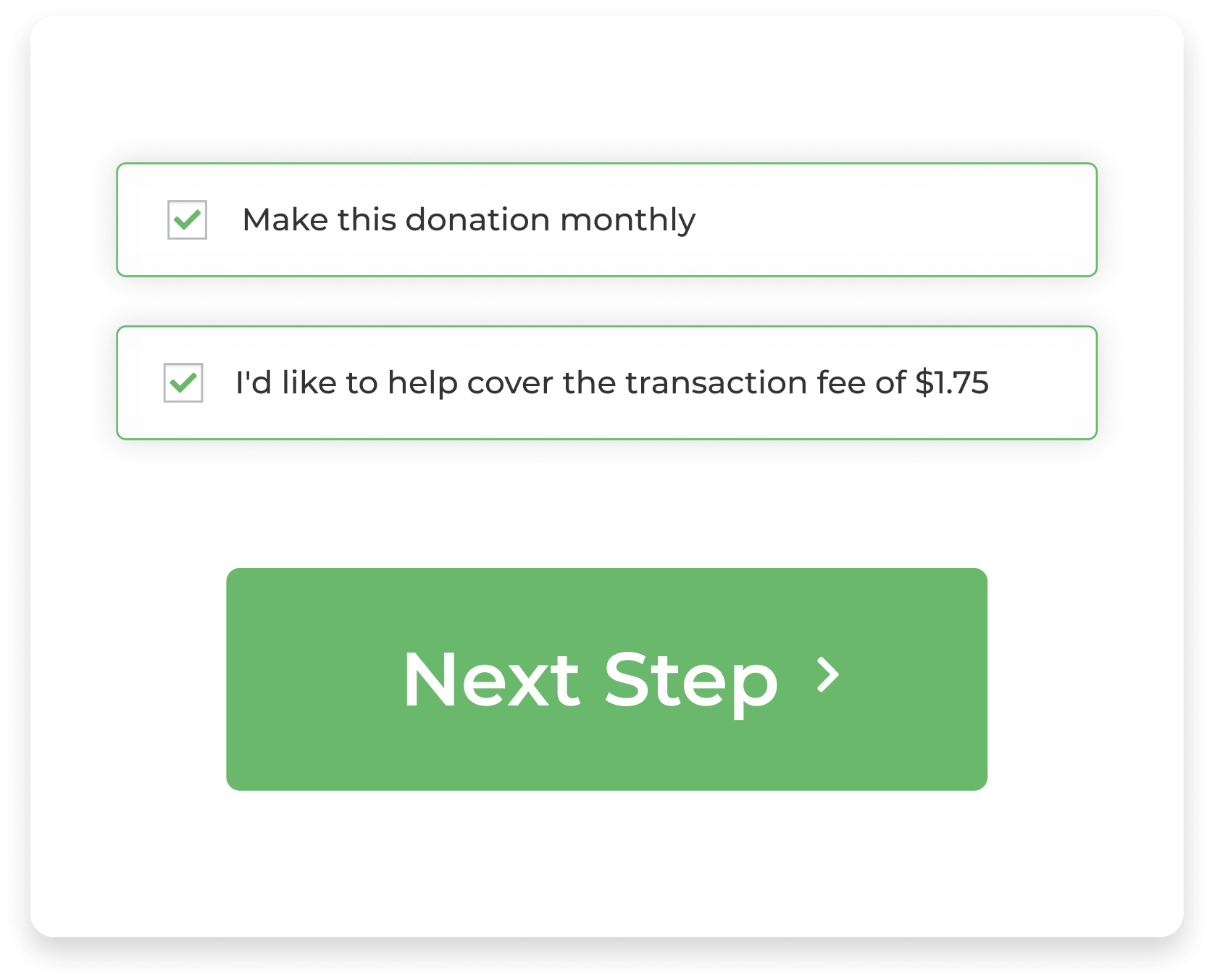 It works with a variety of payment gateways and is a simple ask on your donation form. Customize the message and choose whether fee collection is automatic or an option for individual donors.
Marketing Integrations
By now, you probably understand the additional value that comes with integrating fundraising activities with emails to current and potential donors. A WordPress plugin that works with your marketing systems can even further streamline this process.
GiveWP works with common tools including ActiveCampaign, ConvertKit, AWeber, Constant Contact, and Mailchimp so that you can fully integrate marketing and fundraising campaigns.
Tributes (Giving in Honor Of)
Often donors will request the ability to make a donation in honor of someone else. A plugin that allows tributes can help provide this opportunity and boost fundraising efforts.
A key feature of using donor tributes is to create an online or physical card that can be sent to acknowledge this type of donation. The more customizable this option is, the more donors will appreciate it.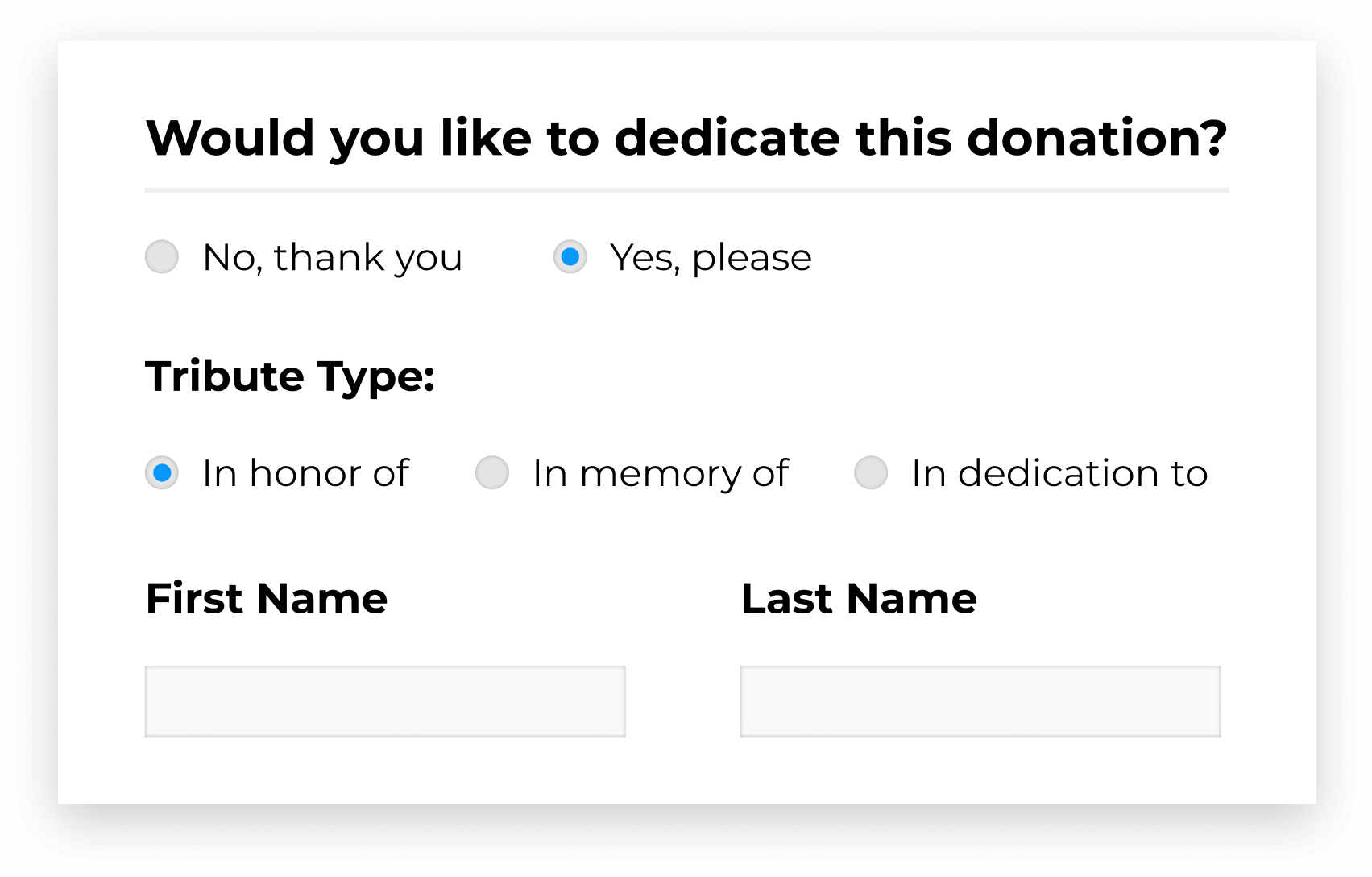 GiveWP's tributes tool includes eCards or customizable, mailable cards as well as custom reporting features that allow you to keep track of tributes.
Annual Receipts
How about being able to automate the annual receipt process with a WordPress plugin donation feature? No problem!
The annual receipts add-on for GiveWP allows your donors to access yearly tax-deducible receipts in a downloadable PDF format. You can install and activate it in just a few minutes and then every donor can see this report in their dashboard.
You can customize everything about the receipt including the logo and text on the PDF and year end date. Plus, it works with other popular tools such as fee recovery and recurring donations.
Strong Reporting
None of these WordPress donation plugin features work successfully without a strong reporting backbone. You need to ensure that donor plugins and tools all speak to the same donor database so you don't spend your time aggregating data from multiple locations.
Look for a donor management tool that includes individual donor profiles as well as bulk management tools. Take it a step further with a tool that includes data-deletion options to ensure you stay in compliance with privacy rules and doesn't save personal financial information in your database.
Then use this database to export reports for your internal team, board of directors, and to curate annual reports and future fundraising activities.
The good thing is that it can all be done with a WordPress fundraising plugin. You just have to look for the features you need to make the most of reporting tools.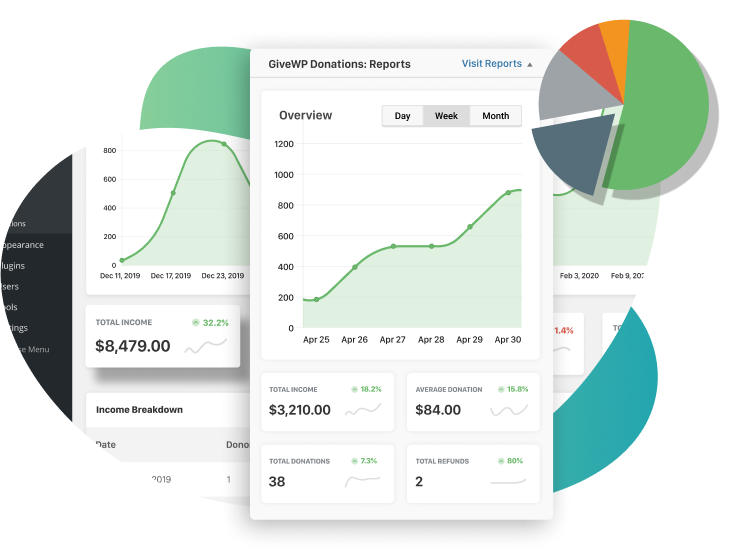 Choose Your Donation Plugin Features Carefully
A suite of plugins that work together can make managing donations online easier and provide an integrated solution that doesn't require a developer to implement.
Look for reputable plugins from a respected partner to ensure that you are providing a safe ad secure solution for donors.
Get started with these tools and do many more. Start for free, book a demo, or jump straight in with everything GiveWP has to offer for one low annual fee.
Amplify your fundraising with a GiveWP Plan
Carrie Cousins has more than 15 years of experience in media, design, and content marketing. She's a writer and designer, has an MBA from Virginia Tech, and is passionate about creating amazing experiences for businesses online. Her work has been featured in publications such as Design Shack, Webdesigner Depot, The Next Web, and Fast Company. She's an avid runner, which comes in handy with a trio of Australian shepherds at home.