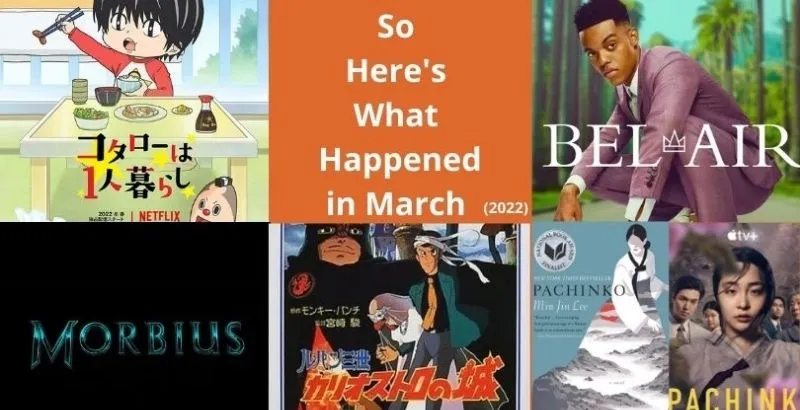 March 2022 has come to an end, which means another month has gone by and LaNeysha and Carolyn have thoughts and opinions to share about what they watched and read for So Here's What Happened! Podcast. In this episode both hosts fawn over the cuteness that is the new anime Kotaro Lives Alone, and Carolyn waxing poetic about the fantastic acting and character development in the new Peacock drama Bel-Air, convinces LaNeysha to give the show a watch.
The episode was not found or is unavailable.
Lupin The 3rd : Castle of Cagliostro, The Complete Storyboards by Hayao Miyazaki Studio Ghibli Tankobon
On this episode for March 2022, Neysha is thrilled to share a rare find for her book this month. Published by Tokuma Shoten in 2003, Lupin The 3rd : Castle of Cagliostro, The – Complete Storyboards contains the entire storyboard for the animated film The Castle of Cagliostro by Studio Ghibli. Filled with all of the storyboards of the film created by Hayao Miyazaki. It is a wonderful addition to any fan of Lupin III or of Miyazaki's impressive catalog of work.
Due to some health issues, Carolyn was unable to accomplish as much reading as she'd hoped, but, she was able to go on a mini-book haul and purchased some of her more recent anticipated reads for the year; including the recently completed DC comic series Nubia & The Amazons, for which some volumes Carolyn and LaNeysha covered in previous podcast episodes, and interviewed co-writers Stephanie Williams, and Vita Ayala. In her recent book haul, she also collected Vol. 6 of Dark Blood by LaToya Morgan, and the epic family saga Pachinko, by author Min Jin Lee.
Kotaro Lives Alone is a Japanese Netflix Original Anime directed by Tomoe Makino, written by Hiroshi Satо̄, and animated by Liden Films. Voice talent for this anime includes Rie Kugimiya as Kotaro, Toshiki Masuda as Shin Karino, Junichi Suwabe as Isamu Tamaru, and Saori Hayami as Mizuki Akitomo. The ten-episode comedy-drama is an adaptation of the Japanese manga series written and illustrated by mangaka Mami Tsumura. Although Kotaro Lives Alone is a heartfelt gem it does deal with the heavy topic of child and domestic abuse.
Developed for the screen, and based on an original concept by Morgan Cooper, March 2022 also brought us Bel-Air. The series is a modern dramatic, and thought-provoking spin on the 90s sitcom classic The Fresh Prince of Belaire. Ass trendy and stylish as the sets and wardrobe are so is the social commentary. The writers don't shy away from discussing subjects like race, and sexual identity, and mental illness in both the young and mature members of the Banks family and the people in their lives. Led by Jabari Banks who plays the lead character of Will, cast members Olly Sholotan, Coco Jones, Cassandra Freeman, Akira Akbar, Simone Joy Jones, and another supporting cast all give impressive and relatable performances, for their first season.
Adapted for the screen by Soo Hugh, and co-directed by Kogonada and Justin Chon, Pachinko is a stunning and achingly beautiful family saga about a Korean family's journey throughout decades of life of the family matriarch, Sunja. Played brilliantly by Youn Yuh-jung, Kim Min-ha, and Yu Na, as Sunja in her twilight years, as a teenager and child respectively, these three actresses give heart and humanity to a character that many women, around the world can relate to. Based on the book by Min Jin Lee, Pachinko is an exploration of the struggles of immigrants to find a place in their new home away from home.
It also shows how women no matter what country they're from – Korea, Japan, or anywhere else in the world – still face additional obstacles than men, because of patriarchy. The drama adaptation by showrunner Soo Hugh is available for streaming on Apple TV+ from March 2022. and Carolyn's review can be read here.
Morbius is directed by Daniel Espinosa, written by Matt Sazama and Burk Sharpless, and stars Jared Leto as Michael Morbius with Adria Arjona, Matt Smith, Tyrese Gibson, Al Madrigal, and Jared Harris. In Morbius, the "enigmatic antihero" Michael Morbius who is dangerously ill with a rare blood disorder that is killing him and his best friend, searches for a cure to save others suffering the same fate. Having lived longer than what was anticipated and living with a limited amount of time looming over him. He takes a huge risk by mixing anticoagulants in vampire bat DNA with human DNA. At first, it appears to be a huge success, turning him into a blood-thirsty monster, a living vampire.
Starring Yoon Kye-sang as Kang I-an, a man on a mission to find his true identity, Spiritwalker is a multi-genre action film, that never quite answers any of the questions the audience and its main character has. And that's a good thing. Written and directed by Yoon Jae-keun (Heartbeat)​, Spiritwalker is an action film filled with great fight choreography, chase sequences, and a touch of the supernatural and maybe even science fiction. It stars some of the most well-known Korean actors of today including Park Yong-Woo (Nailed), Lim Ji-Yeon (Obsessed, High Society), and Park Ji-Hwan (The Pirates: The Last Royal Treasure).
At the 2021 New York Asian Film Festival, Spiritwalker won the Daniel A. Craft award for Excellence in Action Cinema. The film is distributed by Well Go USA, on Digital and Blu-Ray, on which the bonus features include an all-new English dub and behind-the-scenes content.