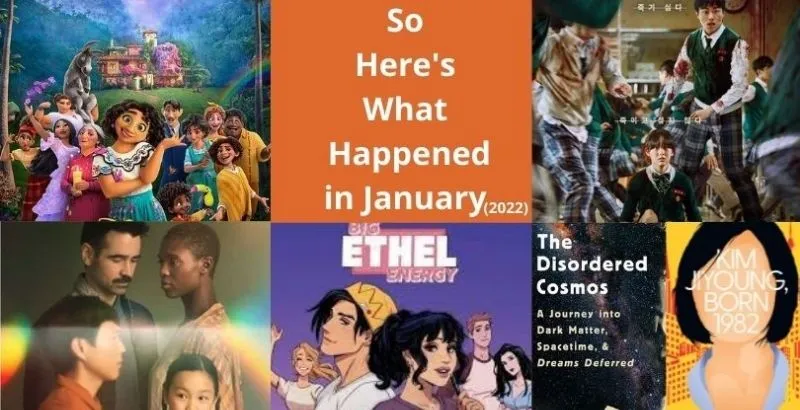 Carolyn and LaNeysha are back for another year of So Here's What Happened! To begin their recaps for January 2022 they get into some of the shows they've seen like the latest Netflix-produced Korean zombie drama All of Us Are Dead, books and Webtoons read. Carolyn also shares some of her thoughts on Nanny and After Yang, Brainwashed: Sex, Camera Power, which are just some of the films that left deep impressions on her during this year's Sundance Film Festival, which she covered on behalf of the podcast.
For Carolyn Talks… in January 2022, Carolyn spoke with Charlese Antoniette, Costume Designer Nanny feature film debut of director and writer Nikyatu Jusu. During their interview, Charlese detailed how she used specific colors and fabrics to help give insight into the emotional state of Aisha (Anna Diop), a Senegalese immigrant whose life becomes entangled with her new employers. Charles spoke about how her spirituality helped her connect to the character of Aisha as the film also explores the theme of spirituality, and one's connection to home physically and emotionally.
During Sundance, Carolyn also spoke with Production Designer Alexandra Schaller about her creative process and work on the existential science-fiction drama After Yang written and directed by Kogonada. After Yang is a beautiful film about what family means on an individual, collective and societal level, as well as immigration, identity, loss, and grief. And during their discussion, Carolyn and Alexandra get into how to set and costuming play a vital role in telling the story.
The 2021 Disney animated film Encanto, Co-directed and written by Jared Bush, Byron Howard, and Charise Castro Smith made it to Disney+ in January 2022. In Encanto the Madrigals, an extraordinary family lives hidden away in the mountains of Colombia. The magic of their home has blessed every child in the family with a unique gift, well every child except Mirabel. However, Mirabel just might be her family's last hope when she discovers that the magic surrounding their home is in danger.
Though not fully reviewed (as yet) Carolyn's first book selections of the year are The Disordered Cosmos: A Journey Into Dark Matter, Spacetime and Dreams Deferred by award-winning theoretical physicist Dr. Chanda Prescod-Weinstein is a fascinating combination of storytelling, physics lessons, and race studies as she ties the beauty of being Black to the majesty of the cosmos.
In Kim Jiyoung, Born 1982 by Cho Nam-joo, (2020 translation by Jamie Chang), the invisibility of young girls and women in South Korean society is given light and attention through the examination of the book's title character Kim Ji-young, a mother and wife unsure of how to cope with the depression weighing her down after giving up her job to become a stay at home mother, and the misogyny she – like many other women – encounter in her day-to-day life. Kim Ji-young's efforts to understand herself and to break free, as seen as rebellious troublesome by her husband and his family, rather than the call for help and understanding they are. The book was adapted into a 2019 film starring Jung Yoo-mi and Gong Yoo.
Archie Comics: Big Ethel Energy by Keryl Brown Ahmed and Sioban. This new series does a refreshing take on the classic Archie Comics character, Big Ethel. In this Webtoon series features a now grown-up Ethel who is more confident and carries her head high. The story focuses on Ethel coming into adulthood, tackling her romantic life (or lack thereof), and finding her inner strength, but also about the importance of growth, change, and forgiveness.
The new Netflix-produced K-drama, All of Us Are Dead, directed by Lee Jae-kyu and Kim Nam-soo, and written by Chun Sung-il, is the live-action zombie thriller based on the webcomic by Joo Dong-geun. Filled with all the frantic action and high stakes drama everyone has come to expect with stories set in the 'Korean zombie' genre, the show follows a group of students at a high school that becomes the epicenter of a massive outbreak of a virus that turns the infected into flesh-eating monsters.
Though the action is a big attraction for most viewers, it's the relationships and interactions between the students that serve to be the best aspects of All of Us Are Dead. For both hosts, they wish they show had spent more time delving into how this sudden violent, and extremely traumatic experience caused the characters to examine their own biases, as well as discuss the ethics of certain actions, as was done in the webtoon. Instead, much of the drama's run time was spent on multiple subplots that proved to be unnecessary and distracting.
Though she doesn't go into full details, Carolyn lists some of her top drama watches for the month of January 2022 (and early February). beginning with the Korean dramas The Ghost Doctor, and Bad and Crazy, the Chinese rom-com Why Women Love, about a workaholic finding love with her younger assistant, Japanese live-action manga adaptation of Kei x Yuka, and The Line Watchers, a Hong Kong drama, she's almost certain is one long promotional project for the Hong Kong customs and port authorities.