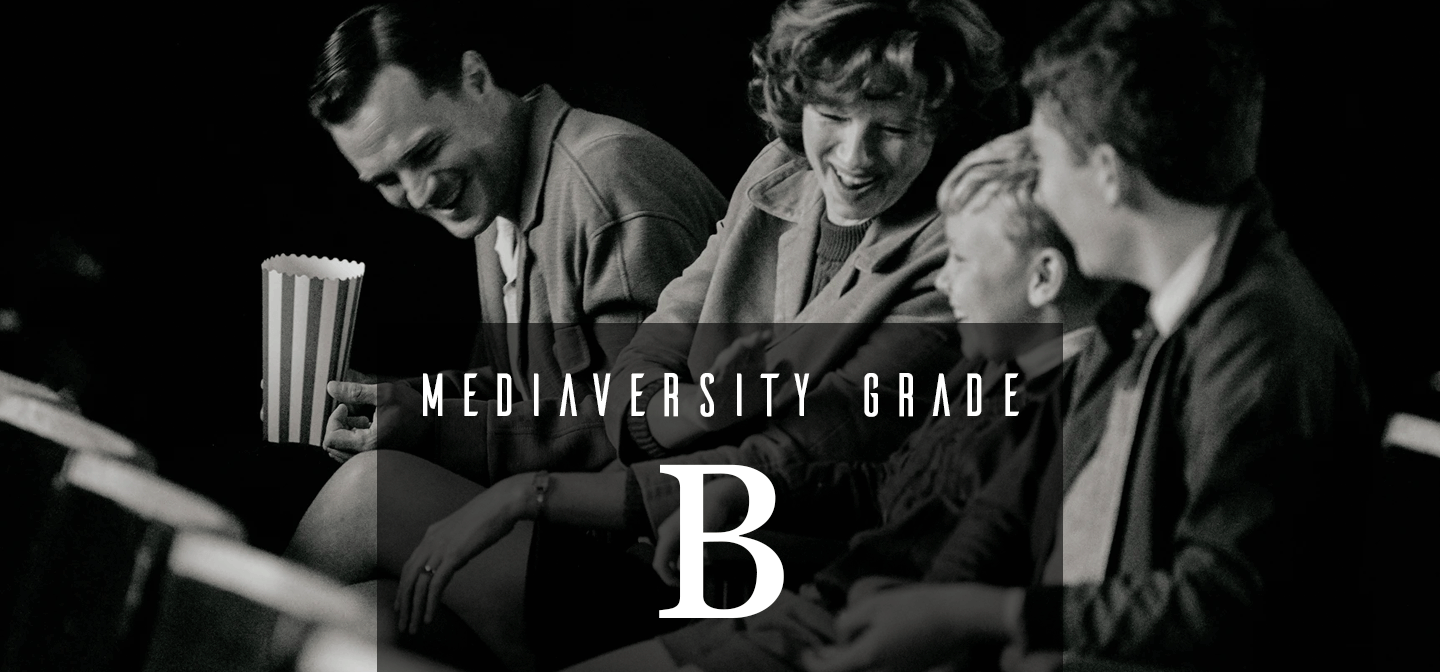 "Though men are the main breadwinners in Belfast, Branagh successfully shows that it is in fact the women who rule the roost."
Title: Belfast (2021)
Director: Kenneth Branagh 👨🏼🇬🇧
Writers: Kenneth Branagh 👨🏼🇬🇧
User-submitted review by Carolyn Hinds 👩🏾🇧🇧🇨🇦♿️
—MAJOR SPOILERS AHEAD—
Technical: 5/5
Belfast is a lively, sweet, and sometimes sad retrospective of days long gone. Written and directed by Kenneth Branagh, the film gives viewers a glimpse into his childhood in 1969 Northern Ireland, during the tumultuous time in the island's history known as The Troubles.
Opening with the jazzy pop sounds of "Down to Joy" by Van Morrison and colorful overhead shots of shipping ports and industrial parks of modern-day Belfast, Branagh pulls a fast one on audiences when the scenery switches to black and white, and a sudden explosion of violence follows a a mob of men who descends on a quiet neighborhood.
This mastery of visuals and sound to affect the emotions make up one of my favorite things about Belfast. Wide open frames show expansiveness, while close-ups and low angles lend the perspective of the world through the eyes of a child as Buddy (Jude Hill), our young and imaginative protagonist, shares his story.
At church the minister delivers an impassioned sermon about the congregation choosing the correct road to take to save their souls; one being the long and narrow that leads to salvation, the other crooked and rocky, leading to hell and eternal damnation. Throughout the film, Buddy struggles with what the symbolism of what the fork in the road means for him spiritually.
Initially this scene may seem to serve no purpose besides showing how religious leaders browbeat their congregants with the spiritual ideals they should adhere to, but Branagh takes it beyond that. In cinema, black and white marks the beginning of the movie industry and its halcyon age. For many black and white conveys a sense of nostalgia for it represents the 'good old days' of cinema and society when the world seemed much more simpler to those with a privileged view. In Belfast the filmmaker smartly uses it as a visual metaphor so the film style takes on its own symbolism in connection to the narrative; right from wrong, and protestant versus catholic.
Throughout Belfast, Buddy struggles with choosing right from wrong—a recurring theme emphasized by the symbolism of a fork in the road first espoused during an impassioned sermon Buddy attends church with his family.
As with the black and white, the fork in the road is a brilliant metaphor that repeats throughout the film for the choices to be made by the characters. Choices like whether they should stay in their homeland, or leave everything they've ever known behind, is a conundrum that Buddy's parents Ma (Caitroina Balfe) and Pa (Jamie Dornan) must contemplate as civil war erupts around them.
Breaking up such sober realities is the vivid imagination of Buddy's mind: Scenes from the original Star Trek series, and Chitty Chitty Bang Bang (1968) are shown in glorious Technicolor. For Buddy and his family, the theater provides moments of familial bonding and respite. Meanwhile, the score composed by Belfast native and music legend Van Morrison—who Branagh personally contacted—delivers exciting experimentalism, as different genres like smooth jazz, rock, and swing work perfectly together to show resilient Buddy and the people of his family and community were. Through the chaos they still found moments of levity, happiness and ways to encourage each other.
Gender: 4/5
Does it pass the Bechdel Test? YES
Though men are the main breadwinners in Belfast and posture themselves as the "man of the house" per the cultural ideal of the time, Branagh shows that it is in fact the women who rule the roost. Pa's mother and Ma's Mother-in-Law Gran (Judi Dench), ultimately have the final say for any major decisions made, and as most of the story is told from Buddy's perspective, we're shown the interesting perspective of how a boy interprets gender dynamics within his own family.
In the opening sequence Buddy is caught unawares by the explosion. He's confused and terrified, but his Ma comes to his rescue and shields him with the aluminum garbage bin cover, giving her a heroic moment typically reserved for male characters. By setting this right after Buddy play-fights against imaginary dragons, Branagh implies that women can slay monsters too.
As for Gran, she's been married for decades to Pop (Ciarán Hinds) but the film focuses on her strength. For example, she sternly tells Pop that he must take his ailing health seriously. And during scenes set in the backyard, she serves as the linchpin between the men in her family, humorously and subtly guiding the flow of conversations between Pop, Buddy, and Pa.
During a bus ride home with her grandson from the theater, Gran reminisces about her youth, wanting to visit the strange and wondrous lands from the films she saw back then. It shows that Granny shares the same hobbies and imagination as her grandson, and that a love of cinema has no age or gender barrier.
Race: 2.5/5
People from the Caribbean, Africa, and Asia (including People of Color from England) have been immigrating to the region for decades and as such this island in the North Atlantic Ocean has long been home for hundreds of thousands of immigrants of color. But despite this, Hollywood continues to neglect a more diverse reality.
Though they don't have a significant amount of screen time, the presence of a Black soldier (Victor Alli, also in Death on the Nile by Branagh), Mr. Singh (Sid Sagar) the grocer, and Buddy's primary school teacher Ms. Lewis (Vanessa Ifediora), shows that People of Color lived there then (and now) and speak with Irish accents.
Bonus for Age: +0.50
The lovely Dame Judi Dench and Ciarán Hinds are still as captivating at the ages of 87 and 69, respectively, as they've ever been. No filters or excessive makeup attempts to smooth out their wrinkles; no sound editing tries to change their voices—and that's how it should be. Dench and Hinds have graced the screen with their presence for decades, and deserve to be seen as they are.
Aging is beautiful, and seeing people who actually look like our own grandparents should be celebrated. It shows respect for the actors as both performers and individuals, and it shows respect to Branagh's own family members for whom he's paying homage to.
Mediaversity Grade: B 4.00/5
Lasting from the late 1960s until 1998, The Troubles shaped Northern Ireland and her people. It shaped Branagh; had his family never left the island, he shares in an interview the uncertainty of whether he would've even become a filmmaker.
For any child who's experienced war and political upheaval in their homeland, their view of the world is forever changed. Belfast may show how just one person was affected through the confusion of young Buddy and his family, but the experience is one that millions of humans are intimately familiar with. The future is always uncertain, but what Belfast further showcases are those moments of adventure, of love and laughter to look back on even when the world is turning upside down.
To Buddy, Belfast, Northern Ireland is a land of adventure. The home where his friends and family discuss religion and politics as open and as easily as they do the mundane moments of their lives. By showing a child's view, thoughts and emotions, Branagh impressively dramatizes the reality of innocence being lost and how much we should treasure children's ability to imagine a world where they can slay dragons.