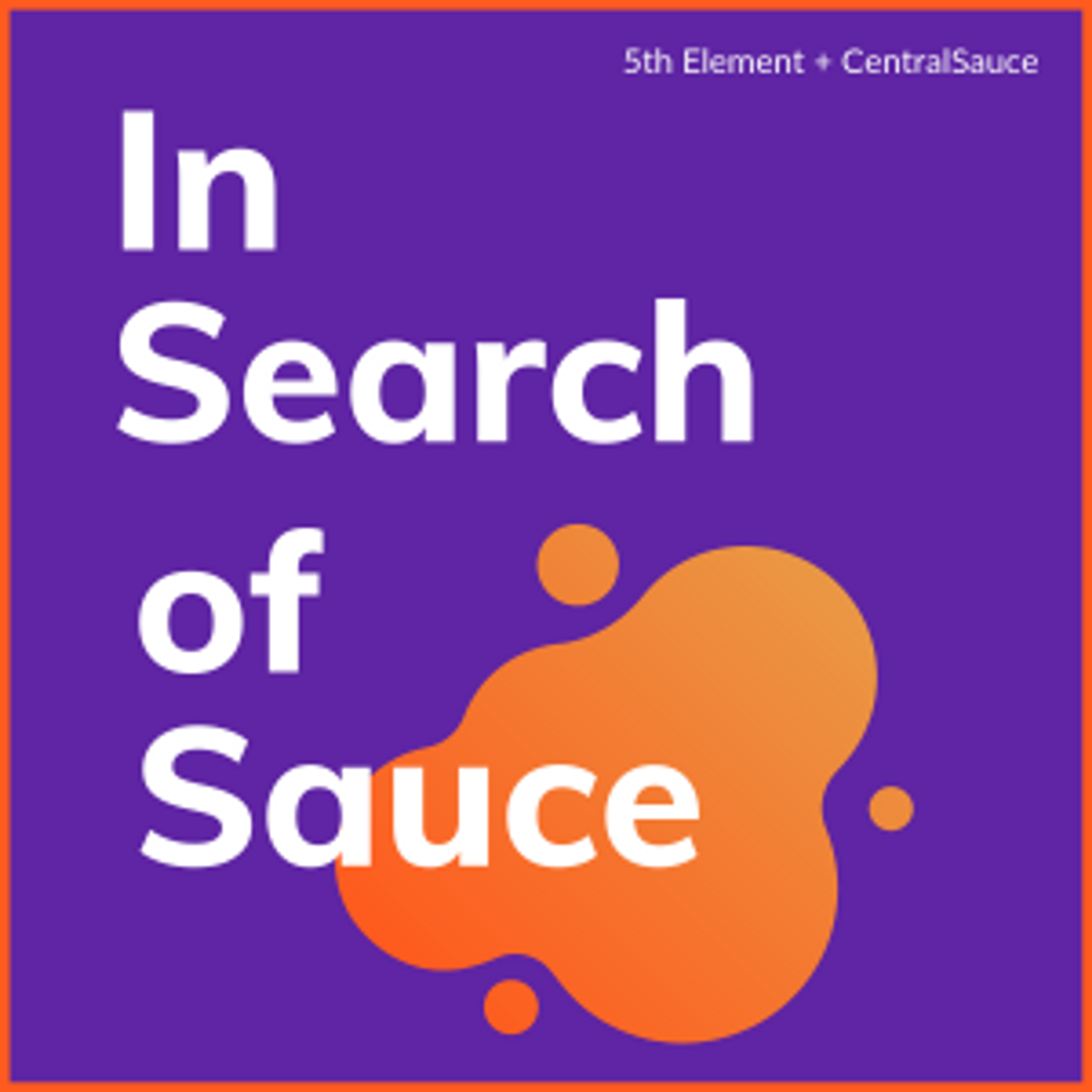 On this episode: Flying Lotus talks aliens and the future of recording music, a gripping interview on the mistreatment of black women in hip hop, and the making of Spilligion, Spillage Village's spiritual masterpiece. This week Miki and I welcomed back Tyler Jones to the podcast! A technical error previously caused us to loose his debut episode to the ether, so now that it's worked out expect to hear more of Mr. Jones! Streaming everywhere you find podcasts. Don't forget to subscribe on Spotify, leave us a review on Apple Podcasts and tell your friends!
In Search of Sauce is dedicated to combating the idea that music journalism is dead or dying. We sift through the click bait to bring you the writing, reporting and thoughts of some of the brightest minds in music and journalism with a side dish of our own ideas and opinions. We tell you what makes each piece exceptional and drive conversations centered on their thought provoking content.
This podcast is a collaboration between CentralSauce and The 5th Element podcast network. If you're a writer and would like the chance to be featured on the podcast use the option to contact me from this site's homepage and send us your recent writing.
On This Episode:
What I've been listening to:
Check out my Fall 2020 playlist on Spotify. The playlist is a combination of new releases with some throwbacks and music I've just been put onto.
"The Future According to Flying Lotus" By Jeff Weiss, The Land Mag - Sept 8, 2020
Tyler sent me this interview back in in early September and we immediately picked the next available opportunity to bring the piece to the podcast. Flying Lotus is just one of those people who can't possibly have a boring conversation, so any interview with the psychedelic producer is destined to veer into unpredictably strange yet elaborately insightful. What first intrigued me about the piece was the subtitle: "L.A.'s chief visionary talks dreams and dystopia, aliens and UFOs, and what's next." I immediately realized how badly I wanted to talk to sit down and talk about aliens with Flying Lotus and wondered if that was the subject line for Jeff Weiss's pitch. It takes a certain kind of writer to describe someone as eccentric and widely spread as FlyLo, but Weiss manages the words with elegance.
"What Do Black Women Need From Hip-Hop in 2020?" (With Shanita Hubbard, Clarissa Brooks, Drew Dixon & Danyel Smith) By David Dennis Jr., LEVEL - Sept. 4, 2020
Between the murder of Breonna Taylor, and the treatment of Meghan The Stallion's shooting, the mistreatment of Black women in all expects of our society has been examined intensely this year. The release of documentary film, On the Record, about the outlining the abusive patterns of Def Jam co-founder, Russel Simmons, amplified the internal conversation within hip hop. It's vital to the progression of the discourse for journalists to amplify these conversations, but in doing so must also be conscious of their placement in the power structure that perpetuates the issue. This means choosing to amplify the voices of those who have struggled to be heard, rather than leading the conversation their self. That's why in this article David Dennis Jr. leaves the vast majority of the words to four Black women working to be heard. That's also why on this episode the three of us also chose to speak mostly on the voices of Shanita Hubbard, Clarissa Brooks, Drew Dixon and Danyel Smith directly.
"How Spillage Village Hunkered Down in Atlanta and Captured the Chaos of 2020" By Grant Rindner, Rolling Stone - Sept. 24, 2020
Spilligion came at just the right time. Since March, and honestly even before that, the world has felt like walls slowly closing in. Hearing one of my favorite groups in music come together and process the chaos through gospel-fused hip hop was a spiritual reset I desperately needed. I loved how the album approached the complexity of spiritual intention and practice. On "Ea'alah (Family)," J.I.D sings about his prayers for peace and love to come to his family, but he also prays for personal prosperity, a desire that conflicts with him blessing his family. He raps "You see what I'm made of, you see if I'm Abel, you see what I pray for." If the lyric slips by in your headphones you might not catch the double meaning of "you see if I'm able" and "you see if I'm Abel." To J.I.D it's not as simple as a matter of wills. One of many religious stories referenced on Spilligion, in the story of Cain and Abel, Abel commits the first murder when he's overcome with envy at God's higher approval for Cain's sacrifice. Instead of joining with his brother and questioning why they sacrifice for the powerful, Abel kills his own family. Crabs in a bucket.
J.I.D conflates his desire for personal prosperity as akin to betrayal of his family. It was comforting to relate to the turmoil of people who seem so strong. Towards the end of the album, the off-key piano keys of "Hapi" and a spoken word sermon from Big Rube transitions into the jubilant strums and bonfire chorus of "Jupiter." "We fall down, sometimes, on our knees / We fall down / Hopefully, you find what you need." It's not so much an acceptance of the chaos, because that's always worth fighting, it's an acceptance of the things beyond our control in this moment. It's also recognition that coming together with an emphasis on love is a powerful energy that can be used to direct the next moment.
Thanks
Thanks for reading, listening, clicking and washing your hands! Got feedback on the episode? Have your own thoughts on the content? Want to share some of your writing? Hit me up! Find me on Twitter @HooplaHill or use the "Contact Me" option on my homepage to reach out to me.
Subscribe
You can use this page to subscribe to my weekly newsletter! The newsletter goes out every Monday and contains these blogs posts on the podcast as well as a summary of my published writing and the occasional surprise. If the confirmation email goes to your spam inbox, make sure you set my address to be received normally.