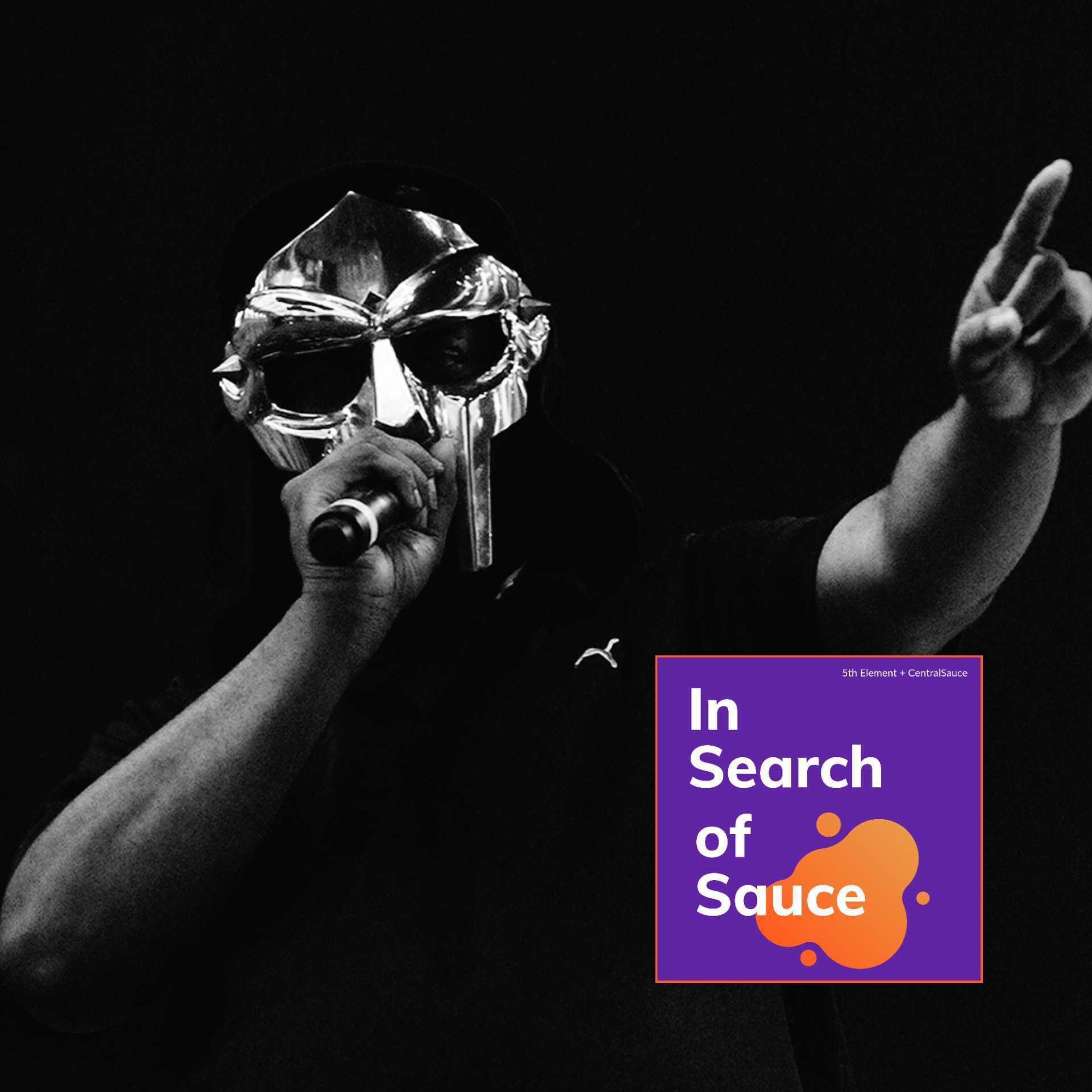 Just as the year was coming to a close, 2020 had to punch our gut one more time. We really lost MF DOOM. After nearly four decades as one of the illest rhymers inside and outside the industry, The Villain rests. But as Conor Herbert puts it the introduction to DOOM's five part origin story: "If any villain has managed to mould the world in his image, it's MF DOOM." In this episode of In Search of Sauce, Miki, Ryan and I each brought a memoriam piece on the metal-faced rhymer to discuss the merit of the artfully documented nostalgia, but also to achieve some level of personal healing for ourselves. There's no question that this was a loss felt viscerally by many.
Don't forget to leave us a review on Apple Podcasts! It really helps us to grow the platform and further amply the voices of the great writers we feature on the show.
Stream On:
On This Episode:
"Shadows of Tomorrow I-V: MF DOOM and the KMD Origin Story" by Conor Herbert, CentralSauce (Jan 5 - 13, 2021)
We don't normally gas our own publications in an official capacity, but we made a significant exception for this episode. I kicked off this MF DOOM memoriam with a brief recap of Conor's incredible origin story series. Context is vital to understanding, and this series provides the most complete contextual history of DOOM's origins as KMD member Zev Love X that I've ever read. Using original research, the series retells the KMD days, the death of DOOM's brother Subroc, and the label controversy with Elektra Records that led Zev to disappear from the industry and return as the masked villain. What drew me most to this series was the way that Conor retells the story primarily through direct quotes from DOOM and the people around him. I haven't read anything since that seems to impart the man's voice so wholly into the retelling. A must read for any hip-hop historian.
"Hip-Hop Needs No Other Supervillain After MF DOOM" By Craig Jenkins, Vulture (Jan 4, 2021)
After recapping the history of DOOM, Miki leads us into our first article discussion with this concise obituary by Craig Jenkins. Curiously, it was the way Jenkins' wrote about Mac Miller and the Pittsburgh emcee's untimely death that really opened me up to a career path in music journalism, so it felt fitting to highlight his voice on the untimely death of another of my favorite emcees. As an obituary, we loved the way that Jenkins used the piece to summarize much of the historical context that made DOOM the significant hip-hop figure that he'll always be revered as, but we appreciated even more how the piece tied the context into some lessons that felt like fitting take-aways to DOOM's legacy. From shady label deals to "cover of the book" judgements about his music, and even to his eventual block from returning to the United States, DOOM's career was rife with the unjust balance of power that permeates hip hop as a genre, and he wasn't shy about addressing it on mic. This piece served as a great jumping off point for us to discuss that legacy and what we should take away from his experience.
"Hero vs. Villain: 'Rhymes Like Dimes'" By Blockhead, Passion of the Weiss (Jan 5, 2021)
The piece that I brought to this episode highlights one of my favorite qualities of DOOM's music: everyone has a unique and individual experience with MF DOOM. In this series on Passion of the Weiss, other industry figures write about their favorite DOOM songs. Blockhead's favorite, "Rhymes Like Dimes," also happens to be mine. While he leads off by writing that he's opposed to the idea of selecting superlatives in music, by stating that "Rhymes Like Dimes" is his "favorite" song, the weight of the statement is even more apparent. To Blockhead, a producer, what particularly stands out about the song is the use of a looped sample from "One Hundred Ways" by James Ingram and Quincy Jones. It's one of his most well known songs, but even after many plays of it and "Rhymes Like Dimes," Blockhead had never identified the sample. He points to DOOM's uncanny ability to identify the most incredible segments of music in the minute details that others miss. Hearing another music producers perspective on DOOM's unique touch further solidifies the impact of this song to me.
"Engraved, Not Unmarked: The Legacy of MF DOOM" By CineMasai, Nu Musique Friday (Jan 4, 2021)
I've personally been following CineMasai's excellent work for Audiomack for awhile now, waiting for the perfect piece to highlight on In Search of Sauce, and this had to be it. When I heard of DOOM's passing, two journalists came to mind: Conor Herbert for his sample dives on the music that wove a web of DOOM's influences, and CineMasai for his outspoken love for the man's art and individuality. Of all the memoriam pieces I read, this one struck me as the most personal. One of the things you always remember about a significant passing is the unbelievable punch of hearing the news — something that this piece captured with intentional sentence structure and scene setting. Knowing that this story was written as CineMasai was actively processing the death of his favorite rapper, afforded it significant emotional weight, but as a talented journalist, he was able to weave that personal experience into remembrance of the Villain's legacy. Pieces like this evoke a lot of emotion, and working through those feelings with Ryan and Miki was a cathartic and healing experience. I'm glad words like this exist to facilitate such moments.
Thanks
Thanks for reading, listening, clicking and washing your hands! Got feedback on the episode? Have your own thoughts on the content? Want to share some of your writing? Hit me up! Find me on Twitter @HooplaHill or use the "Contact Me" option on my homepage to reach out to me.
Subscribe
You can use this page to subscribe to my weekly newsletter! The newsletter goes out every Monday and contains these blogs posts on the podcast as well as a summary of my published writing and the occasional surprise. If the confirmation email goes to your spam inbox, make sure you set my address to be received normally.