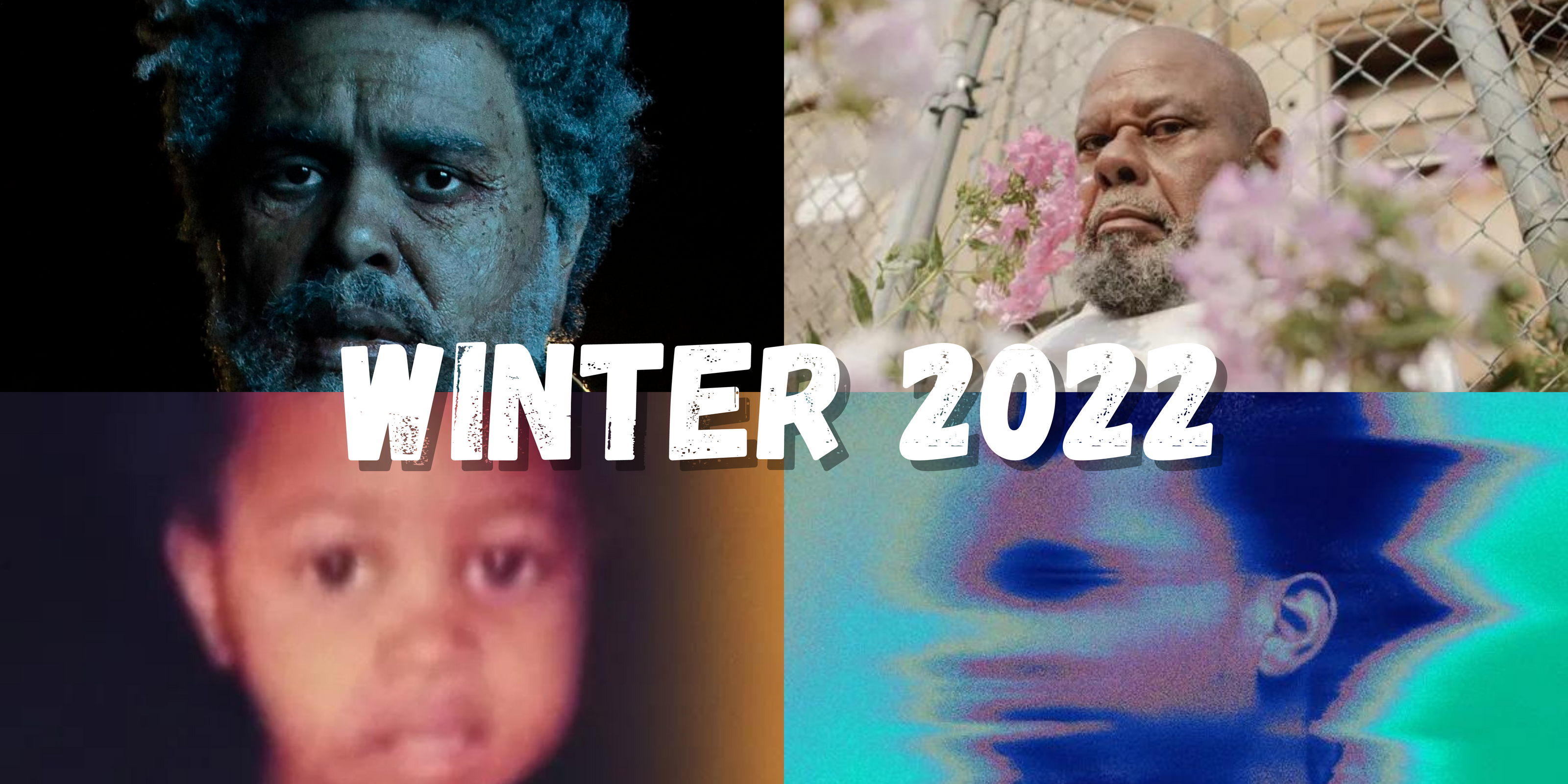 Where my "Fall 2021" playlist was characterized by the music that added texture to my move from the Midwest to Boston, my "Winter 2022" playlist is the soundtrack of settling in.
These songs most frequently accompanied last-minute bike rides to the restaurant where I work and stalled train trips to the school where I study. Aside from frequently soundtracking my watch-watching commutes, this playlist blasted and swung its way through my role as artistic director of a new print magazine, the endless number crunching of my first data-driven investigation, and the relentlessly arduous process of hunting for internships in the seldom spare moment.
It's a playlist that began with a bang with The Weeknd's Dawn FM (which I won't cover here because I wrote about it more extensively elsewhere), and ended with the one-two punch of Vince Staples (who got a spotlight last recap for Vince Staples) and Denzel Curry. As the sound of settling in, the songs and albums I'll talk about below will always bring me confidence as they throw me back to the accomplishments I've made and the challenges I've overcome.
Roughly every quarter year or so, I gradually build a playlist of the music I'm listening to. Each playlist consists mostly of the new releases on my radar but will also include old music I'm just now being put on to and the occasional throwback. These playlists aren't crafted around a specific vibe, though are often influenced by trends in my taste. Best listened to on shuffle, give it a spin! You're sure to recognize some familiar favorites and find some unexpected gems.
Indie Spotlight
Before diving into anything else, let's check out a few songs on the playlist from indie artists who really deserve some extra attention.
"Red Water" by Jaywop, Ft. Donte Thomas and Mick Jenkins (Prod. Sxlxmxn)
"You not indie, you selling shit you don't own / won't no labelhead slow up my metronome," Jaywop spits on "Red Water." The teetering lo-fi production by Sxlxmxn reinforces his shout-out to homebrewed beats and bars. Laced with the rebellious energy of an avante-garde samurai that does the single's artwork justice, "Red Water" sees Jaywop joined by Donte Thomas and Mick Jenkins for a testament to living by the pen.
Jaywop has been one of the most recurring names to grace the CentralSauce discovery section. From his April 2020 single "Big Bad" to the 2021 feature-length profile, "Seude Seats at Jaywop's House" by Conor Herbert, his musical output has been as consistent as it is consistently fresh and exciting.
Naomi Wild's brand of ballad shakes the soul as much as the eardrum. Resonate, resolute and reciprocal, "OBSESSION" combines the sentiments of a California girl's punk disposition with her reach for lost romance and a housy sound that carries her vocals to and through.
Ahead of a debut album due sometime this fall, the single starts with a soft call for attention. As she yarns with self-awareness she celebrates the self-centering need for the kind of fulfillment that's always relatable yet seldom explainable in terms less abstract than desire. The track's housy elements build in tandem with the power of her vocals, and yet, at its peak it drifts out of reach — leaving the listener with a sense of the unexplainable need that drove the song.
"With You" by Khaid
At just 17-years-old, Khaid is kicking off a young career strong. Pulling from the potency of young love, the upbeat single, "With You," is a melodic and energetic start for the Nigerian Afrobeats and trap artist.
A palette of tightly pulled drums and light production touches give a breezy island feel to sweetly sung short sentiments. "I just want to be with you / having a fun time with these girls, but I just want to be with you," he sings to himself — whoever he's addressing can't hear him. The song is a testament to the slower moments of a fast life. The feeling is inspired by real romance but fueled by fantasy. In the slow moments, the fast life seems distant and superficial, the space filling with longing for those few simpler satisfactions that come from the time for prolonged appreciation.
Awesome Albums
7220 by Lil Durk
7220 by Lil Durk is an album's worth of "real G's move in silence like lasagna" for the digital age. A more connected world is a louder world. As Durk looks back on his childhood and his early years in both rap and the streets, you get the sense that the veteran Chicago trap artist is delivering an old-headed monologue that begins with some variation of the ever-popular, "I'm glad they didn't have cameras everywhere when I was your age!" Upper-octave ivory keys give a ballad-like quality to his stories as he looks back with the contradictory vulnerability of regret and fondness of reminiscence, and the humor of exaggeration typical of telling stories about the younger days for an enraptured audience.
Whether singing, slurring or spitting, Durk spreads references to contemporary social media showmanship in rap across nearly every song on the album. By placing observations like, "Catch 'em in apartments they be in 'cause that's our only chance / they don't be outside like you think their ass be on the 'Gram" on "AHH HA," alongside "When trial come, it ain't your phone, it be your homie, though / He on the stand with his head down like he don't know me, though" on "Federal Nightmares," he highlights the stark difference between the life he's lived and the almost parody-like nature of embellishment for clout.
It's not so much that 7220 is a concept album as much as it is crystal clear to see where Durk's head was at during its creation. In recent years, several prominent deaths and incarcerations in hip hop can be tied directly to social media. Whether amplifying beef, setting oneself up for robbery, or self-snitching, a fast life in the public eye is dangerous whether it's truth or showmanship.
The layering of Durk's rapping and crooning reflects the duality of his hardened exterior and surprising vulnerability. The same album that hears Durk talk about crying over the finality of being blocked by a woman (furthering his Black Mirror-esque message of how connectivity tears us apart), hears him talk about hiring armed guards after being involved in a shootout at his house.
Nestled between the emcee's yin and yang, some truly hilarious bars like, "I ain't gon' cap, you gon' smell Percs and lean when I fart," on "Shootout @ My Crib" almost slip by. The lack of pause in his flow or emphasis on the joke mean the bars never land like a true punchline, but come frequently enough that humor is folded into the project as one of its most memorable qualities.
Stand-Out Songs
"oh my love" by FKA twigs
The majesty of "oh my love" is in the lively dance between FKA twigs' airy vocals and production that winds and whirls its way around every line, following the contours of her energy. Vocals wispy, production subtle, the song starts with a gentle drift through the headphones. twigs follows up the confession of an unreciprocated relationship by slowly building the confidence to revert from mourning to the confident demeanor she finds in song. "I can be with anyone," she twirls into a beat that gives her the floor yet flourishes around her every move. The confidence doesn't quite cover the sting of longing, but lets on that she's not one to dwell.
"Horrors" by STL GLD
In collaboration with the Boston Symphony Orchestra, "Horrors" is emblematic of the weighty creativity of STL GLD. The band combines elements of hip hop, punk rock and cinematic orchestra that earned them Live Artist of the Year at the 2018 Boston Music Awards. This song, in particular, stands out from the 2019 album, The New Normal (a pre-COVID title), for the way the emcee Moe Pope's steady flow dances on the live multi-instrumental recording. Pope raps about the horror-like flashes of life under the rule of an uncaring institution from both his perspective and the stories of the community. There's an edge to each bar that contrasts the pleasant production in the best way.
I recently interviewed Pope and STL GLD producer The Arcitype for a feature on Boston's local hip-hop scene. Check that out here.
"The Last Goodbye" by ODESZA Ft. Bettye LaVette
I'm a not-so-secret house music fanatic, and there are few albums I'm looking forward to more this year than the upcoming ODESZA album. They got the ball rolling for the release early on with this upbeat and danceable single. The track starts in a familiar way with a set of lofty vocals given the floor by the light touch of airy production. From there, the vocal lines repeat across shifting beat drops. "Let me down easy," sings Bettye LaVette as the line reverberates across bass-heavy-house, energetic funk riffs, and a changing soundscape that's most at home under the lights and lasers of a festival-headlining stage.